Many entrepreneurs suffer from huge hardware maintenance costs as their business scales and generates more data daily. Hardware storage is a reliable, but costly solution that limits data availability and low scalability. The latter means that if you want to expand your data center, you can purchase a new and expensive server, but its resources may be redundant or missing. So, how to improve availability, increase security and scalability, and save much costs?
At Ascendix, we offer cloud application development services that can help your business get a customized real-time cloud computing solution. First, it can boost your company with lightning performance through an advanced server load dispatch that never causes performance issues.
Second, cloud software enables your business to store, manage, and process valuable data real-time, round-the-clock, and cost-efficiently. You don't need to pay for space, electricity, insurance, and ongoing maintenance of your data centers. Besides, cloud application development helps you improve mobility and access useful data anytime, anywhere, and via any device.
Our experienced cloud developers can build any kind of cloud software for your business including public, private, hybrid, and multi-cloud types. In case your enterprise needs a more complex solution, we can also implement a multi-cloud system for your company.
We follow the customer-oriented approach and always cater to your needs to deliver a tailor-made, industry-ready, cost-efficient, and flexible cloud software solution for your business.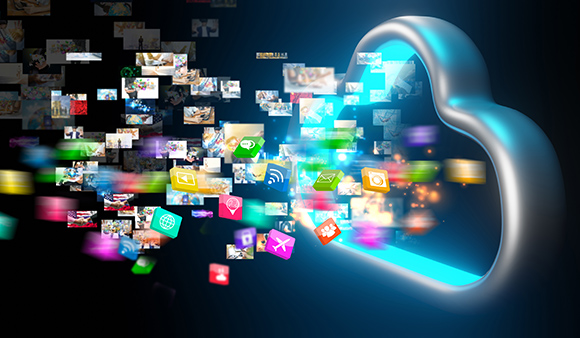 Public Cloud Software
Public solution type is a perfect choice for your business if you want to have a pay-as-you-go model and multi-tenant, shared infrastructure. A great example of public cloud software is Microsoft Office 365 which is a Software as a Service platform for thousands of users around the world. Public solutions can provide your business with solid security standards that will be enough if you do not have strict compliance needs.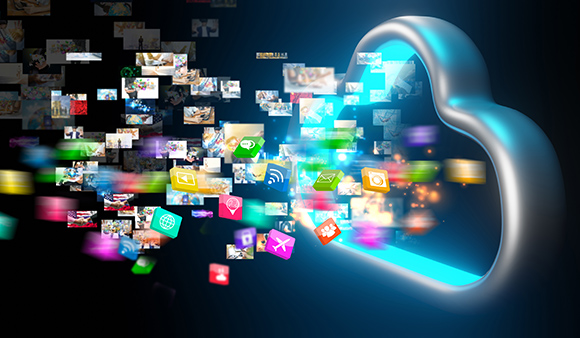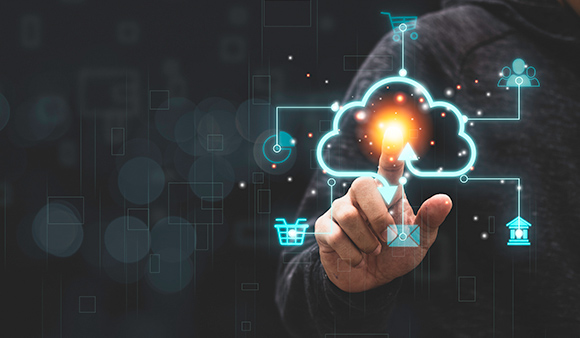 Private Cloud Software
If your enterprise needs an ultimately secured, single-tenant, high-performance, and reliable infrastructure, then private cloud software will become a great option. This solution type offers more feature-rich and powerful control over your configurations and physical isolation of data. The main difference between public and private cloud software is that the second option requires you to be responsible for both software and infrastructure. In long term, it becomes a less cost-efficient model for your business.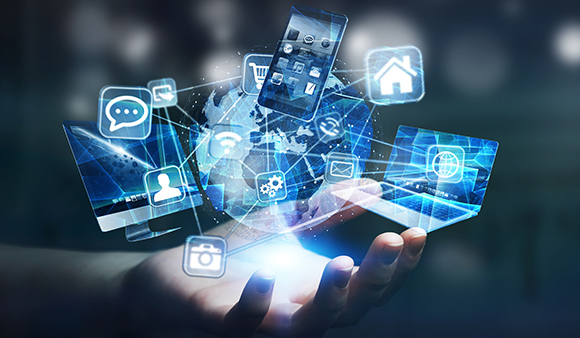 Hybrid Cloud Software
If you have highly dynamic workloads or deal with big data processing, then hybrid cloud software is a perfect option for your business. One of the core advantages is that you can use scalable computing power of a public solution and the security level of private cloud software. This solution type enables your business to store data safely with the help of firewalls and encryption protocols. At the same time, you can securely move data into a public cloud environment once needed.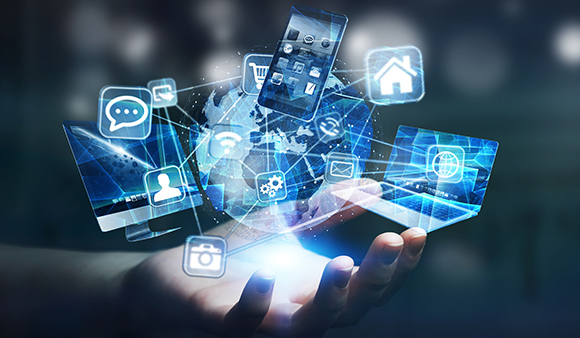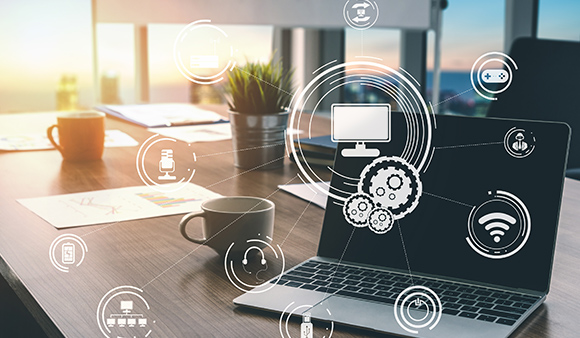 Multi-Cloud Software
Multi-cloud software is a powerful combination of public, private, and hybrid solutions enterprise-level companies. If different departments of your company have specific cloud computing needs, then multi-cloud software is an advanced and tailor-made solution that meets any demands of your company.
Want to reduce maintenance costs and improve mobility?
Get a powerful and tailor-made cloud software customized for your needs.
Technologies We Use in Cloud Migration




" We have certifications with cloud providers such as Amazon and Azure. Pretty much every project, every product, everything we do today, is something cloud-based. We need to utilize the technologies of these cloud providers and use them in a way and recommend how our clients can use them so that they're always up, always available, fast, scalable, reliable. And that's Amazon and that's Azure. "
" Ascendix has over 25 years of development expertise ranging from business analysts, solution architects, a whole plethora of staff developers to quality assurance. We understand fully the importance of following a process and a methodology and have invested in resources both domestically and internationally to not only deliver with great bandwidth and capability but also at a cost compressed fashion. "
What is cloud computing software?
Cloud application development is the delivery of cloud-based computing services that include storage, processing, analytics, and intelligence systems basically on a pay-as-you-go basis.
Does my business need cloud software development?
If you want to get real-time and round-the-clock access to your business data, use cloud storage for your digital assets to reduce maintenance costs, increase data security and scalability, then cloud software development is the perfect choice for your enterprise.
How could my business benefit from implementing CRM software?
Access your data anytime, anyhow, and anywhere
Cloud software offers your business to track, process, and analyze important data in a real-time format, within any device, and all over the world. It means that you can reach high availability and make quicker business decisions. It becomes possible as you can provide your employees, clients, and third parties with instant access to valuable documentation. Our cloud developers can build powerful cloud software for your business if you want to be flexible, quickly responsive, and reach high collaboration efficiency.
Reduce maintenance costs
Cloud software allows your company to greatly cut IT management and maintenance costs. You no longer need to purchase, support, and upgrade hardware for data storage and processing. Instead, you can get industry-ready cloud computing software on a pay-as-you-go basis which enables you to use the exact amount of resources needed. Besides, you can greatly reduce labor costs as you won't need IT expert staff for maintaining and upgrading the existing hardware. Also, you can optimize your operational costs as you no longer need to pay for much energy consumption which leads to huge electricity expenses.
Boost scalability and performance
Cloud application development offers your business on-demand performance and scalability potential. As your company scales, you definitely need more storage space and bandwidth power to process larger traffic. Automatic cloud server deployment helps you to scale up and down according to your current business needs. This way, cloud software ensures ideal performance for handling heavy loads. Besides, our cloud developers can build powerful cloud solutions that will increase your website speed and minimize downtime.
Improve security and regulation compliance
According to RapidScale's report, over 90% of companies noticed a security improvement and easier compliance with government regulation requirements after switching to cloud software. It becomes possible due to powerful encryption protocols for data storage and transmission implemented in top cloud solutions. This allows you to be more secure as information turns less accessible for cybercriminals. So, if you want to improve the security level of your business data, then our cloud developers and implementation engineers will build top-notch and secure cloud software for your business.