Both small businesses and large enterprises perform and handle thousands of operations and tasks daily. It becomes very hard to keep in memory, organize, and successfully solve them as your company scales. This leads to inefficient labor-management, availability conflicts, work delegation, and other things that greatly slow down your business development. So, how to effectively track, control, and manage your workflow to stay the course and grow?
At Ascendix, we can build powerful scheduling software for your business. Our expert software developers have 10+ years of experience in creating multiple types of custom solutions that will help you improve time management, task prioritization, teamwork productivity, and reduce costs. Apart from general solutions, we can meet your specific needs within a certain industry. Thus, we can build appointment scheduling software, employee scheduling software, construction scheduling software, project scheduling software, medical scheduling software, and other solutions that will cater to your domain needs and peculiarities.
So, if you want to get a powerful online scheduling software tailored to your specific needs and industry standards, our software engineers will build a feature-rich and scalable custom application for your business.
Scheduling Software We Build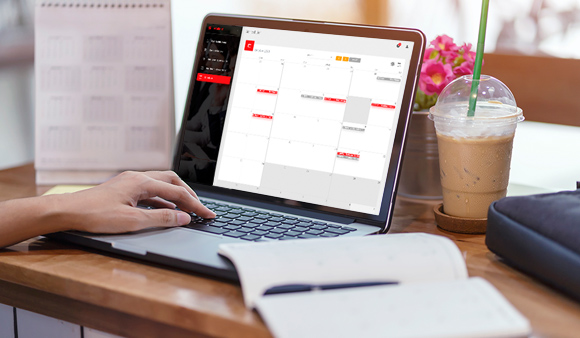 Appointment Scheduling Software
We can build a meeting scheduling software for your business to help you organize, manage, and track appointments and bookings in one place. This way, you can greatly automate most manual operations connected with by-hand phone calls about upcoming meetings with your customers. Also, you can always keep clients updated through the appointment reminder feature that automatically sends notifications to customers beforehand. Finally, we can build the best appointment scheduling software for small business and large enterprises that brings ultimate time savings for your company by automating the booking process which allows you to put more efforts into deal closing and profit generation.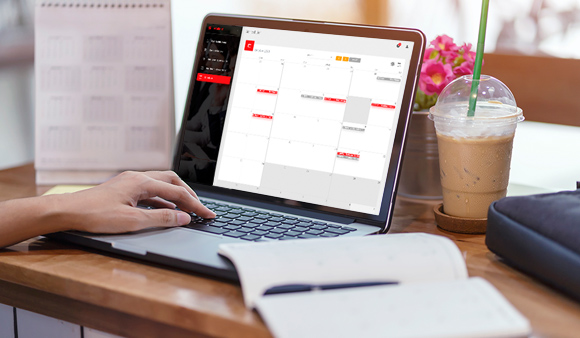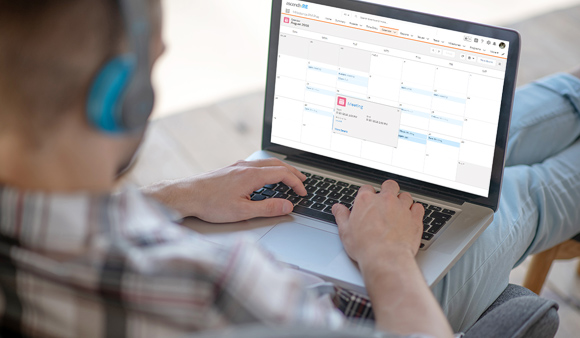 Employee Scheduling Software
Our expert software developers can build the best employee scheduling software tools fully customized for your business. This solution type is a perfect choice for both small business and large enterprises as you can efficiently manage your staff individual schedules, avoid pen-to-paper method, monitor employee availability to get rid of conflicts, and track time-off requests. Besides, job scheduling software can help you analyze financial reports and general business metrics comparing your salary expenses and profits made.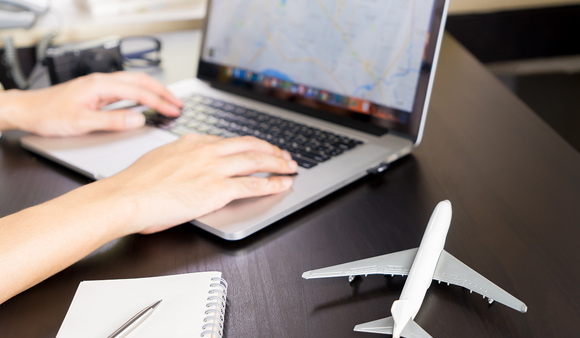 Route Planning Software
If you are looking for a reliable partner to build powerful route planning software, then Ascendix is a perfect choice for your company. We have a solid expertise of developing feature-rich, flexible, and scalable solutions for transportation businesses that offer shuttle bus, private delivery, and logistics services. Route planning software allows your company to avoid delivery delays and reduce drive time with deep analytical algorithm that identifies the shortest mileage routes. Apart from delivery process optimization, our software engineers can build an efficient fleet management software that will help you cut fuel and labor costs as drivers spend less time en route that greatly shortens their active work hours.
For example, we have helped Flibco build a powerful custom shuttle bus route planning software embedding the latest industry standards and technologies. If you want to learn more about our custom software development collaboration with Flibco, please read the full case study.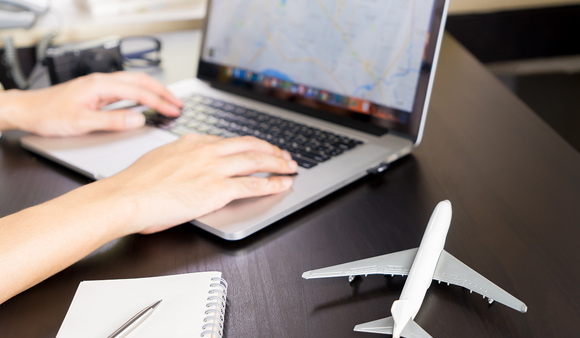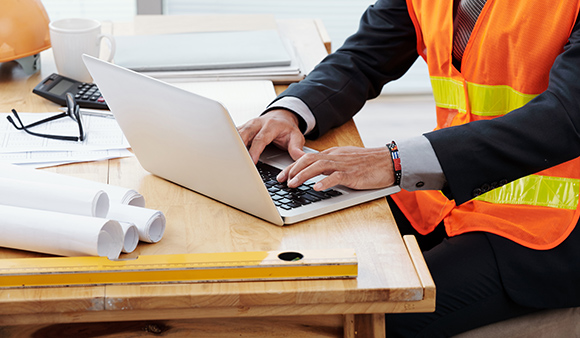 Construction Scheduling Software
Do you want to effectively plan project, estimate timelines, set deadlines, assign tasks, generate floor plans, report field work progress, and keep stakeholders up-to-date? We can build a powerful and customized construction scheduling software for your company to streamline your business processes and bring advanced automation to your daily operations.
Want to automate workflow and reduce labor costs?
We will build a tech-heavy and customized scheduling software that meets your business needs and goals.
Why Ascendix For Scheduling Software Development?
" One thing that differentiates Ascendix is the fact that we built products: products for ourselves and products for our customers. Recently a customer hired us to build an application for them that needed to have this quality of product. After our first phase, they hired a third-party technology company just to look at our code and evaluate. And they didn't share this with us, they just audited our code and within, as our customer tells us, within 45 minutes of taking a look at our code, they said "you've chosen the right partner". They were very impressed. It's not something we expected but this is the type of quality that we bring to any project, any customer. "
What is scheduling software?
Scheduling software is a complex application that automates appointment and booking processes, staff workload, or delivery management.
Does my business need advanced scheduling software?
If you want to increase your employees' productivity, effectively re-allocate labor resources, avoid availability conflicts, reach high scheduling efficiency, and make your business time- and cost-effective, then custom scheduling software built by our expert software developers is a perfect choice for your business.
How could my business benefit from scheduling software?
Save your time
The main benefit scheduling software can bring to your business is time savings. It becomes possible with advanced automation of appointment booking, staff workload, and delivery processes. No more need to manually note individual schedules of your staff, meetings with clients, or your transportation route planning. Also, online scheduling software enables you to quickly manage tasks and reassign projects that greatly saves time of your employees and allows them to put more efforts in the deal closing process. So, if you want to get an advanced automation tool that will bring an excellent time management for your company, feel free to contact us and we will deliver the best scheduling software for your business.
Effectively Prioritize Your Tasks
When your business scales, the number of tasks and operations tends to grow dramatically. It may lead to wrong prioritization, missing deadlines, and project failures. For these reasons, powerful scheduling software developed by our software developers can become a perfect problem solver for your business. So, you can effectively prioritize tasks and focus on more important ones that have rigid deadlines. You no longer need to manually note tasks and prioritize their importance.
Increase productivity
Many entrepreneurs have faced a situation when their employees spend several hours per day to plan, track, and manage tasks, operations, and schedules. It leads to ineffective workload which doesn't allow your team members to focus on major tasks and challenges like lead generation, deal closing, and others. Instead of such counter-productive process management, we can build a tailor-made and industry-ready online scheduling software fully customized to your business needs and goals. This way, you can get a huge team productivity growth which leads to satisfied customers and higher ROI.
Why Ascendix for custom scheduling software development?
Extensive Expertise in Scheduling Software Development
Leverage our expertise gained on multiple similar projects. Most likely, we'll be able to offer you multiple ways to solve your needs, recommend a tech stack for your projects, optimal software architecture and services to integrate with.
Adaptive Team Size for Your Project
At Ascendix, we always cater to your business needs and try to optimize your development budget. It becomes possible with the flexibility in hiring a whole team of professionals or several developers for your project. If you need just a certain technical specialist to supply your internal team, you can easily hire a software developer, quality assurance specialist, DevOps engineer, project manager, or business analyst for your project. In case you want to have a full team of all specialists required to successfully build your online scheduling software, we can offer you that possibility as well.
Flexible Engagement Models
Apart from the full freedom of choosing a team size, we also provide flexible engagement models for the most suitable collaboration. So, if you want to actively cooperate with our scheduling software developers, we can offer a dedicated team model with onshore and offshore teams. Instead, in case you want to avoid personal involvement and get a full-featured, and customized scheduling software, we can absolutely undertake the project development process and build the best scheduling software for your business.
Latest Industry Standards
We closely track the newest trends, standards, and insights that emerge every day. It helps us build the most industry-ready and tech-heavy online scheduling software for your business. Besides, we use the newest technologies and frameworks to create scalable, maintainable, feature-rich, and high-performance appointment scheduling software and other solution types for your company.
Tell Us About Your Project
Contact Info
Ascendix Corporate Office
12222 Merit Drive Suite 1760
Dallas, Texas 75251