Many SaaS startups and companies are constantly looking for ways to build software faster.
It's vital as you need to attract investors and get fundraising, launch earlier than your competitors do, validate the market demand, and proceed further.
CB Insights states that 1 in 2 startups fail due to lack of fundraising, 1 in 3 do fail due to no market-product fit, and 1 in 5 fail due to high competition.
These stats show why launching your SaaS product as fast as possible is a must-have factor to succeed.
And accelerating SaaS product development is among the core ways to win this race.
So, we decided to prepare an in-depth guide featuring:
Ways to build software faster
Key factors that impact the SaaS development speed
10+ examples, formulas, and hints.
5 Proven Ways to Build SaaS Software Faster
Enhance Your In-House Team with Augmented Resources
Startup development teams often lack the resources to meet deadlines and launch products on time.
And an augmented team model can solve this challenge.
Augmented resources are about enhancing your internal development team with external tech talents.
The so-called staff augmentation helps you:
speed up specific SaaS product feature development
reduce labor costs
gain more flexibility of resources
improve the final product quality
access the tech expertise you don't have internally.
For example, you're building an Uber-like SaaS-based application.
You have a preassembled in-house team of tech talents and a project development roadmap, and you've set an accurate timeline and deadlines.
But after 2 weeks of development activities, your team bumps into a set of technical challenges requiring more time and technical expertise to be solved.
Here come several solutions. You can either:
Avoid team improvements, postpone the product launch, and miss your deadlines
Enhance your team with augmented resources
Recruit, onboard, and validate new tech talents that enter your in-house team.
The most time- and cost-effective option is staff augmentation.
First, it can help you bridge gaps in niche-specific expertise which would otherwise take months if not years to accumulate internally.
Second, it can help you raise the technical skills of your existing teams without spending a fortune on training and workshops.
You just put those who need to brush up their skills alongside experienced tech resources provided by a partner of your choice and let them see how colleagues do things in real life.
This way, tech expertise and niche-specific background are two core factors you should consider while hiring a SaaS development company.
Let's look into the augmentation process with Ascendix.
In the beginning, we carefully examine your current business and technical needs to find the right combination of resources you require.
Whether you need front-end, back-end, quality assurance, project management, or DevOps talents, we allocate all resources you need.
All in all, the engagement process looks as follows:
We check the availability of resources
Combine a project-specific and task-oriented team of talents
Proceed to a technical interview
Help onboard our team or a single specialist
Monitor their performance and ask you to provide feedback.
Need Technology Help?
As a technology advisor, we partner with small firms and global enterprises helping them bring automation to their operational processes.
Once we've gone through these steps, you are all set for accelerating your project development.
Another powerful benefit is the flexibility you get with on-demand engagement models.
Let's say you have fixed the technical issues you needed external help with and now you realize that your in-house development team capacities are OK to proceed further and finish the project.
All you need is to smoothly terminate augmented resources (if agreed upon by the contract) and move on. Vice versa, you may want to extend your product development team with another specialist.
That's not a problem as well.
You just follow up Ascendix to know if we have additional tech talents you currently need.
This way, enhancing your product team with an augmented staff is an accelerating and cost-effective initiative to meet your business objectives.
Outsource Specific SaaS Feature Development
Another time-efficient way to avoid soaring project development costs and missed deadlines is software development outsourcing.
This means you delegate developing a specific feature or functionality block of your SaaS product to an external company.
This option becomes better than staff augmentation when you want your in-house team to stay focus-oriented delivering the core functionality.
It means your internal team concentrates on delivering the main architecture while an outsourcing partner takes care of additional features.
The core benefits of outsourcing include:
No missed deadlines and launch postponements
No focus distractions for your in-house resources
No recruiting, onboarding, and validating burdens.
Let's take the same example of building an Uber-like SaaS app mentioned above.
For instance, you want the in-house team to focus mainly on delivering the core functionality for clients and drivers.
It's vital to launch your SaaS product fast to the market and validate its idea through users' feedback.
This MVP-based (Minimum Viable Product) approach can help you avoid much time and fund investments.
But the administration features with real-time analytics and dashboards, driver management, and customer support are critical for your business as well.
Here comes outsourcing software development to keep your internal team focus-oriented while delivering additional features in parallel.
For example, you start searching for a reliable and expertise-specific SaaS development company and contact Ascendix Tech.
We conduct a project discovery phase to know your project goals, needs, pains, and business objectives.
Next, our solution architects analyze the data to build an outsourcing on-demand team up to your requirements.
At this stage, you've already saved weeks or even months on recruiting, interviewing, and onboarding new tech talents to build that functionality.
We fully take care of it and all you need is to choose the engagement model.
First, you can choose whether you need offshoring resources to save your budget or want to blend them with US-based professionals.
For example, you can build a team of Europe-based engineers and US-based PMs and BAs you will interact with.
And this happens in a matter of 1-2 weeks along with quick onboarding.
Once you're all set, the outsourcing project team starts delivering the value-added functionality within the set timelines and deadlines.
This way, outsourcing software development is another powerful accelerator for your SaaS project development.
Choose it when you don't want to closely engage and interact with an external team and want to keep your product-based resources focused on the core features.
As we have outsourced to 6 different locations, we know all the gains and pains of this initiative.
This experience forced us to create a client-oriented approach with diverse engagement models that fit any requirement you may have.
We did our best to eliminate language barriers, time zone differences, lack of control, boost affordability, and other challenges companies still face.
Looking to Build a Proptech SaaS Solution?
Hire Ascendix. We've been at the forefront of SaaS Proptech for 16 years.
Delegate to a Project-Based Team
Apart from the dedicated and managed team models discussed above, you can accelerate SaaS product development with a project-based team. It's similar to the previous approach, with the only difference in the engagement level and the payment model.
A project-based option means you fully outsource specific SaaS feature development to a company that creates a well-written technical specification for your project. And the vendor's PM is fully in charge of workflow management, which means you can engage only 1 or 2 hours per week, for example.
In terms of the way you pay, a project-based model involves the Time & Material or Fixed Price options. So, you multiply either the total amount of hours required to complete a project or scope by the agreed hourly developer rates.
Here comes the final development cost for this initiative.
In contrast, a dedicated team model is about multiplying the hourly developer rates by 8 working hours per day. This makes a project-based option a great solution if you have limited resources, want to set accurate timelines, and have minimal time commitment.
With all this said, let's now compare the dedicated vs on-demand vs project-based models by multiple criteria.
3 Ways to Accelerate SaaS Product Development [Comparison]
Criteria
On-Demand Team
Dedicated Team
Project-based Team
Engagement
High
Middle
Low
Control
High
Middle
Low
Flexibility
High
Middle or High
Low
Required tech expertise
Must-have
Nice-to-have
Optional
Project management
Client
Client/vendor
Vendor
Responsibility
Client
Client/vendor
Vendor
Scalability
High
Medium or High
Low
Communication
Day-to-day
Frequent
Up to your schedule
Adopt CI/CD Pipelines
Continuous integration (CI) and deployment (CD) are must-have coding practices. They mean software developers integrate their changes into a shared repository on a daily or weekly basis.
Each integration leads to an automated verification which helps detect potential errors and bugs quickly. The core CI/CD idea is to build and integrate functionality each time verification is launched.
Simply put, continuous delivery/deployment is designed to automate the process of releasing software. Being a cornerstone of DevOps operations, CI/CD pipelines lead to high velocity.
They help build software faster as you can minimize manual errors, increase iteration loops, and accelerate the feedback procedure.
Hire a SaaS Development Vendor with a Comfort Time Zone
Whether you choose an in-house vs outsourcing development, proper communication is a must.
Once you're all set with planning, day-to-day follow-ups and meetings come into play. They keep product teams aligned and synced to do tasks and meet deadlines efficiently.
Non-optimized communication slows down the SaaS development process and brings additional negative results. This means you should develop intuitive and effective communication pipelines across the entire product team.
The most crucial aspects here are the number of meetings, their timeline, and goals. Most product teams perform daily sync-ups and meetings internally.
For example, a front-end development team.
A team lead engineer performs day-to-day meetings to know what, when, and why is going to be delivered. What's more, it's a perfect timeline to ask questions and get answers that keep each team member valued and informed about the process.
Next, you can organize a general product development meeting once a week. It's useful to discuss high-level SaaS project objectives and align with the latest changes.
Here's a simple example of a communication pipeline you can build internally with your product team. Apart from building the pipeline, you may face language barriers and time zone differences.
These are common challenges many outsourcing companies deal with and Ascendix is no exception. As we've outsourced to 6 different locations around the world, we've coped with both challenges and get the ropes on them.
Here are our tips and tricks to handle them:
Choose a software development company with no more than 6 h difference.
For example, you are based in New York and the outsourcing team is in Portugal. It means you have a 6-hour difference which leaves 2 working hours as an overlap.
This is mostly enough to sync up on the daily working status and discuss updates for further development. In case you have an 8-hour difference or more, it brings a way more complicated workflow.
Either a company or your team needs to adapt to the schedule and start earlier or finish later. That's may seem not that critical, but the average SaaS project development time is 3-6 months.
This means it's a long-term discomfort for one of the teams and this largely may impact your communication.
Outsource to a provider in English-speaking regions.
Language barriers have forced our company to change over 3 locations and spend several years finding the ideal fit. Finally, we stopped on the European region with affordable rates and a decent English proficiency level.
1 in 2 European citizens speak English as their native language and can easily hold a niche-specific conversation (Wikipedia).
This makes Europe a great destination to outsource and make sure you minimize potential communication problems. That is why we've recently established our new IT hub in Portugal. In our post, we share what we've learned including the common challenges and benefits of this region for outsourcing initiatives.
Leverage 24/8 development pipelines.
Another powerful yet hard-to-find approach is to organize the so-called '24/8 development' pipeline. This means you convert small- or lacking-time overlaps with your vendor into cyclical support and development workflows.
For instance, you're based in California and the vendor is in Luxembourg. You have a 9 h difference which minimizes potential efficient interactions and discussions.
But you can set up an almost non-stop project development workflow.
The scenario is simple: the vendor's outsourcing and your in-house teams work 8 h per day one by one. Once one team finishes the working day, it prepares an in-depth daily report and shares it with another team to update on the project's progress.
For example, your product team starts working at 9 am, which means the Luxembourg-based team has already finished its working day. And vice versa.
This way, you minimize the project idling time and organize a 24/8 development pipeline.
Key Factors that Impact SaaS Development Speed
Bigger team – faster delivery
It's an open secret that the more technical engineers you have, the faster you can deliver software functionality.
This makes team size one of the core factors that impact software development speed.
But what's the right size for your product development team?
The average team size is from 6 to 10 members (SmartBear).
The company surveyed over 1,100 developers and most respondents replied that 7 is the golden mean.
Agile recommends having from 3 to 9 members including PMs, BAs, developers, UI/UX designers, and DevOps engineers.
Here's a simple formula you can utilize to calculate an optimal team size:
Where N is the number of team members you have.
The value you get is the number of possible interaction combinations inside your team.
They are also called organizational overheads.
It includes the amount of time needed to plan day-to-day tasks, the number of emails between team members, reporting and sync-up requirements, and many others.
Here comes the Ringelmann effect which states that individual members of a group become increasingly less productive as the size of their group increases.
Here's a graph which shows the correlation between your team size and the # of combinations you can get.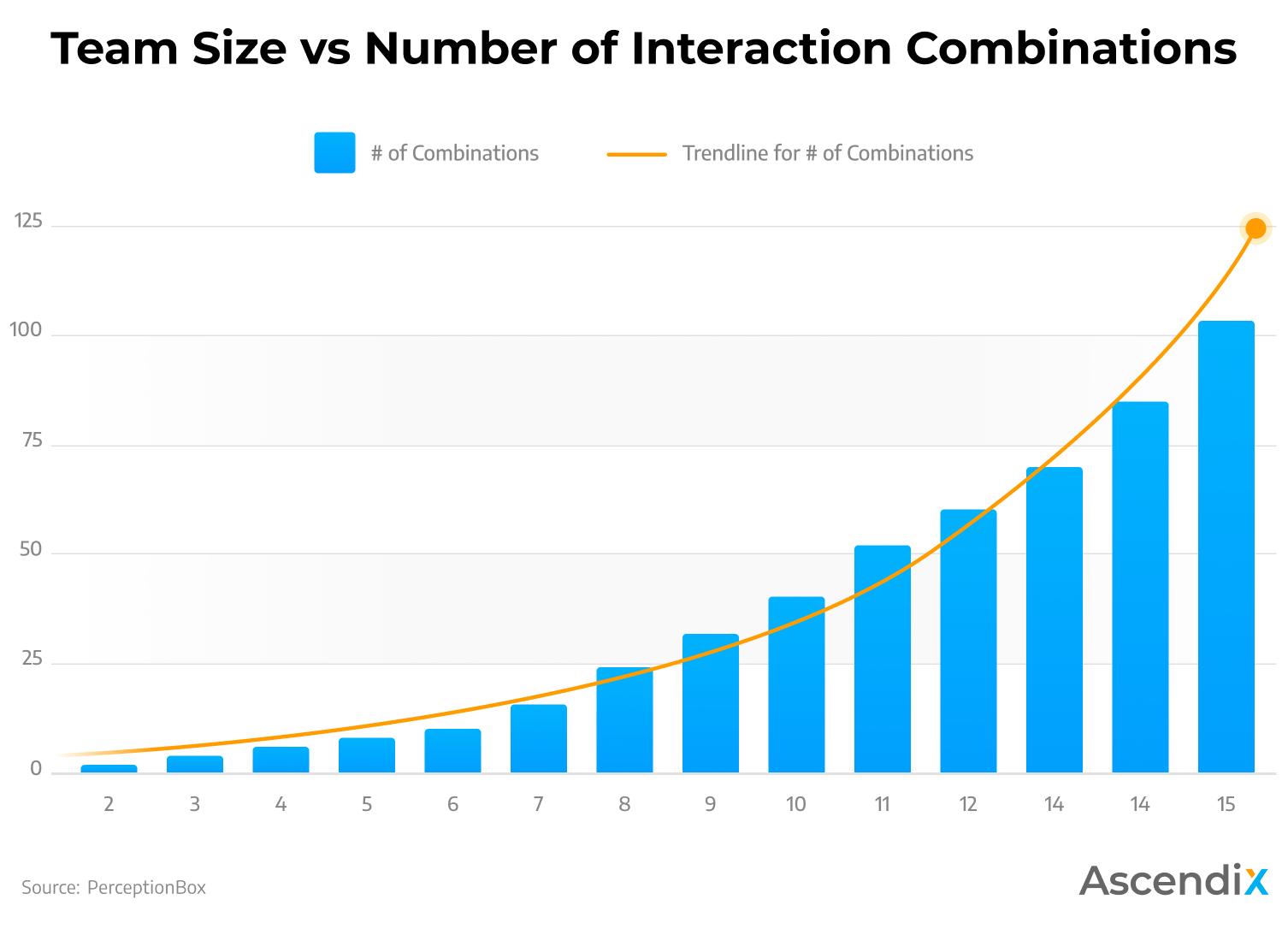 So, the more team members you have, the more efficient combinations you can build.
For example, 5 members can produce only 10 interaction combinations while 7 members boost the number to 21.
In case you decide to grow your team by times, you should keep in mind the factor of complexity.
You may see that managing an 8-member team is twice as difficult as a four-member team, the formula says it's 4.6 times as complex.
This means you will need to invest more time and effort to manage the team of 8 members.
So, always consider your budget, timeline, and complexity factors before gathering your dream product team.
Higher complexity – longer deployment
The more complex project requirements and architecture are, the more time you may need to develop the software.
And the team size factor doesn't always impact the project's complexity.
Ringelmann states that there is no direct correlation, and this is mostly situational for most projects.
For example, simple newsfeed-like applications don't need many team members to build software faster.
In turn, complex Uber-like apps often require more time as they include multiple independent modules for drivers, customers, and administrators.
And here comes the point of parallel or sequent development.
If your product teams can work on architecture modules in parallel, this will help you accelerate the development process.
Otherwise, you will need your teams to finish each model step by step to proceed further.
This means that project complexity is another impactful factor that influences the total timeline.
How Ascendix Helps Speed Up SaaS Development
With 10 years of expertise in SaaS development, we know how to build software faster and still deliver high quality.
The matter is that we follow the best practices from conducting a project discovery phase to building a project-oriented team that fits your needs.
You can leverage multiple engagement models that include:
On-Demand teams (Ascendix manages your project)
Dedicated teams (you manage the Ascendix team)
Offshore teams (Europe-based team members only to save budget)
Blended teams (a US- and Europe-based team to meet all your needs).
An on-demand team model will fit your needs best if you need a defined scope and timeline, temporary access to the technical team, and don't have a project roadmap.
A dedicated team is about extended project duration, full control over the team, optimized budget, and extending your in-house team or building one from scratch.
An offshore engagement model means you cut down project development costs by having Europe-based offshored resources, accessing the wide talent pool, and sharing business hours.
A blended team model means you have US-based project managers and business analysts while still saving costs with offshored European resources.
This way, Ascendix follows the demand-driven approach to meet your project requirements and helps you build software faster and in an effective way.
Build Custom Software with Ascendix
We help companies automate their workflow by developing bespoke software solutions. Leverage our experience in real estate, legal, financial, and transportation industries.
Wrapping Up
We hope the discussed 5 ways will help you build software faster and save your budget. Each option can greatly save your time if applied properly.
In case you're looking for a development company to help extend your team or build the SaaS project from scratch, Ascendix is at your service.
Just drop us a line and we'll send an estimate.
Daniil Torkut
,
Content Marketer
Daniil specializes in content marketing and has a deep knowledge of promoting the company's products and services through high-quality content. On the Ascendix blog, Daniil shares his tricks and tips on custom software development, provides technology trends and insights, and helps you get valuable content to make your business even more successful and profitable.
Subscribe to Ascendix Newsletter
Get our fresh posts and news about Ascendix Tech right to your inbox.