Software as a Service company model has set a new standard for modern business operations by streamlining workflows and revolutionizing customer engagement.
Along with the rise of AI and its integration into SaaS, such businesses are bound to become the technology of the future in the nearest years.
In this post, you will get a comprehensive information about SaaS startups and companies by GrowthList featuring:
Their general information, core features, fundraising stats, and customer number;
Pricing models and plans of the best SaaS startups;
Market trends and insights (including stats).
Top SaaS startups and top SaaS companies 2023 will also include the breakdown by revenue, fastest growing businesses, and AI pioneers that are likely to rise in the nearest future. Most widely known examples of SaaS in our blog post include
Loom;
ClickUp;
Asana;
Blackboard;
Grammarly;
Omnisend.
Top SaaS Startups
InVideo;
Beamer;
Omnisend;
SeeData;
Printify.
Top SaaS startups which offer unique and high-quality services will continue to grow and rise. We have gathered the best SaaS startups and divided them by fastest growing ones and the amount of funding they have received which enabled them to develop and become top startup SaaS. Enjoy!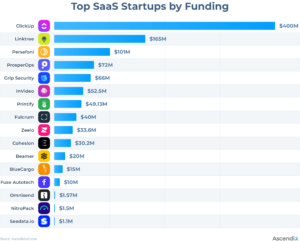 Top SaaS Startups by Funding
Type of service: Collaboration and productivity
Funding: 400 million
Founded: 2017
One of top SaaS startups with biggest funding, ClickUp offers project management and team collaboration tools. The company provides integration and customization options, allowing every business to address their unique needs and customize the service as required.
ClickUp provides a centralized workspace for teams to collaborate, organize tasks, and streamline workflows. It is an all-in-one solution which makes it valuable for both B2B and B2C SaaS companies. ClickUp promotes communication, task delegation, and goal tracking, fostering productivity and growth among both SaaS startups and long-established enterprises.
Need Technology Partner to Build a SaaS Product?  
We are tech experts with 16+ years of experience in SaaS development. We can execute your vision and give expert advice on your project.
Type of service: marketing management
Funding: $165 million
Founded: 2016
Linktree is a top SaaS startup that enables users, particularly content creators, businesses, and influencers, to manage multiple links on their social media profiles through a single, customizable landing page. The platform simplifies the process of sharing content on websites, social media profiles, and other online resources, by providing a centralized hub for accessing relevant information.
As a startup SaaS in marketing, Linktree can be used across multiple social networks to provide access to a brand or individual's most important content, all in one place. Businesses and individuals can use the tool to create actionable links for services (like Instagram) that forbid direct links.
Type of service: Sustainability and carbon emission control
Funding: $101 million
Founded: 2020
Persefoni is a sustainability-focused SaaS startup providing solutions for enterprises to track, manage, and reduce their carbon footprint and overall environmental impact. Persefoni is an emerging SaaS company, but it already offers various tools for monitoring and reporting greenhouse gas emissions, energy consumption, and sustainability initiatives.
With its sustainability focus and technological advancement with data integration, Persefoni is one of SaaS AI driven startups that play a pivotal role in supporting organizations' sustainability goals and environmental stewardship efforts.
Type of service: Financial Management for AWS
Funding: $72 million
Founded: 2018
ProsperOps is a cloud cost optimization service that helps businesses reduce their AWS spending and improve their cloud efficiency. ProsperOps is a B2B SaaS company, assisting business managers in managing and optimizing their cloud infrastructure costs.
Machine learning and automation integrated in the platform provided by this SaaS startup can analyze, optimize, and manage AWS resources, allowing business owners to make informed decisions and reduce unnecessary expenses in their cloud management.
Type of service: Cloud security
Funding: $66 million
Founded: 2021
Grip Security is a SaaS startup specializing in cloud security software that helps enterprises protect their cloud applications and data from unauthorized access and leakage. Grip Security uses a zero-trust approach to monitor, control, and audit cloud activity across users, devices, and networks.
Among other services, Grip Security gives its users access to a SaaS security control plane, assisting businesses in discovering shadow SaaS, mitigating access risk and SaaS sprawl. Grip Security is one of most innovative SaaS startups due to its integrations, safety, and user-oriented approach.
Type of service: Video creation and editing
Funding: $52.5 million
Founded: 2017
InVideo is a SaaS startup that provides video creation and editing services, enabling users to produce high-quality videos easily. With its wide choice of customizable templates, InVideo is one of leading marketing saas companies, as it caters to the needs of content creators, marketers, and businesses.
Main features, provided by this B2B SaaS startup, are a vast stock media library, video editing tools, real-time collaboration capabilities, and most recently – AI solutions. With InVideo users create content for marketing campaigns, social media, and educational materials. The integrated SaaS AI technology can generate and edit videos, scripts, voiceovers, and brainstorm ideas. InVideo has over 7M users who create hundreds of thousands of videos monthly, making it one of the leading examples of SaaS in B2C sector.
Type of service: Print-on-demand marketplace
Funding: $49.13 million
Founded: 2015
Printify is a print-on-demand service provider that enables individuals and businesses to create and sell custom-designed merchandise. With its freemium plan, user-oriented interface, and integration with e-commerce platforms, Printify is one of top growing SaaS companies, allowing users to easily design and print on products like apparel, accessories, and home goods.
Printify connects its users with the network of print providers. It has Premium and Enterprise plans for a monthly fee, and a free plan allowing users to run small-scale e-commerce operations and only pay for production. Therefore, Printify is one of most cost-effective B2B SaaS examples in the sphere of e-commerce.
Type of service: Cloud manufacturing and management
Funding: $40 million
Founded: 2020
Fulcrum is an inventory management software that helps e-commerce businesses optimize their inventory levels, reduce costs, and increase sales. One of SaaS startups for workflow automation, Fulcrum allows businesses to streamline data collection processes, create custom forms, and generate actionable insights.
Fulcrum uses machine learning and automation to forecast demand, replenish stock, and manage orders. Among other B2B SaaS startups, Fulcrum focuses mostly on shops and e-commerce companies.
Type of service: Transportation management
Funding: $33.6 million
Founded: 2016
Zeelo is a transportation technology SaaS startup providing transportation solutions for businesses, schools, and event organizers. Focusing on optimizing commute and group travel, this B2B SaaS company offers a range of services like transport booking, route planning, and real-time tracking for passengers.
Zeelo also uses technology like SaaS AI tools to revolutionize the way people commute and travel and offer flexible and sustainable transportation options that cater to the specific needs of its diverse clientele. The company utilizes data analytics and SaaS artificial intelligence expertise to create efficient routes, monitor drivers, and ensure safety.
Type of service: Real estate and construction management
Funding: $30.2 million
Founded: 2018
Cohesion is a B2C SaaS company providing smart building software that helps property owners and managers enhance the tenant experience and improve building operations. Cohesion integrates with various building systems and sensors and provides a mobile app for tenants to access building amenities, services, and community.
One of the top SaaS startups in the sphere of property management, Cohesion specializes in smart building solutions and combines data analytics, IoT technology, and automation to optimize building operations, energy management, and occupant experiences. The solutions enable real-time monitoring, predictive maintenance, and intelligent insights which improve overall operational performance.
Type of service: Notification and changelog
Funding: $20 million
Founded: 2018
Beamer is a product communication and changelog service provider. This B2B SaaS company is designed to help companies effectively announce updates, new features, and product releases to customers.
Beamer is one of the best SaaS startups that allows update and engage users easily. Basically, it provides a notification center, customizable widgets, and changelog that can be embedded with the product or website to announce new features, updates, and collect valuable feedback.
By facilitating direct and personalized communication, Beamer aims to improve user retention, enhance customer satisfaction, and drive user adoption of new product features.
Type of service: Logistics and transportation
Funding: $15 million
Founded: 2018
Blue Cargo specializes in innovative logistics and shipping solutions. This SaaS startup helps container terminals optimize operations and increase efficiency. BlueCargo uses SaaS artificial intelligence technology and big data to provide real-time recommendations for stacking, loading, and unloading containers.
The company optimizes delivery and transportation of goods for businesses, which makes the company one of top B2B SaaS companies for logistics. The extensive suite of services includes digitalized supply chain management, real-time container tracking, and customer support. Blue Cargo is a B2B SaaS company busiest US ports and solves the problem of multiple businesses with their innovation.
Type of service: Car selling automation
Funding: $10 million (latest investment round in 2021)
Founded: 2020
Fuse Autotech is a top SaaS startup providing digital sales solutions for the automotive industry. As the SaaS company which connects dealers, lenders, and customers, Fuse Autotech improves the car selling experience for the dealer, buyer, and solves the issues connected to financing for lender. It also uses machine learning to automate the financing process, reduce risk, and increase conversions.
Fuse Autotech can be considered a B2B SaaS company, as it also offers a white-label solution for dealers to create their own branded financing platform, however, it also includes B2C SaaS technology to optimize and streamline sales. With expertise in finance management, data analytics, and automotive engineering, the company transforms the automotive sector with digital solutions.
Type of service: Marketing automation
Funding: $1.57 million (latest investment round in 2020)
Founded: 2014
Omnisend is a top SaaS startup in marketing automation, designed for e-commerce businesses. The company enables marketers to create personalized customer experiences through targeted email, SMS, push notifications, and other marketing channels.
Similarly to other marketing SaaS companies, Omnisend focuses on increasing conversions and driving sales. However, this SaaS startup's unique feature is that it offers omnichannel marketing solution, meaning more efficient and optimized promotions. Omnisend integrates with various e-commerce platforms and tools and provides analytics and optimization features to improve campaign performance.
Type of service: Website optimization
Funding: $1.5 million (latest investment round in 2023)
Founded: 2018
NitroPack is SaaS startup specializing in automated website speed optimization. NitroPack features caching, CDN, HTML, image optimization, and other tasks easily automated on different CMSs. The SaaS startup's aim is to boost website performance and page loading time. NitroPack claims to improve these by up to 300%.
The company works with the majority of popular platforms, such as WordPress, WooCommerce, Magento, and OpenCart. NitroPack focuses on the needs of e-commerce stores, content-based websites, and online businesses, helping them achieve better search engine rankings and higher customer engagement.
Type of service: Cybersecurity services
Funding: $1.1 million
Founded: 2021
Seedata.io is a cybersecurity deception-technology SaaS startup that identifies previously undetected data theft/leakage incidents. Seedata sends trackable data records into its customers' systems and monitors for any evidence of the data being stolen – the principle like the concept of a GPS tracker, but for data breaches.
Seedata.io is currently quite a small B2B SaaS startup, but it has an established set of values: accountability, exploratory mindset, honesty, data-driven approach, and taking responsibility for businesses they work with, meaning it will become one of the high growth SaaS companies in the future.
Top SaaS AI Startups to Rise in the Nearest Future
Type of service: AI research, improvement and deployment, generative AI services
Founded: 2015
Funding: $14 billion
Revenue: $28 million (2022)
OpenAI is a SaaS AI startup, originated from AI research lab, which includes both for-profit and non-profit. OpenAI's mission is to enhance artificial intelligence technology and make sure it brings benefit to humanity. This unique SaaS company not only aims to build safe and beneficial AGI, but also helps others in achieving it as well. The saas AI tools offered by OpenAI are products like DALL·E 3 and GPT-4. ChatGPT is the service most widely known and visited by the customers, with more than 21.1 million users monthly.
Type of service: E-commerce platform for residential real estate transactions
Founded: 2014
Funding: $3.48 billion
Revenue: $15.6 billion (2022)
Opendoor is a San Francisco-based online business that lets its users buy, sell, and trade-in homes. The aim of this SaaS company is to provide a simplified real estate transaction process. The company actively uses SaaS AI tools and machine learning to assess the property value and provide a competitive cash offer within 24 hours. Along with this, platform users skip property showings with the help of online viewings which save time for both seller and buyer, making the property sale as fast and effortless as possible.
Type of service: Cloud-based AI platform for IT support and service desk challenges
Founded: 2016
Funding: $315 million
Revenue: $18.8 million
Moveworks is one of top SaaS startups uniting cloud services and generative AI. The company incorporated AI SaaS tools for IT support and service management. With a focus on automating and streamlining IT operations, Moveworks enables companies to resolve employee IT issues and inquiries, enhancing overall operational efficiency. The service is most relevant for the support department, HR, and can be effectively used for streamlining general administrative queries in the company.
Type of service: AI-based translation system
Founded: 2017
Funding: $100 million
Revenue: $84 million
DeepL is a key player in the realm of SaaS AI for linguistics and translation. Among the notable AI SaaS companies, DeepL stands out with its cutting-edge approach to language processing, meaning high-quality translation powered by SaaS artificial intelligence. Deepl uses advanced algorithms, AI integration, and neural networks to provide high-quality translation services. This way, DeepL has solidified its position in the SaaS AI industry, earning the trust of millions of businesses and individuals.
Type of service: AI-based design tool for user interfaces for web and mobile applications
Founded: 2017
Funding: $18.6 million
Revenue: $3.2 million
Uizard, a rising star in the world of SaaS AI, has swiftly earned recognition as one of the top SaaS startups. Uizard enables users to create prototypes and designs for apps and websites without the need for extensive coding expertise, streamlining the design processes for businesses significantly. Unlike similar platforms, Uizard uses the power of SaaS AI tools, making the design creation fast, effective, and much easier for an average user.
Type of service: AI-powered customer experience service
Founded: 2016
Funding: $17 million
Revenue: $1.8 million
Frame.ai specialized in implementation of SaaS AI tools for taking customer support practices to a whole new level. Frame.ai aims to utilize AI to provide valuable insights into customer behavior and attitudes. This involves AI customer sentiment analysis, AI summarization and translation, and automated adapted replies to customers. Such a SaaS AI–focused approach of Frame.ai is bound to create a real customer-focused landscape for businesses using it and is a valuable source of data.
Top SaaS Сompanies 2023
Asana
Slack
DocuSign
EventBrite
Grammarly
Loom
BlackBoard
Unlike SaaS startups, which are at the beginning of the way, well-established SaaS companies entered the market a long time ago have a stable and respected position. These top SaaS companies 2023 have demonstrated remarkable revenue growth and innovation, solidifying their position in rapidly changing digital world, and paving the way for future cloud-based solutions.
Top SaaS Сompanies by the Number of Customers
Type of service: Productivity and team collaboration software
Number of employees: 1,500+
Customers: 156,000+ paid customers, 18 million daily users, 77 of the Fortune 100 use Slack
Founded: 2006
Revenue: $4,217 million
Slack is a SaaS company focused on productivity, whose software empowers everyone with no-code automation and SaaS AI tools, makes search and knowledge sharing seamless, and keeps teams connected. Slack has over 20 million active users as of 2023 and is expected to have 47.2 million daily active users and 79 million monthly users by 2025.
Type of service: AI-powered writing assistant
Number of employees: 1000+
Customers: More than 30 million daily users and 8,300+ paying customers
Founded: 2009
Revenue: $88.7 million
Grammarly is an innovative SaaS company providing service that finds and corrects complex writing errors. The company was one of the pioneers who integrated SaaS AI, providing smart suggestions and improvements to the text, like changing style, formality, conciseness, or wording. Grammarly grew to $88.7M over the past 14 years and hit a $13B valuation in 2023, being one of the fastest growing B2B SaaS companies.
Type of service: Video communication software for work
Number of employees: 250+
Customers: 14 million individuals and 200,000 companies
Founded: 2015
Revenue: $5.6 million
Loom is a technology B2B and B2C SaaS company that provides video communication software. Loom's technology includes screen and camera recording, video editing, transcription, and the ability to share the video link with others. One of top growing examples of SaaS, Loom now serves over 14 million users and 200,000 businesses across 230 countries worldwide.
Type of service: Event organization and ticketing
Number of employees: 880+
Customers: Around 800,000 customers event-creators, and millions of events hosted
Founded: 2006
Revenue: $295.84 million
Eventbrite is an online event management and ticketing services provider. The SaaS company helps businesses and organizations of all sizes in managing, promoting and selling out their events, which range from music festivals to photography classes. Like other examples of SaaS, Eventbrite has grown significantly, with over 200,000 enterprise customers and a customer that purchased a 10,000+ seat deployment.
Type of service: Electronic signature and digital transaction management
Number of employees: 7,400+
Customers: More than 148,000 paying customers worldwide
Founded: 2003
Revenue: $2.516 billion
DocuSign aims to accelerate business and simplify life for companies and people by streamlining the paperwork. It was the first among SaaS companies to implement e-signature technology, and today DocuSign helps organizations connect and automate how they prepare, sign, act on, and manage agreements. This SaaS company improved and enhanced document and paperwork experience for companies all over the globe.
Type of service: Online task management software
Number of employees: 1,700+
Customers: More than 38,500 paying organizations and teams worldwide
Founded: 2008
Revenue: $547.21 million
Asana is a developer of online task management software solutions. This B2B SaaS company specializes in project management, team collaboration, task management, workflow optimization, team communication, and productivity. Similarly to other top SaaS companies 2023 like Trello and Notion, Asana specializes in the fields of work management and productivity.
Type of service: Educational technology, known for its learning management system
Number of employees: 3,000+
Customers: Used by approximately 17,000 schools and organizations
Founded: 1997
Revenue: $5.6 million
Blackboard is a unique SaaS company focusing on educational technology. It is known for Blackboard Learn, a learning management system, widely used by schools and universities. Blackboard is different from other examples of SaaS, as it provides a wide range of educational services to individuals, governmental organizations, and private education providers.
Top SaaS Companies by Revenue
Service provided: Computer software, hosting and consulting
Founded: 1911
Revenue: $60.53 billion
Country of origin: United States
IBM (International Business Machines Corporation) has made significant contribution to the IT industry, particularly in the sphere of SaaS AI and cloud-based solutions. IBM focuses on the development and deployment of cutting-edge technologies for businesses, which makes it a key B2B SaaS company. Their offerings include cloud computing, data analytics, and enterprise solutions, as well as consultancy and research and development services. IBM showcases the transformative power of SaaS AI tools, helping businesses to optimize operations, enhance decision-making, and lead to digital transformation.
Service provided: Database cloud software and technology
Founded: 1977
Revenue: $49.95 billion
Country of origin: United States
Oracle, one of the top SaaS companies 2023, is a multinational technology corporation specializing in enterprise software and cloud solutions. Oracle offers an extensive suite of business applications, database management systems, and cloud infrastructure services, providing tools for data management, analytics, and security. Oracle, as a B2B SaaS company, drives innovation and digital transformation for businesses across various industries with its cloud-based technology solutions.
Service provided: Enterprise software to manage business operations and customer relations
Founded: 1972
Revenue: $32.84 billion
Country of origin: Germany
SAP, a long-established multinational corporation, is a SaaS company specializing in enterprise software solutions. SAP lets organizations manage and optimize business processes, including finance, HR, supply chain, and customer relationship management. With a strong emphasis on cloud-based SaaS services, SAP aims to redefine the traditional way of business management by offering innovative SaaS solutions that facilitate data-driven and agile decision-making.
Service provided: CRM software and cloud applications
Founded: 1999
Revenue: $31.35 billion
Country of origin: United States
Salesforce, an expert in SaaS startups, is a global leader in cloud-based CRM solutions. Salesforce offers an extensive suite of cloud-based applications that enable businesses to streamline and enhance their sales, marketing, and customer service operations. Renowned for its cutting-edge SaaS AI capabilities, Salesforce provides a range of cloud-based applications for customer service, marketing automation, AI analytics, and application development.
Service: Computer software for digital marketing and media
Founded: 1982
Revenue: $17.6 billion
Country of origin: United States
Adobe is a SaaS company renowned for its innovative suite of digital solutions and SaaS AI tools for graphic design, PDF management, marketing, analytics, and e-commerce. Recognized as one of the foremost marketing SaaS companies, Adobe's comprehensive suite of offerings, including Creative, Document, and Experience Cloud, empowers individuals and businesses to create, manage, and optimize content and experiences with efficiency and creativity.
Service provided: Financial management and compliance
Founded: 1983
Revenue: $14 billion
Country of origin: United States
Intuit Inc is a well-established SaaS company which provides financial management and compliance products and services for small businesses, consumers, self-employed, and accounting professionals in the United States and internationally. A range of services includes tax guidance software, financial management tools, invoicing, bookkeeping, and payroll management.
Start Your SaaS Project with Ascendix 
We've got 2 decades of expertise in SaaS development. Trust your project to Ascendix professionals.
Bottom Line
SaaS services are constantly growing and capturing new market niches supplying users with advanced technologies and useful features.
Soon, SaaS companies will be transformed by the increased adoption of AI technology, optimizing the existing processes and changing the pricing and customer engagement. Mobile-first solutions will rise in popularity, offering customers more flexibility and convenience.
Along with this, customer experience will become the priority in the digital sphere, ranging from improvement in design and implementing user-friendly applications to enhancing privacy matters and accessibility.
We hope our overview of the top SaaS startups and companies will help you understand the niche better and get valuable insights for your business. If you want to develop a custom SaaS application, we at Ascendix are always here to help.
Developing SaaS solutions requires a profound market understanding and technical proficiency. It is vital to collaborate with a development partner who not only possesses expertise in building SaaS applications but also comprehends the nuances of the modern digital sphere AI trends.
Ascendix for SaaS Development
Ascendix can assist you with implementing your innovative concepts in case you lack industry knowledge or seek to share the development workload. With almost twenty years of experience, we specialize in crafting software solutions tailored to specific business needs.
Located in Dallas, USA, and operating from four other global offices, we harness our local and international insights to deliver innovative SaaS products. Our partnerships with established leaders like JLL and Colliers reflect our competence and reliability.
At Ascendix, we recognize the uniqueness of every project and customize our approach to align with your requirements.
Share the details of your project with us, and we will equip you with the expertise, resources, and assistance needed to transform ideas into tangible solutions. Let us drive innovation for your business and facilitate success.
Trust your SaaS product development to us and let's build mind-blowing, secure, customer-oriented, and successful SaaS startups together. Drop us a line or check our case studies for more information.
How many SaaS startups are there in the US?
According to Statista, there were over 15,000 SaaS startups in the United States which is more than 70% of the worldwide SaaS market share.
What is a SaaS company?
A SaaS company is a company that designed and launched a Software-as-a-Service application available for customers over the Internet within a subscription model. The core feature of SaaS companies is that users just need to subscribe and start using all the features out-of-the-box as they are stored and handled on the SaaS company's side.
Which are SaaS products?
Salesforce, Atlassian, Slack, GitHub, and Adobe are among the top SaaS products.
What is the biggest SaaS company in the world?
Adobe is the biggest SaaS company in the world with over a $204.5B market cap (June 2022). The next SaaS companies by market cap are Salesforce ($182.1B) and Intuit ($115.4B).
Yana is a proptech enthusiast and a technology fan. In her articles, she explores the world of real estate software, including proptech news, useful resources, and real estate technology insights, assisting everyone involved in the industry to modernize and optimize their business.
Subscribe to Ascendix Newsletter
Get our fresh posts and news about Ascendix Tech right to your inbox.