Legal tech is the combination of the legal industry and software technologies designed to serve law firms and legal technology companies with advanced solutions helping them boost the conversion rate, automate the lead generation process, and reduce costs through high automation of daily workflows.
Since 2017, there has been a 484% increase in the number of legal technology patents worldwide. In 2021, this number continues to increase as many law companies experience vast lead generation changes caused by the implementation of LegalTech solutions.
In this blog post, we'll share the legal tech overview, explore legal technology trends, analyze the list of best legal tech companies to help optimize your law firm performance, and show what companies can help you succeed.
Technology in Legal Industry
Legal tech solutions make professionals' lives easier. Technology in the legal industry plays an inevitable role because they provide law firms with the following benefits:
Legal Tech Solutions Make Law Firms Global
With automated workflows, it gets easier for law firms to grow in size and expand geographical reach. Legal Tech solutions provide industry workers with mechanisms for coordinating and controlling their operations globally.
Moreover, technology in legal industry enhances the global outlook of law practice and helps companies position themselves in an international legal services market.
Legal Tech Solutions Provide Great Transparency
Nowadays, clients want to know the price for legal services, track the day-to-day progress of the lawyer on their case, and analyze performance of their lawyers in one touch.
This ensures that they do not spend more on the case than they earn from it, making legal processes transparent.
Legal Tech Solutions Provide Fast Data Processing
With Legal Tech solutions implemented in your law firm, a high level of analysis can be done in a few minutes (e.g., fast calculation, advanced reports, management of cases turnover, caseloads control, document management, etc.).
Fast processing of information improves the quality of legal services and prevents lawyers from routine administrative tasks.
Legal Tech Solutions Minimize the Cadence of Errors
With the use of artificial tracking systems, you keep an eye on all the critical data (intakes, cases, clients, billings, and more) and analyze it in an infinite number of ways. Having relevant data in one place enhances you to forecast the changes in your legal workflow and create profitable strategies.
LegalTech Market Size
There are two factors that indicate an ongoing increase in the LegalTech market:
Growth of a compound annual growth rate
Enlargement of budgets law companies spend on LegalTech annually.
According to Statista, in 2019, the LegalTech market generated revenues of 17.32 billion U.S. dollars worldwide along with the market forecast to grow at a compound annual growth rate (CAGR) of over 6%for the period to 2019-2025.
By that year, revenues are set to reach 25.17 billion U.S. dollars.
The leaders in implementing legal technologies are law firms in Europe and North America, especially the USA and the UK. These countries have strong and well-developed legal service industries.
Additionally, the countries have several leading technology hubs – an ideal combination for enabling the growth of legal tech.
Speaking about enlarged budgets, Gartner predicts that by 2025 legal departments will triple their spending on legal technology.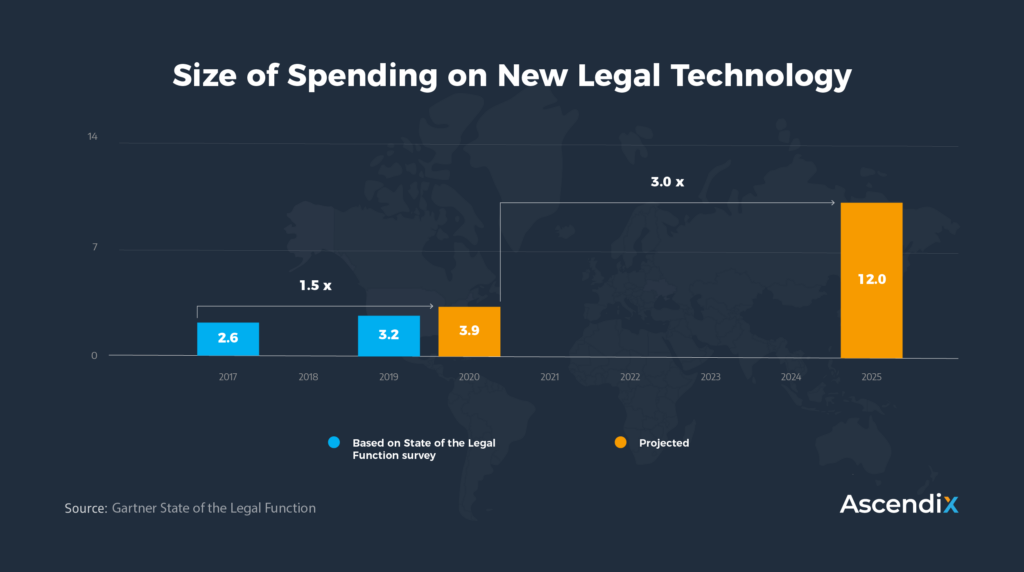 The reason for investing in legal tech is simple: it improves productivity, efficacy, accuracy in compliance and allows you to provide more value for clients.
Now let's look ahead to exploring the legal technology trends and become familiar with the best legal tech companies.
Top 3 Legal Technology Trends
In order to be on the wave of the best legal technology practices that can be implemented in your law firm, you need to be aware of the latest technology trends in the legal industry.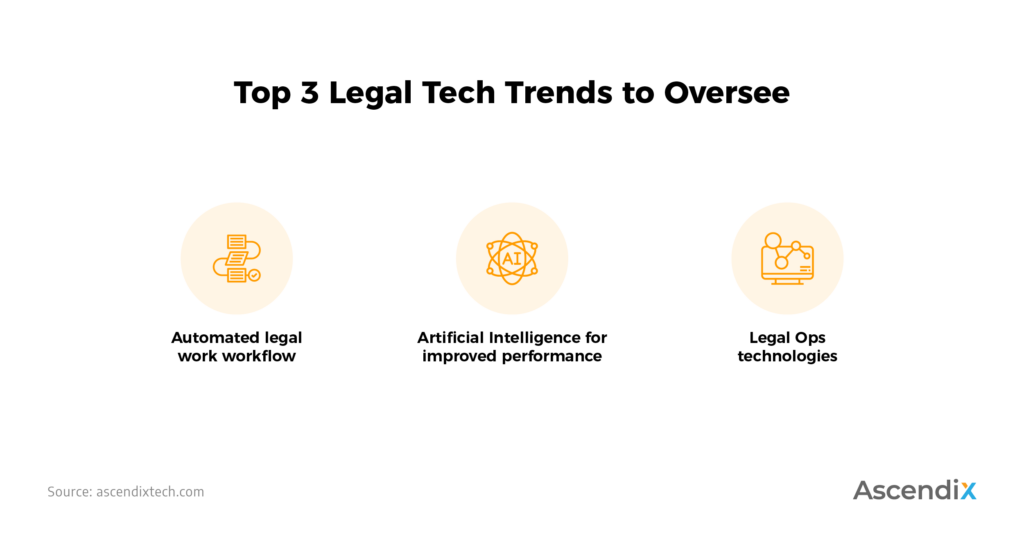 Trend #1: By 2024, law firms will have automated 50% of legal work related to corporate transactions.
According to a 2019 Gartner survey, legal departments reported that 55% of their corporate transaction work could be automated, and a third of it (33%) already was.
Such streamlined automation in the legal industry happened because of the COVID-19 pandemic. The law industry is no longer resistant to new technologies. Instead, automation of legal processes becomes extremely trendy.
Trend #2: Artificial Intelligence Becomes a Part of Legal Practice
We all use AI assistants such as Siri, Alexa, and Cortana without any problems daily. Seamlessly, artificial intelligence has become part of our everyday lives and the Legal Tech isn't an exception.
Many LegalTech tools incorporate AI or at least claim to. Lawyers now understand that AI is a huge benefit to them rather than a threat. Having used AI for regulating routine tasks, lawyers realized that AI could minimize mistakes, maintain consistency and defensibility, thereby allowing lawyers to focus on more impactful work.
Trend #3: The Usage of Legal Ops Becomes Regular
Legal operations (or legal ops) cover a variety of activities designed to increase the efficiency and effectiveness of knowledge management, data analytics, vendor management, communications, and technology support.
With the help of legal ops, your law firm can set goals and key performance indicators (KPIs) for your specialists, which can range from the level of service quality to turnaround time.
Need Technology Help?
As a technology advisor, we partner with small firms and global enterprises helping them bring automation to their operational processes.
Best Legal Tech Companies
Legal tech companies are firms or divisions that use advanced technologies to create innovative products and services and improve legal service delivery. Legal tech companies may or may not be law firms.
Such companies use major advances in technology (AI, cloud-based systems, Blockchain, etc), to solve ongoing issues in the daily practice of law.
According to the Legal Technology Report by AGC Partners, there are over 700 legal tech companies and the industry itself shares $16 billion in the U.S alone.
Below, we'll provide you with a brief overview of the 5 best legal tech companies you may consider.
1. Ascendix Technologies
Founded: 1996
Founders: Wes Snow, Todd Terry
Headquarters: Dallas, Texas
Ascendix provides advanced software solutions for intake management, personal injury case management, legal project management, case management that transforms law firms into modern, high-performing businesses.
Ascendix has deep expertise in developing software technologies so it can assist law firms in legal workflow automation as well.
Besides, the company offers custom software development, cross-platform app development, product development, customization of your existing software, and integration of new legal technologies in your existing systems.
For law companies and corporate legal departments that work with a huge amount of data, Ascendix has a solution — Ascendix Search.
The app lets law companies to perform multi-criteria searches by entering required values and selecting search operators. Ascendix team can customize Ascendix Search according to your legal business needs and add required filters or sections.
Besides, it enhances to create mass emailing and mass edit of sections like leads, contacts, accounts, opportunities, cases, or any other objects.
Need Technology Partner with Domain Experience?
Hire Ascendix experts. Leverage our experience in real estate, legal, financial, and transportation industries.
2. Brightflag
Founded: 2014
Founders: Alex Kelly, Ian Nolan
Headquarters: Dublin, Ireland; New York, USA; Sydney, Australia
Brightflag is an AI-powered platform for legal spend and matter management. The company enables corporate legal teams and in-house legal departments to control their spending, e-billing process, invoice review, reporting and analytics.
Moreover, this platform provides corporate legal departments with a transparent view of legal spend and detailed reports. Having this data, you can manage matters from inception to close.
What Companies Recognize Brightflag?
Such companies as Ericsson, Shopify, Volvo, Dropbox, Ocado, Santander recognize Brightflag as an AI-powered partner for legal ops excellence.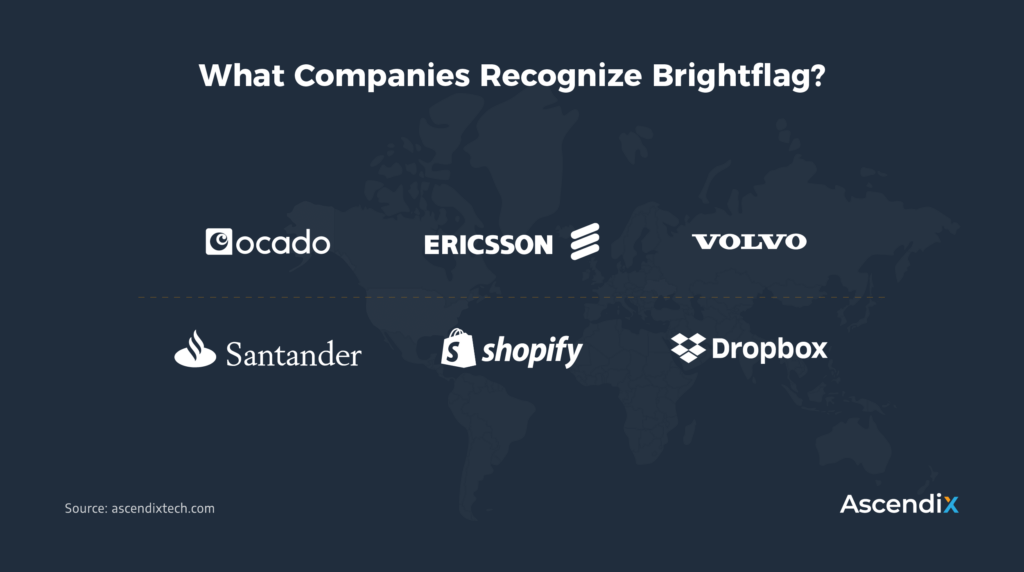 3. Docket Alarm
Founded: 2012
Founders: Michael Sander
Headquarters: New York, United States
Docket Alarm provides litigation alerts, legal filings, and search tools for the United States court system. The company offers a complete suite of docket tools for attorneys to research cases, manage their practice, and develop business.
Industry specialists can run a full-text search across myriads of lawsuits, find motions, briefs, and opinions across American courts. It also helps to stay up to date on cases and sends fast alerts of case activity.
Docket Alarm Loyal Clients
Having a good reputation, Docket Alarm is trusted by a great number of law firms and companies like Intelligo, Paul Hastings LLP, Banner & Witcoff, Ltd., Pedersen & Sons, Surety Bond Agency, Inc., Everchron, Chubb Ltd.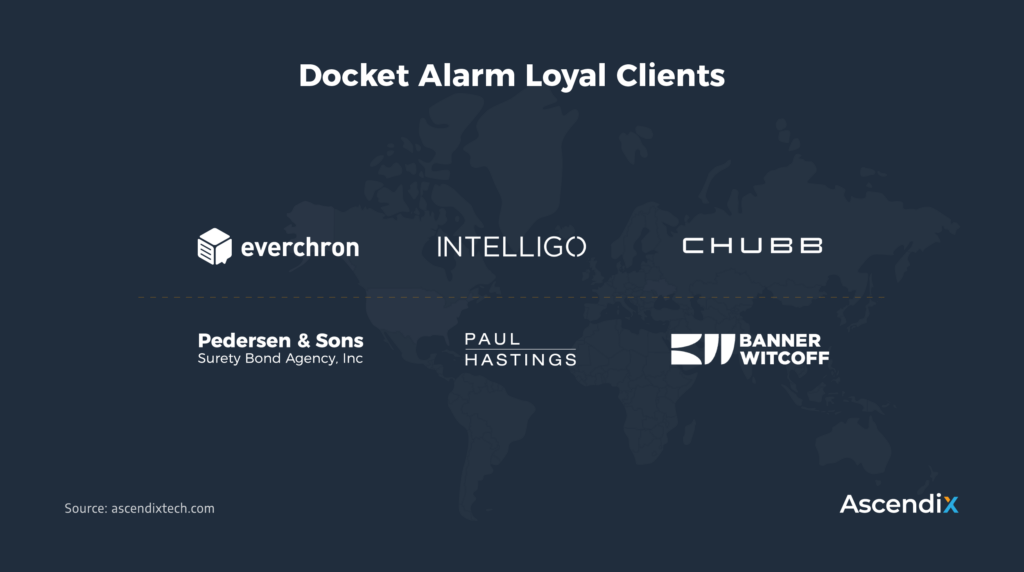 4. Lexoo
Founded: 2014
Founders: Chris O'Sullivan, Daniel van Binsbergen
Headquarters: London, UK
Lexoo is a legal tech startup that provides services of commercial legal advice for businesses and individuals. In other words, it is a curated marketplace for business lawyers that helps organizations choose a lawyer with confidence.
This platform is used by big corporations and businesses due to its cost-effectiveness and high performance.
What Companies Use Lexoo Startup?
WorldRemit, Babylon, eBay, Monzo, Ocado, Nielsen, and many other companies use Lexoo for covering employment law issues and advice.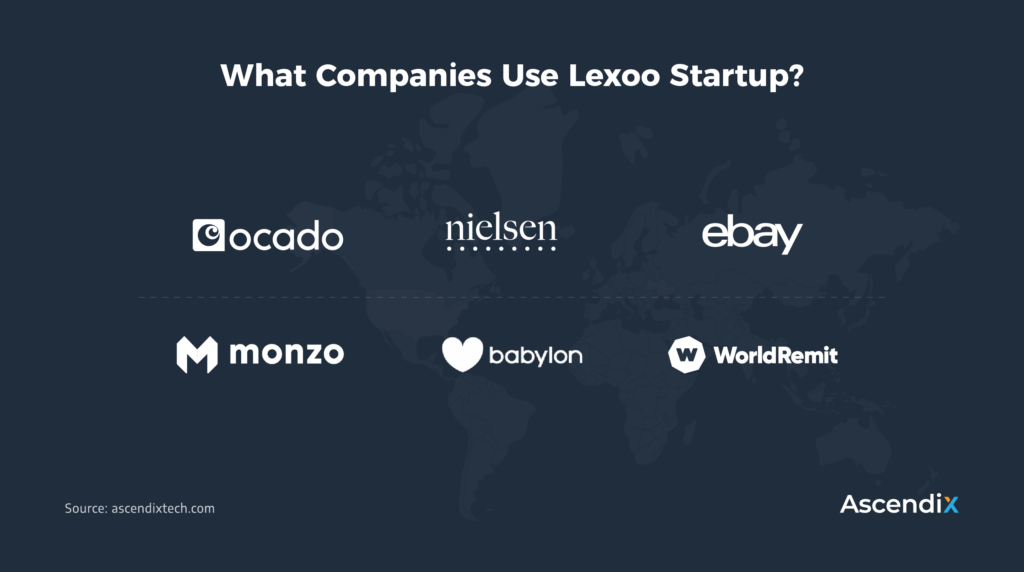 5. Luminance
Founded: 2015
Founders: Emily Foges
Headquarters: Cambridge, UK
Luminance is a legal startup that offers multinational and governmental organizations document analysis software to secure big data systems as well as document clustering and filtering to enable users to focus on eliminating administrative tasks.
Luminance identifies risk clauses, provides tools for data visualization, tracks team's progress, and more. It helps lawyers and legal teams to categorize, review, and analyze various documents and contracts in the data room.
What Law Firms Trust Luminance?
Such companies as Bird&Bird, Portolano Cavallo, Simpson Thacher, Vodafone, Slaughter and May trusted Luminance to automate their legal workflow.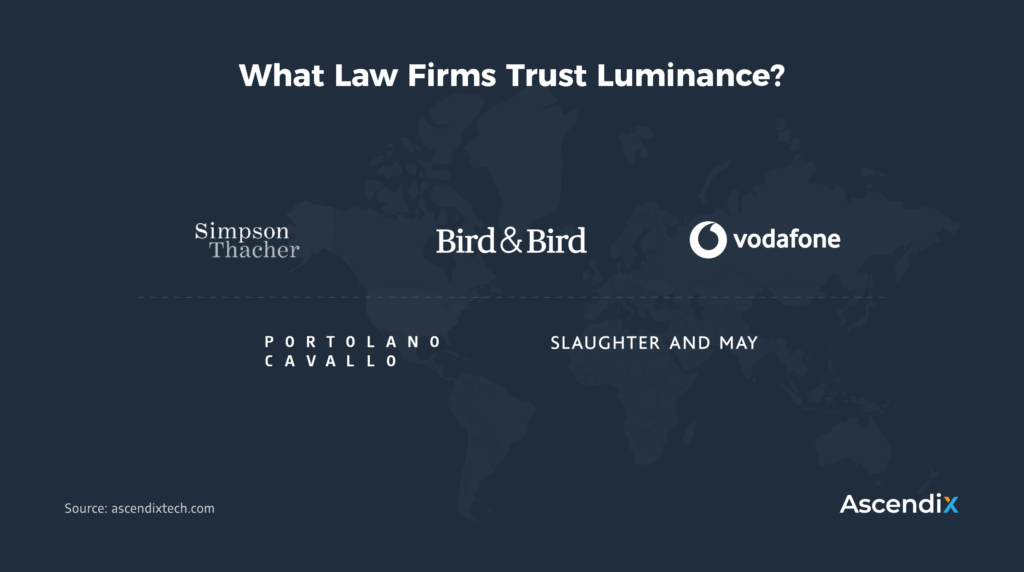 Final Words
The adoption of new technologies in the legal industry is a continuing and step-by-step process. Legal technology trends signify that the industry became highly acceptable to legal tech solutions (the COVID-19 pandemic boosted the adoption process greatly).
Legal tech companies help law firms to provide flexible services and attract more clients. If you're looking for a company that helps you to turn your contact into a client and optimize your law firm with customized legal software solutions, feel free to contact us.
At Ascendix, we will be happy to help you advance daily workflows, enhance transparency, automate day-to-day routine tasks, and transform your current business challenges into powerful legal tech software tailored to your specific needs.
To get more information check our case studies and schedule a call with our team to share your project details.
Build Custom Software with Ascendix
We help companies automate their workflow by developing bespoke software solutions. Leverage our experience in real estate, legal, financial, and transportation industries.
What is legal tech company?
A legal tech company is a software agency that specializes in building legal tech software for law firms to help them boost the conversion rate, automate the lead generation process, and reduce costs through high automation of daily workflows.
What is a legal tech startup?
A legal tech startup is a company that focuses on building and launching innovative legal tech software that revolutionizes the legal tech industry serving the specific needs of law firms like automation of claims management, financial asset management, customer relationship management, the lead generation process, etc.
What technology do lawyers use?
Lawyers use multiple legal tech software including document management, timekeeping, practice management, accounting and billing, legal task management, law firm CRM, reporting, video conferencing software, and many others.
Kateryna Zhukovina
,
Content Marketer
Kateryna specializes in creating engaging content about CRM software development for Legal Services and custom software development. In her articles, she provides relevant data, stats, business tricks and makes overviews and guides of new technology trends and CRM updates.
Subscribe to Ascendix Newsletter
Get our fresh posts and news about Ascendix Tech right to your inbox.