The processes of real estate sale, lending, or mortgage may seem daunting and forever-lasting, for everybody involved in the process. The intricate web of paperwork, negotiations, and legalities often leaves all the parties — buyers, sellers, real estate agents, lenders, and attorneys — grappling with a mountain of tasks and an ever-elusive finish line. One thing that can facilitate such a complicated matter is the advancement of technology, namely – real estate closing software.
What is Real Estate Closing Software?
At its core, real estate closing software is a specialized software solution primarily aimed to streamline and automate various aspects of the real estate closing process. The functions of the software span from managing the deal-related tasks and real estate companies' workflows to drafting required documents, signature automation and escrow management, allowing both buyer and seller close the sale or rent as conveniently, safely, and quickly.
In this article, we explore the possibilities and features of real estate settlement software and investigate how exactly it is used in different stages of real estate transactions.
Major Real Estate Closing Stages
The process of closing a real estate deal can be complex and time-consuming, involving multiple steps and parties. To provide clarity and ease the journey, it is essential to understand the major steps involved in a real estate transaction and on which stage real estate closing software may be the most helpful. Here we have collected main stages which you need to be aware of.
1. Creation of the Sale Contract
So, let's say, your client has already found the desired property, all discussions have taken place, and it is now time to sign the contract, involving discussions about contingencies, repairs, and timelines.
Many real estate closing software solutions now include contract drafting capabilities as a standard feature. These tools use templates and predefined legal language to generate contracts based on the specific details of a real estate transaction.
If equipped with AI-powered technology, real estate closing software can also suggest better wording and run compliance checks at this stage.
Moreover, negotiations about the contract terms, such as the renovations required, outstanding bills needed to be paid, or the time by which the deal must be closed can now be done in one place, especially if your real estate closing software has embedded collaboration rooms, where the agent, buyer, and seller can share any sensitive information and collaborate on the contract draft in the real time, leaving out all the third-party communication.
If all parties are happy with the terms, they can proceed to sign the contract through the E-signature portal.
Build Bespoke Real Estate Closing Software
We help companies optimize their closings by developing and integrating bespoke software solutions. Leverage our expertise in real estate industry today.  
2. Opening Escrow
Except for contract drafting and signing, an escrow account should be opened at this point, to hold funds and documents related to the transaction until all the conditions specified in the contract are met. Modern real estate escrow software provides the opportunity of opening and managing the escrow account remotely and without extra hustle.
Deposit of Earnest Money. The buyer may be required to deposit earnest money into the escrow account. This demonstrates the buyer's serious intent to purchase the property.
3. Contingency Period
Buyers typically conduct inspections to assess the property's condition, and sellers should complete the agreed renovations during the process of sale. At this point real estate closing software may provide the opportunity to communicate quickly and effectively by:
Keeping all parties informed about changes, updates, or new tasks related to the Contingency Period;
Generating reports on the progress of inspections, contingency removals, and any issues that arise during this stage;
Helping agents, inspectors, appraisers, etc. to keep track of all tasks planned.
4. Title Search and Title Commitment
Title agents play a vital role in ensuring the property has a clear title, which means the new owner will not have troubles before or after receiving the property because of unresolved liens, will misunderstandings and other problems in the property's past.
Title agent's task is to investigate the property's history and issue a title commitment, ensuring the property is marketable and insurable. Real estate title software is a must-have for this step, as it can perform the title search and all the required title check requests on behalf of the agent, summarizing the received information in the report.
This makes the whole process of title search and commitment easier, and title insurance companies may perform it as soon as the process of property sale has started.
5. Other Necessary Paperwork
Both buyers and sellers must promptly provide requested documents to various parties involved, including the real estate agent, title company, and lender. At this step, real estate closing software will keep the process unified and organized, providing a safe space for all the parties to quickly share the required paperwork and easing communication in case of any emergencies or misunderstandings.
After this, invoices and paperwork completion verification are sent to relevant parties. Once signed, the new deed is prepared for recording. Modern real estate closing software enables also e-signature, making the process even faster and easier.
6. Closing funds
Buyers receive a closing disclosure outlining all costs and must wire the necessary funds to the title company. Caution is advised here to prevent wire fraud. At this point, the security of all parties is ensured by the real estate escrow software, with the help of which the account is opened and managed and the money transfers are completed.
7. Final Preparations
With title work complete and lender approval, the closing takes place, where paperwork is reviewed and signed. Buyers need to bring identification, the purchase agreement, and closing costs. This is one of the final and major parts in sale closing, which means all the previous work was done right and completed already.
8. The Closing is Done
Finally, once the transaction is complete, buyers receive the keys to their new home, while sellers receive their funds. At this point real estate closing is finally complete: the buyer is happy with their new home, the seller receives funds, and the real estate agent is satisfied with the closed deal.
Additionally, closing software will help the agent or the company to analyze the closed deal and will create a report about transaction timeline, results, ongoing issues, and any other important aspects for the company to be able to improve the future deals.
Must-have Features of Real Estate Closing Software
Main and the most common features
Title search and examination. Before any closing, the agent must ensure the property has a clear title. Title closing software automates the processes of title search and reports checking, initiates all the required requests, and can generate a report based on the title search results.
Cloud-based software. This allows you not to keep the hardware and the information on the hard drive anymore, and at the same time ensures the safety and security of sensitive information.
Document management tools. All the required documents regarding property, taxes, title, and other paperwork are kept in one place. Apart from this, some extra functions may be available, such as automatic data fill-in, which makes the whole process easier, requiring the agents only to check the correct data fields.
E-signatures. Along with integrated document management tools where the parties view the documents beforehand, amend them and propose relevant changes, the software can be equipped with the system of E-signing tools, allowing the buyer, lender, and seller sign the deal remotely.
Producing preliminary title report and drafting title commitment. After title search, the real estate title software produces the report with the results and may also draft the initial version of title commitment and title insurance policy. However, the documents still need to be reviewed and checked by a certified title agent.
Single workspace for all processes. The closing software allows you to keep all your processes and data in one place, making the task and document management easier and faster. Within the same workspace, you can monitor real-time updates, access a comprehensive audit trail, and scrutinize source documents. This way, you can concentrate solely on important and relevant information.
Escrow virtual account creation and management. Most real estate closing software provides the opportunity to open a safe escrow account and then manage it without switching to another application of direct bank service.
Shared task management. With real estate closing software, agents can manage the title search requests, tasks, and reporting system with ease and convenience, because all the materials are in the same place, and the platform allows to access and track the progress on each deal, ongoing title search, or other stages of closing.
Internal communication tools. Except for specialized features dedicated to title and escrow, the software also offers the tools for in-team communication, with the help of which the team will always be on the same page about the client, and, combined with automated workflows and task management tools, the risk of misunderstanding would be close to impossible.
Internal reporting system. Adapted not only for agents, but also for title agency manager, real estate closing software gives the possibility to generate reports based on the number of closings completed, the analytics of the ongoing deal progress, and other information, enabling the top management to receive regular updates about company's performance and make informed decisions based on this.
Extra features, provided by some platforms
Vendor management and insights. Some kinds of software let you discover new vendors and analyze the information about existing vendors in the market, resulting in more possibilities for collaboration and therefore a bigger number of properties for sale.
Title insurance policy generation and issuing. The software may create title policies based on the previous title search and commitment, after they have been checked and approved by the agent. Though supervision here is essential, the software still makes the work much easier than starting from scratch.
Closings management and scheduling. With the integrated calendar and automated notifications about the time of every pending closing, modern real estate closing software may equip you with the high-quality and organized processes of management the deals and tracking the arrangements, terms, deadlines and closings dates.
Secure collaboration rooms. Real estate deal rooms that are available within real estate closing software enable the agent, client, seller and buyer to collaborate within a secure environment, upload, save, and manage documents there, amend them, and negotiate the terms of contracts and deeds.
Automated reports. The reporting system on closed deals, on closed deals, completed tasks in the team, and analysis of the number, type, and location of the deals gives a whole perspective onto how the closings are progressing, so you can make necessary changes, along with analysis and future planning.
Online remote notarization suite. Some closing platforms provide integration of a remote online notarization service for the clients. It includes connecting the parties with a licensed notary, video online communication, sharing documents, signing and notarizing them. It must be mentioned, however, that not all platforms provide this possibility, and also you would need to research whether your state legislation allows such a deed.
Underwriting software integration. This feature may be highly beneficial for both title and escrow agencies, though, not every real estate closing software provides it. Integrating an underwriting system helps title agencies issue more relevant and actual title insurance policy, and therefore, ensure that the buyer, lender, and seller are all safe in these high-value operations.
Integrations and APIs. Modern closing software has possibilities to integrate their solution with the existing software of real estate agents or title insurance companies. This ensures that the business not only gets the best from the real estate closing software, but also the specific needs of the company are met.
Want to Build a Real Estate Title Software?
We've got 2 decades of expertise in real estate and SaaS development. Trust your project to Ascendix professionals.
Real Estate Escrow Software & Real Estate Title Software
Real estate closing software primarily aims at successfully closing the deal (whether it is rent or sale). However, you might have also heard the names 'escrow' and 'title' software, which are closely associated with 'real estate closing software.' It must be mentioned that, although these two notions go hand in hand, are usually used together in closing software, and play a major part in closing the deal, they are not exactly the same. So, let's figure out the difference.
Real Estate Title Software
Property title software is a tool that helps real estate professionals investigate the history of a property's ownership to ensure it has a clear title, free from any legal issues or disputes. It assists agents in managing the title-related aspects of real estate transactions, offering a range of features to streamline the title search and commitment process and ensure a smooth deal closing.
Real estate title software is especially useful for title insurance companies and agents, who are responsible for title search, title production, resulting in title commitment, which outlines the conditions under which title insurance will be issued.
Title software may simplify and speed up this process. We have collected the specific features, which are most often offered to title insurance companies by real estate title software providers:
Title search automation. The software enables agents to examine public records, including deeds, mortgages, liens, judgments, easements, and other relevant documents, to establish the property's ownership history and uncover any potential issues or defects in the title. It sends the necessary requests regarding the property and after receiving the results generates the report, which is then reviewed by the agent.
Title commitment generation. After the agent has reviewed the report about all possible liens, debts, unpaid bills, etc., about the property, the title commitment can be generated, making the buyer and the seller aware about all the outstanding fees that must be paid for title insurance to be issued and a clear title provided. The software will create preliminary title reports with clear terms, conditions, coverage, exceptions, and requirements. Except for this, customizable templates for commitments are available, making the job of the agent even easier.
Title policy draft creation. After thorough title search and commitment, a title insurance policy is to be issued. Although it is an overstatement to claim that real estate title software can independently produce such a policy, it can help draft a title insurance document based on the data and information obtained from the title search and examination process on the previous stages. However, a licensed title agent is still responsible for reviewing, verifying, and issuing the title insurance policy. A title agent must check whether the policy complies with the laws and regulations of the state where the property is located, as well as the standards and guidelines of the title insurance underwriter. So, in this case, software may help, but not fully automate and replace human involvement.
E-signature. E-signature functionality allows parties involved in a real estate transaction to sign documents electronically. This feature often integrates with digital signature providers like DocuSign or Adobe Sign. E-signature integration significantly speeds up the process of closing.
Collaboration rooms. These are virtual spaces where all stakeholders in a real estate transaction can securely collaborate, share documents, and communicate. Collaboration (or deal) rooms often include features like chat, file sharing, progress tracking, and task management.
Escrow company integration. Escrow is an essential part of real estate closing, and most title production software providers include the integration of escrow software providers which implement safe and secure handling of funds and ensure compliance with escrow and other legal regulations.
Reporting and analytics. With the built-in feature of closings analytics and report creation, title agents can monitor and analyze the timeline of each deal, workload, track transaction status, identify inefficiencies, and in general track the key performance metrics. This data-driven approach helps improve operational efficiency and customer service.
Enhanced user experience design. Modern real estate software is not only about the agent's or company's convenience. The software also includes user-friendly interface, which is intuitively understandable, and allows the buyer and the seller access the dashboard, where they can track the progress of the deal, the required tasks to be completed, documents to be sent and signed, and other important features. Moreover, the adaptable and responsive mobile view is also available, making the process even easier to access.
Customer support. Along with the previous user-centered feature, advanced customer support is essential for closing software. Unified closing software provides the buyer and seller with the opportunity to get timely and high-quality customer support, with all the relevant questions answered either by the responsible agent, if asked during work hours, or automated responses, possible with the help of AI and NLP mechanisms.
Integrations & APIs. Integration possibilities are not limited to escrow service providers. Modern title production software often supports integrations with various third-party systems like CRM software, accounting tools, and property databases through APIs. It helps the agent transfer all the operations into a new platform without losing the previous data and convenient software.
Compliance management. The process of real estate closing must be not only smooth and fast, but also legally correct. The real estate title software may ensure that the documents, processes, escrow opening, fund deposit, and other features comply with the existing federal, state, and local regulations. Some advanced platforms might also include high-level risk management and audit.
Data integration. Along with programs and CRMs, there is a possibility to integrate the publicly available data, which is required for achieving clear title, for example, deeds, mortgages, divorce decrees, court judgments, tax records and other data that is available publicly or upon request. The data is then gathered and unified into one single report about property history and title.
Document generation. Typically, after the title search is complete, the report with results is generated. AI technology, integrated into software, may do this for the agent, easing the process of title production. Except for this, there is also an option for generating templates for the documents and filling them in with the necessary information.
Real Estate Escrow Software
As was already mentioned before, real estate escrow software often goes together with title software and falls under the umbrella term 'real estate closing software.' However, the function of escrow software is quite different from the one of title production.
Escrow refers to a legal arrangement where a third party (usually an escrow agent) holds money or property on behalf of the buyer and the seller until certain conditions are met.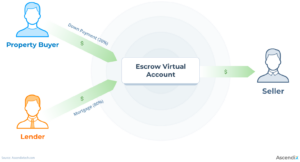 Most often escrow accounts are opened for transactions where big money transferring is involved, therefore, it is most common for property sales, but not only. Real estate escrow software may help for real estate companies and agents with the following:
Online escrow account opening and management. Real estate escrow software will help to find a bang which supports opening escrow accounts as well as open and manage the account remotely.
Fraud detection. Escrow software may feature the tools to check the buyer's and seller's ID and verify them, preventing fraud in wire transfers. For this, the real estate escrow software should be equipped with multi-factor authentication (MFA), role-based access controls (RBAC), and data encryption.
Easy deposit collection. When all the conditions are met and the title is transferred, the closing will come to an end, and the seller will receive funds for property.
Account reconciliation and bank integration. Account reconciliation ensures financial accuracy and compliance by verifying financial transactions. Escrow software allows streamline month-end tasks and cut costs with the help of bank integrations, simplifying the reconciliation process by automating data import from bank statements.
Auto retention & Deposit classification. Escrow software solution may automatically retain a portion of the escrow funds for a specified time period after the closing of the transaction to ensure that there are sufficient funds available to cover any potential liabilities or claims after the closing, such as taxes, fees, or repairs. This may reduce the risk of escrow shortages and disputes and simplify the reconciliation process.
Real-time transaction monitoring. This feature is achieved through the integration of data sources from the escrow management platform and automatic updates within the software. The system tracks the progress of transactions and updates stakeholders on key milestones.
Title software integration. Often escrow software is interconnected with title search and production software, resulting in 'closing' software. This presupposes not only management of the financial side of the deal, but also the processes that precede it, like title search, insurance policy generation and paperwork handling.
Tax assessment. Tax assessment can be implemented in escrow software by integration with tax assessment databases and platforms, which can then ensure automated retrieval of property tax information. The agent could estimate property taxes, reducing the risk of miscalculations or disputes during the closing process.
Secure collaboration room. Title agents can use collaboration rooms to interact with clients, realtors, lenders, and other stakeholders, streamlining communication and document sharing, which fosters transparency, reduces communication gaps, and enhances the overall closing experience by letting all the parties be on the same page about ongoing financial processes.
Mortgage lender integration. In case of mortgage-based property sale, which involves a lender, escrow software may be used to establish effective communication between the lender, seller, buyer and agent, and easily track the status of loan approvals, which would reduce the chance of delays with the closing process.
While multiple real estate companies and title insurance agencies use various features of escrow software, these three are the most common ones. Except them, various other tools may be included to make escrow opening, management and collaboration easier, such as ID or credit check, integration with banks and completing mortgage or underwriting activities within one company, but these are offered not by all kinds of software. We will talk about them later in the section 'Extra features in real estate closing software.'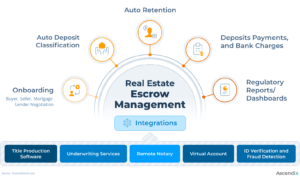 Need Help with Real Estate Closing Solution?
As a technology advisor, we partner with small firms and global enterprises helping them bring automation to their operational processes in real estate.
Best Real Estate Closing Software
Founded: 2015
Headquarters: San Francisco, California
Key functions:
Title and escrow orders processing
Title production
Automated reporting
Reconciliation services
Team video chat and collaboration platform
Real estate closing scheduling and tracking the deal progress
Integrated nationwide vendor system
Underwriter operations management
Wire fraud detection service for escrow management
Communication platform for title & escrow agents, lenders, owners, buyers, and real estate agents
Qualia is one of the biggest real estate closing software providers. It is widely adopted by real estate professionals, lenders, and homebuyers throughout the United States.
Despite being relatively new to the market, Qualia stands out with its adaptable and easy-to-use infrastructure, which empowers title and escrow agents to choose the products required for specifically their business and efficiently handle real estate transactions. Specialized product suites are tailored to the unique needs of lenders, real estate agents, title insurance agencies, and proptech partners.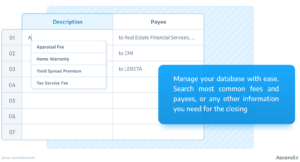 Qualia combines the power of an enterprise title and escrow production platform, a nationwide vendor marketplace, and an online closing room designed for consumers. With Qualia, the goal is to deliver a secure and seamless journey for all parties involved in the real estate transaction, ultimately transforming the home buying experience.
Founded: 1984
Headquarters: Raleigh, North Carolina
Key functions:
Title search and production
Tasks and order tracking
Document management and digitalization system
Custom document templates creation
Accounting management
Reconciliation reports and services (escrow included)
E-signature services and online notarization
Wire transfer management due to integration with major US banks
Reporting system
SoftPro is one of leading providers of closing, title, and escrow software on a national scale, serving over 60,000 individuals across more than 14,000 customer sites. The company has even earned recognition from the American Business Awards since 2007, securing awards for exceptional customer service, support, and product development.
Their acclaimed suite of products is designed to boost transaction volume and revenue, introducing cutting-edge technologies that streamline the closing process. SoftPro's software solutions offer flexibility and customization: they enable a user to select the necessary features and expand traditional closing software functionality.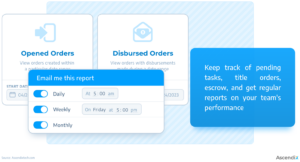 With a comprehensive suite of products, SoftPro integrates all facets of the closing process, encompassing order tracking, escrow account management, and integration of third-party services such as e-signings, e-recording, and remote online notarization.
Founded: 1991
Headquarters: Plano, Texas
Key functions:
Workflow tracking and management
Order entry and scheduling
Title and policy production
Recording tracking
Closing disclosure form
Settlement statement
Document management
Vendor management
Invoicing
Reporting system
Established in 1991, RamQuest is a prominent player in the realm of Title Production Software, trusted by top-tier title agents in the industry.
RamQuest's software solutions for title and settlement professionals are primarily designed to be easily set up and configured to align with specific business needs, ensuring the highest level of operational efficiency.
RamQuest's suite of offerings encompasses fully integrated components, including closing tools, escrow accounting, imaging capabilities, transaction management, eSigning solutions, and a dynamic digital marketplace. They are characterized by high functionality and flexibility. Whether your preference is to run the software on your own network or opt for a hosted environment, RamQuest caters to your requirements with tailored solutions that fit your needs.
Founded: 2010
Headquarters: Sarasota, Florida
Key functions:
Title search, production and title reports
Online and mobile notary service
Municipal lien search
Customized tax certificates procuring
Payoff letters retrieval service
Lien release tracking
PropLogix specializes in providing services and solutions to streamline real estate and title transactions. The suite of offerings includes municipal lien searches, tax certificates, land surveys, release tracking, title curative services, title reports, payoff letters, and mobile notary services. These solutions cover a wide range of critical aspects in the real estate due diligence and closing process.
PropLogix's major service is municipal lien search, which helps identify potential hidden debts and municipal liens on a property, safeguarding buyers and lenders from unforeseen financial burdens. Additionally, PropLogix offers title curative services to address any title issues and title reports for a comprehensive understanding of a property's history. Along with this, the tax certificates provided by the platform make sure the lender, buyer and seller are all aware of the tax status of the property and keep safe and secure during the closing.
Founded: 1981
Headquarters: Ship Bottom, New Jersey
Key functions:
Document management
Reconciliation services
Closing costs estimation
Order management and tracking
Balancing and disbursement
Accounting and invoicing services
Closers' Choice, one of the oldest companies in the industry, has recently become a part of the big real estate software AccuTitle family, joining forces with TitleFusion and Landtech. As part of their extensive Services Gateway offering, Closers' Choice facilitates integrations with underwriters and vendors, enabling the services like CPLs, Jackets, Lien Searches, Surveys, and more. This approach is dedicated to enhancing operational efficiency and freeing up valuable time for title agents, allowing them to focus on growing their businesses.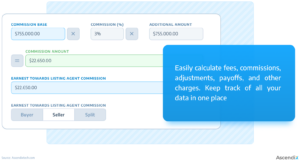 The suite of product features offered by Closers' Choice encompasses various aspects of title and escrow operations, including file management, document organization, order processing, title insurance management, invoicing, 1099-S Reporting, training options (both remote and on-site), closing disclosure generation, balancing and disbursement, escrow accounting, report generation, personalized check printing, and scanning capabilities. These tools empower title agents to streamline their processes, ensure accuracy, and maintain control over their transactions and financial aspects.
Build Title & Escrow Software with Us
See how AscendixTech can help you close more deals and improve your prospecting.
Ascendix's Contribution to Your Real Estate Closing Processes
Ascendix offers a comprehensive suite of services tailored to meet the unique needs of real estate agents, brokers, and title insurance companies, providing innovative solutions that drive efficiency, productivity, and growth.
Why choose Ascendix as your partner?
Decades of tech excellence: we have more than 16 years of experience in the real estate industry, providing software solutions and driving technological transformation since 1996.
Demonstrated expertise in the field: Our track record includes delivering innovative proptech solutions to more than 300 clients, including JLL, Savills, Colliers, and others.
International outreach: With 5 offices in the USA and Europe, we provide global delivery capabilities, competitive pricing, and top-notch service quality, assuring constant 24/7 project delivery and support.
Here is how we can help you implement innovative solutions into your business and streamline operational processes:
Building custom software from scratch. Our team of software professionals can create powerful real estate closing solutions tailored to your business needs and peculiarities.
Software adaptation. If you are already using some title or closing software, but it does not fully satisfy your business requirements, and you would like to improve it with some extra features, we can help accomplish this.
Existing software integration. We can integrate your business CRM or other existing software that you use with the real estate closing solutions, allowing you to keep all the important data and streamline business processes in the best way possible.
Our team has all the capabilities to extend your existing systems and improve your real estate business software by addressing specific needs, such as enhancing data analytics, improving user experience, or improving security measures.
Ascendix is your strategic partner for navigating the ever-evolving landscape of title insurance technology. Whether you require custom software development, system integration, or real estate software consultancy, our team is dedicated to empowering your real estate company to thrive in a competitive industry while delivering exceptional service to your clients.
Yana is a proptech enthusiast and a technology fan. In her articles, she explores the world of real estate software, including proptech news, useful resources, and real estate technology insights, assisting everyone involved in the industry to modernize and optimize their business.
Subscribe to Ascendix Newsletter
Get our fresh posts and news about Ascendix Tech right to your inbox.