In today's thriving real estate industry, a select few property marketplaces have stood the test of time, becoming the gold standard for property seekers and investors. Zillow, LoopNet, Trulia, Redfin, CREXi, ImmoScout, and others have not only survived but thrived, even more so in the wake of the pandemic-driven shift to online property hunting.
In this article, we'll delve into how to build a real estate marketplace like Zillow and other industry giants to mirror their success.
Why Learn from Zillow?
Learning from Zillow offers several advantages, particularly for those in the real estate sector or those keen on technology and innovation.
Here are some key reasons to learn from Zillow:
Zillow is one of the biggest property marketplaces within the real estate industry
According to stats by rubyhome.com, Zillow has over 60 million monthly visitors, making Zillow a leader in its niche.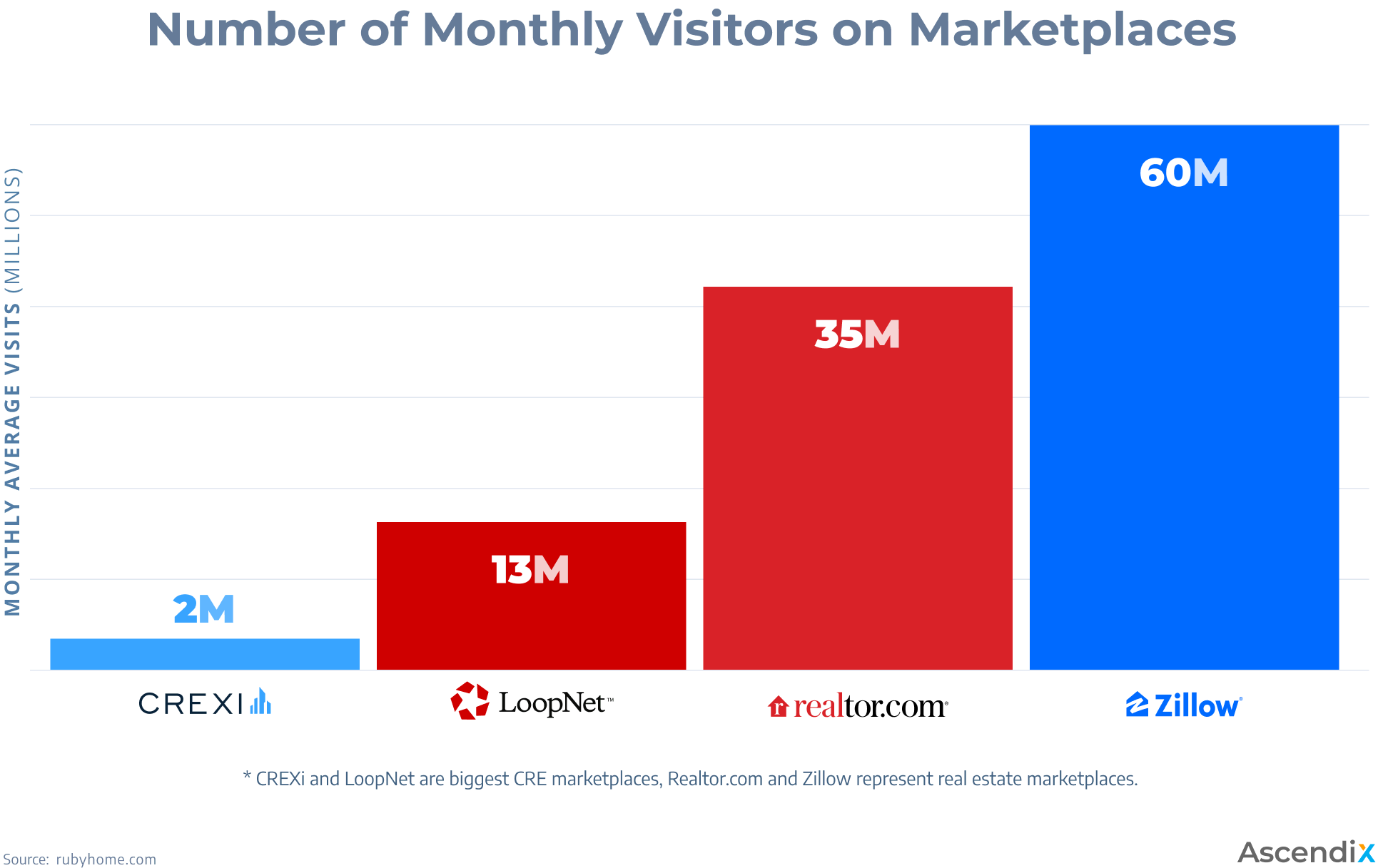 Zillow has a great feature set
Zillow is known for its innovative use of technology in the real estate market. They were among the early adopters of the ChatGPT plug-in, enhancing the home search experience. Additionally, Zillow has spearheaded other innovative technologies, such as predictive analytics for property value trends and an app to create 3D virtual property tours on one's cell phone, which have significantly reshaped the real estate industry.
Zillow has effective business models
Zillow has developed various business models within its platform, including advertising, agent services, and mortgage-related services. Understanding these business models can offer valuable insights for entrepreneurs and professionals looking to explore similar avenues.
Zillow is a great example of market disruption
Zillow has disrupted the real estate industry, introducing new ways for buyers, sellers, and agents to engage with the market. Learning from Zillow's disruptive impact can inspire creative thinking and innovation in other sectors.
Zillow Business Model
Even though Zillow's primary source of revenue is advertising, its business model is more than that. Being a solid industry leader, Zillow has developed complex business model that consists of several modules:
Zillow Premier Agent – a key component of Zillow's advertising platform designed for real estate professionals. It generates the majority of company's revenue
Zillow Homes Segment – provides a variety of products and services related to buying, selling, and renting homes.
Zillow Mortgage Segment – the segment includes Zillow Home Loans, a licensed mortgage lender, and the Zillow Mortgage Marketplace, a platform that connects borrowers with lenders.
Additional Advertisement Streams – this segment includes construction marketplace for matching homeowners with local contractors and builders, StreetEasy for-sale product offerings, and ShowingTime+ for showcasing property listings.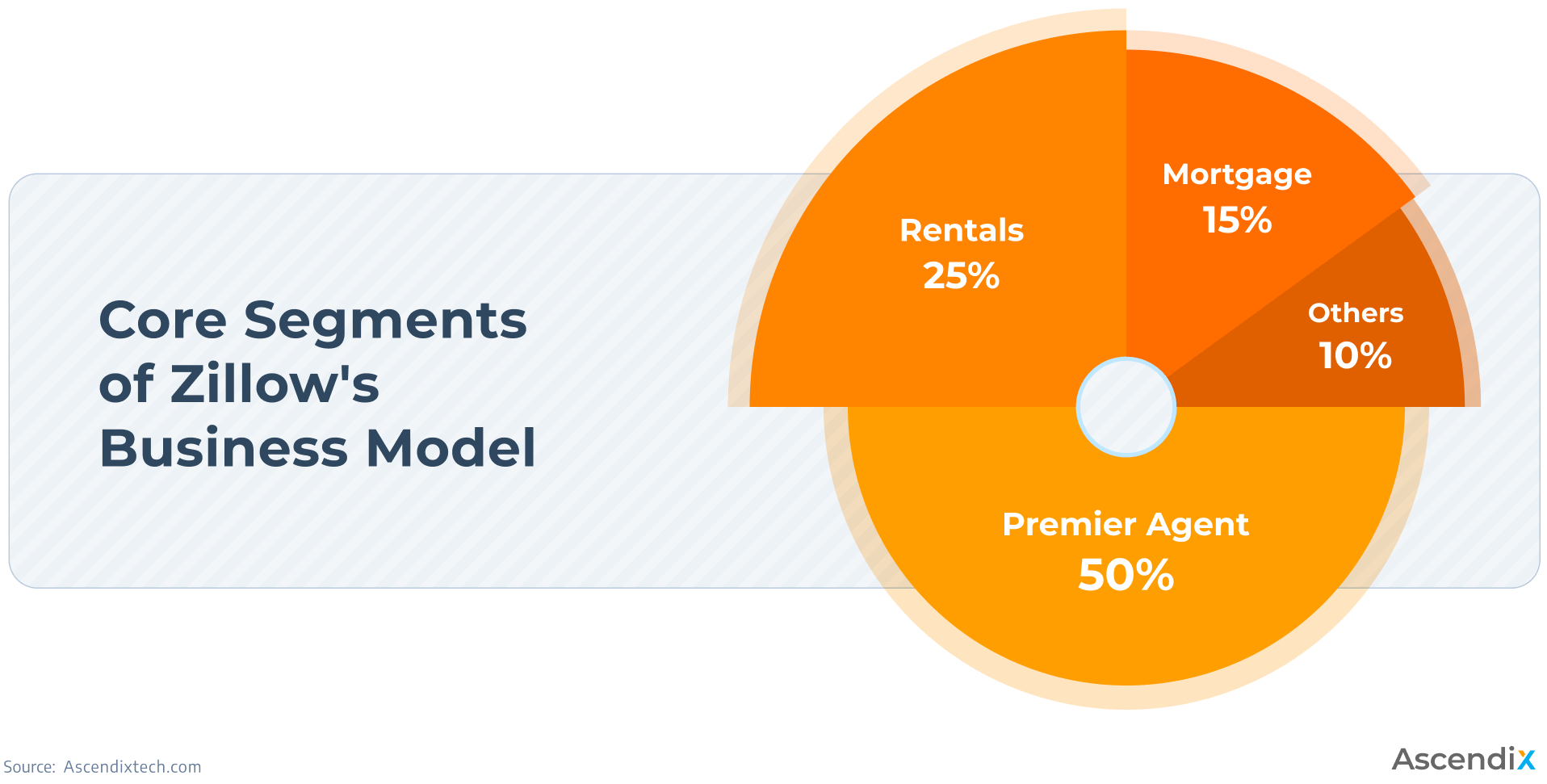 Zillow Premier Agent is a program that helps real estate agents get more leads and close more deals. The program offers a variety of features and benefits, including:
Premier Agent badge: Premier Agents receive a badge that displays on their profile and listings, indicating to buyers and sellers that they are top-performing agents.
Premier Agent ads: Premier Agents can create targeted ads that appear on Zillow's website and mobile app.
Premier Agent CRM: Premier Agents receive access to a CRM system that helps them track and manage their leads.
Premier Agent support: Premier Agents have access to a dedicated support team that can help them with any questions or problems they have.
To become a Premier Agent, agents must meet certain criteria, such as having a certain number of transactions and positive reviews. Once an agent is accepted into the program, they are required to pay a monthly participation fee.
Zillow Homes segment includes the following products and services:
Real estate listings: Zillow provides a comprehensive database of real estate listings for homes for sale and rent. Listings include detailed information about the property, such as photos, videos, and floor plans.
Zestimate: Zillow's Zestimate is a proprietary algorithm that estimates the value of any home in the United States. Zestimate is a popular tool for homeowners and buyers to get an idea of the value of a home.
Zillow Offers: Zillow Offers is a program that allows homeowners to sell their home directly to Zillow. Zillow will make a cash offer on the home, and the homeowner can close on the sale within a few weeks.
Zillow Mortgage Marketplace is a free platform that allows borrowers to compare mortgage quotes from multiple lenders. Borrowers can also use the platform to get pre-approved for a mortgage and lock in an interest rate.
Develop CRE Marketplace Like Zillow with Us
AscendixTech team has experience in building marketplaces for residential and commercial real estate. We are product owners as well. Contact us to start the cooperation.
Zillow Monetization Model
Zillow's primary source of revenue is advertising. The company sells paid advertising space to real estate agents, brokers, and other businesses. This advertising is typically displayed on Zillow's website and mobile apps.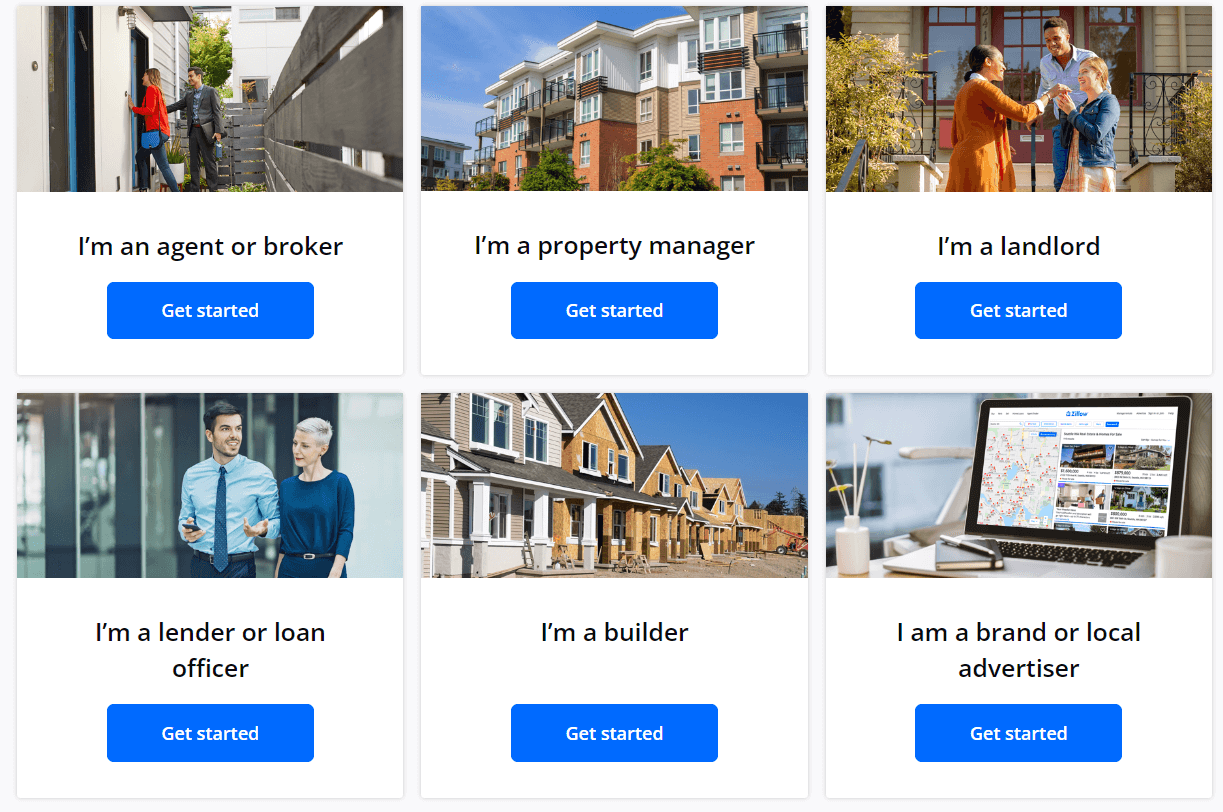 Zillow also generates revenue from other sources, such as lead generation and referral fees. Zillow uses solutions that we described earlier: Premier Agent Program, Zillow Offers, Zillow Mortgages, and Zillow Rental Manager.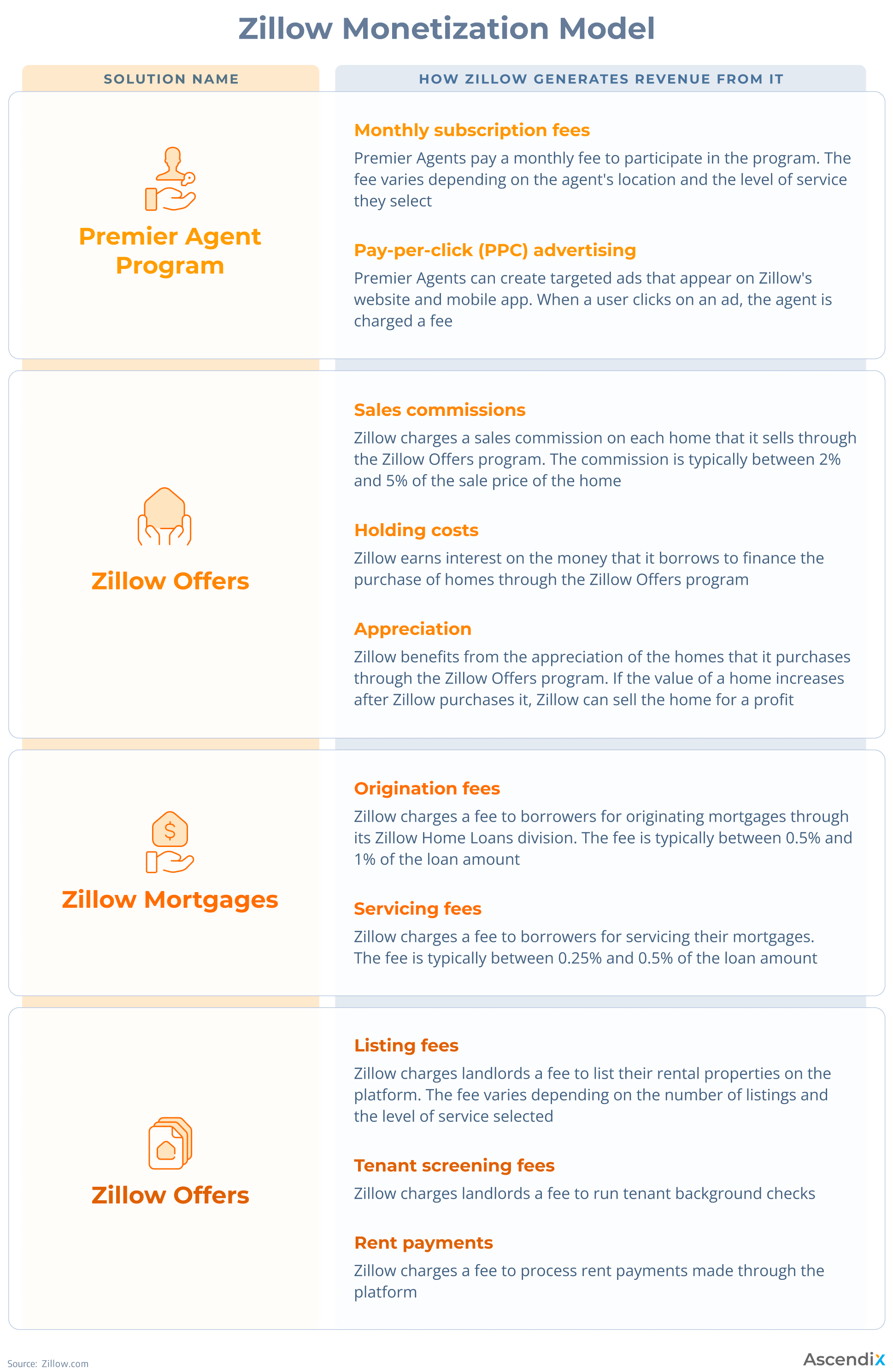 Zillow Competitors
Zillow operates in a fiercely competitive landscape within the online real estate market. Zillow's main competitors include Rightmove, Realtor.com, 99.co, Trulia, Realestate.com.au, Zoopla, and others.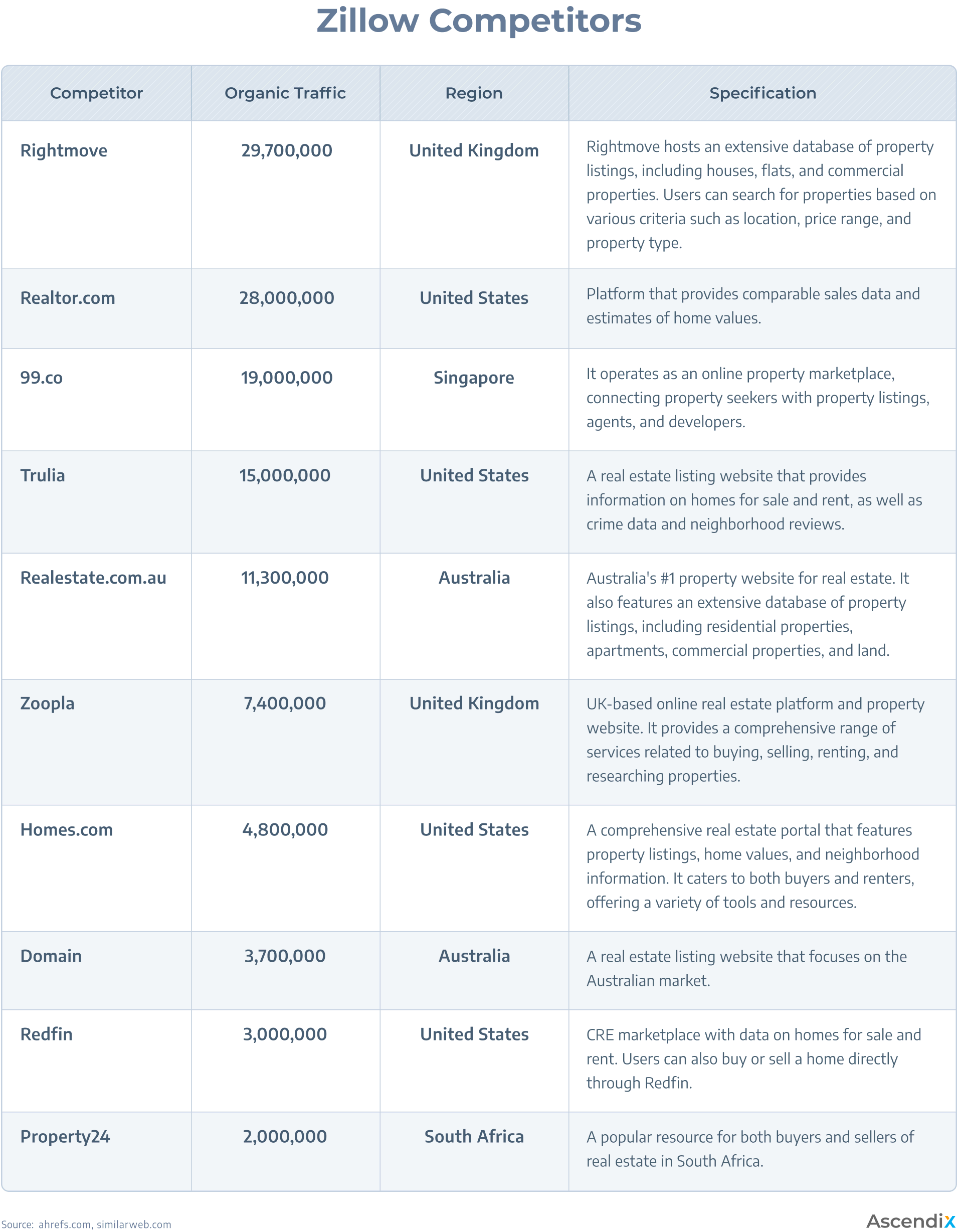 Why learn from Zillow's competitors? 
As Zillow is the dominant player in the online real estate market, its competitors are constantly innovating and adding new features to their websites. By staying informed about Zillow's competitors, you can compare their functionality and add the most effective functionality into your platform.
How to Create a Real Estate Marketplace Website like Zillow?
Here are the essential steps for developing real estate marketplace:
Validate your property marketplace idea (including market research and target analysis of target audience needs)
Implement core and mandatory features
Define tech stack
Create MVP and UI/UX design
Launch your pilot project and conduct testing
In this passage we'll provide you with step-by-step guide on how to build property marketplace and succeed.
Validate Your Real Estate Marketplace Idea
Validation of your business idea is the first step in building a real estate marketplace. Validation includes analysis of competitors (in our case these are Zillow and Redfin) and definition of target audience needs.
Let's look into each step in detail.
Market Research
The second step of creating a real estate marketplace (website) like Zillow is market research, which, in turn, includes a study of the target audience. You need to understand the users' needs and the problems your solution will solve.
In the case of the property marketplace, you will have four personas: agents and associations (sellers); consumers (buyers/renters), government and regulatory authorities, and complementary industries.
So, what do key real estate stakeholders expect to get from real estate marketplaces?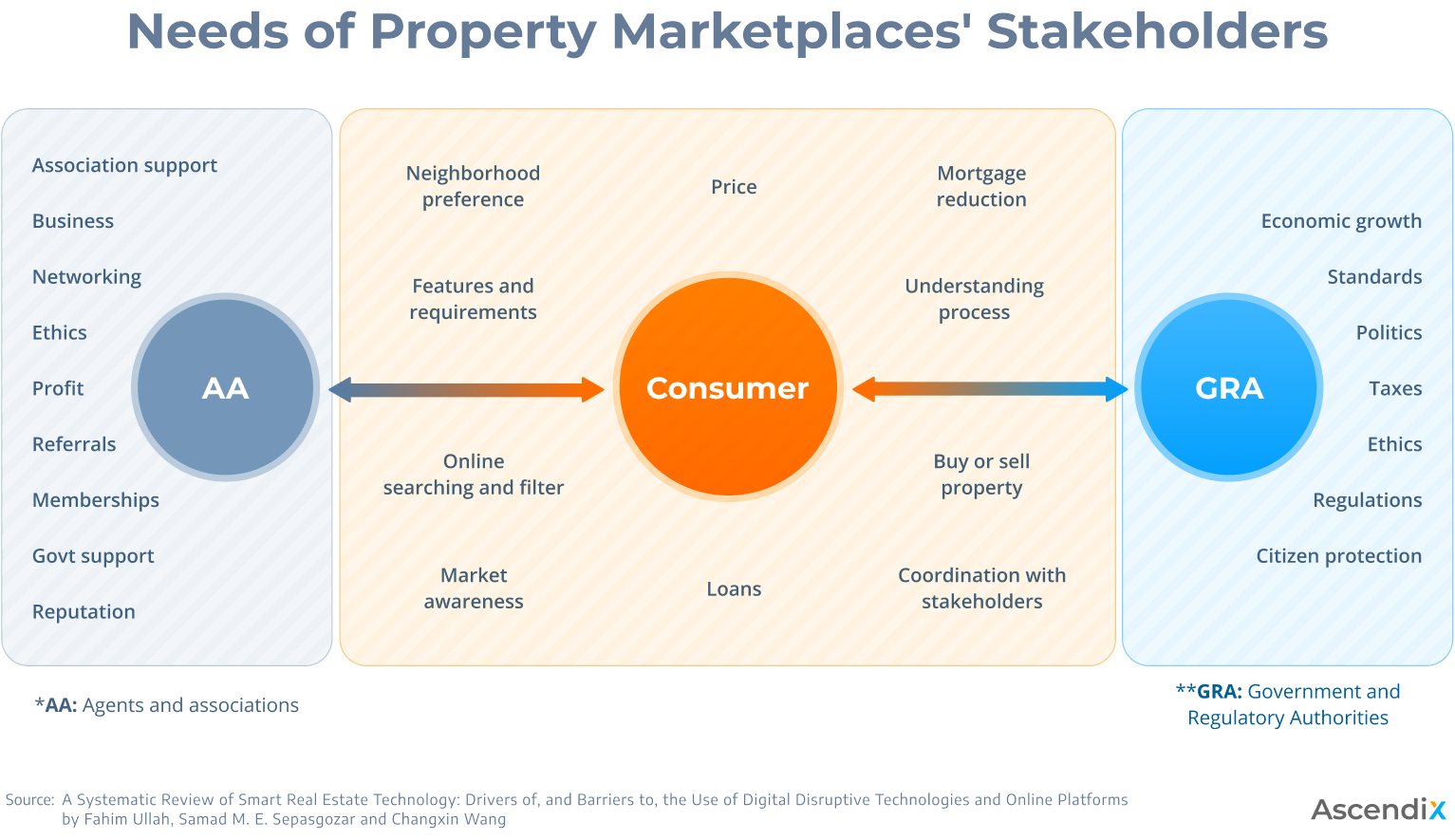 For instance, a buyer/renter primarily needs to purchase or rent a property. An additional need is residing in a good neighborhood, preferring an area with the necessary facilities and amenities. To cover these two needs, your property marketplace must contain intuitive searching functionality with a custom filter to apply.
Individual preferences differ. For instance, one person might prioritize the time required to get to work over the quantity of restaurants and markets nearby.
Another might want bus stops and hospitals nearby, while someone else could be more concerned about safety. Since buyers' and tenants' needs vary, creating a consistent system for all consumers is challenging, and their input is crucial for keeping your real estate marketplace up to date.
Other buyers'/renters' requirements include pricing, mortgages, website search filters, and coordinating with stakeholders.
Government and regulatory authorities (GRA) must protect all parties involved in real estate deals. First and foremost, GRA protects all stakeholders in return for taxes. To prevent misuse of business power, they also have secondary needs, such as establishing standards, ethical codes, and regulations.
To cover GRA needs, your property marketplace should follow all regulations required for software solutions. An experienced team of software developers can do this with many years of experience in real estate software development.
For agents and brokerages, the core need is profit earned by providing services to buyers. These services involve online and offline meetings with consumers, managing listings, and ensuring suitable matches between sellers and buyers based on their preferences and availability. These needs lead to secondary requirements like networking.
To meet agents and brokers' needs, your property marketplace must include match-making functionality based on advanced data search and aggregation.
Once you've validated your business idea, the next step in building platforms is choosing the functionality, tech stack, creating UI/UX and an MVP. That's the topic of the next passages.
Real Estate Marketplace Features: Mandatory, Core/Linear, Exciter
At the beginning of this article, we mentioned that COVID-19 has changed the digital behavior of real estate clients. It led to a new round of attempts to promote online real estate listings.
Due to the home isolation and social distancing during the pandemic, arranging onsite inspections or face-to-face discussions has been less feasible for buyers, which makes online real estate transactions more attractive.
For instance, Zillow introduced pre-recorded video tours, 3D home tours, and live video walkthrough services. LoopNet, another well-known marketplace focused on commercial real estate, also launched video-chat tours where a local broker visits the property in person and tours live with the client.
In 2023, a new wave of interest in AI in real estate occurred and continues to shape the digital behavior of real estate clients in the same way as COVID-19 did.
When clients' preferences change, the features of software solutions change as well. Every property marketplace includes three types of features: mandatory, core/linear, and exciter.
Mandatory features – the features that users expect by default.
Linear features – the core features that set your real estate marketplace apart from competitors, e.g., complete home-listings data.
Exciter features – the nice-to-have features that users might not expect by default but find greatly beneficial when using them. This functionality should "excite" and thus drive the initial decision to upgrade.
Below we share a list of mandatory and linear features to help you get started.
Mandatory features:
Quick on-website authorization
User profiles
Easy search for property listings
Property functionality view
Mortgage calculators
Intuitive property listing creation and adding
Quick view of property listings
360-degree virtual tours
"Find a Broker" functionality
Core/Linear Features:
API integrations (Google Maps, Payment Gateways, Calendar APIs etc.)
Integration with MLS
Big data algorithms
Property optimized chatbots
Payment gateway integration
Sentiment analysis powered by AI
Price prediction functionality
Auto-translation of Property descriptions
Advance search capabilities
Personal and public profile data
Map integration
Listings
Rental comparison tool
Property tour booking system
Estimated monthly costs
Let's go over each of the core features more specifically.
1. API Integration
There's an abundance of different services that need to be integrated with your real estate marketplace empowering users to conduct comprehensive assessments of potential properties.
For example, you might want to consider adding some of the below popular APIs:
Google Maps API: allows users to view property listings on a map, find directions, and explore the surrounding area.
Calendar APIs: for scheduling property viewings, appointments, or booking rental dates.
Local Schools and Education APIs: provide information about nearby schools, their ratings, and educational resources.
Neighborhood Data APIs: provide data about the local neighborhood, crime rates, amenities, and community statistics.
2. Integration with MLS (Multiple Listing Service) and User Contribution 
There are two ways to get your inventory:
Through Multiple Listings Service
Through User contributions
Most property websites and real estate marketplaces rely on MLS for property data (which is also considered API).
However, there are some pitfalls you should be aware of when proceeding with MLS integration.
First, to access an MLS and integrate this database into your marketplace, you must be a licensed broker /a member of a specific realtor organization and pay an annual fee.
Second, data standardization. Each MLS keeps listing data in different formats, making it problematic to display all that data in a unified form on a single marketplace. Hence, you might benefit from including data standardization functionality to your real estate platform.
Under user contribution, we mean that brokers, sellers, and buyers can upload listings independently. Encourage your customers to do so for free with a smooth, well-thought-out interface and process that will guarantee you a stable flow of listing information even without an MLS.
3. Online Map Integration 
This function allows customers to navigate the local area and find the most relevant properties for sale/lease/rent. Make sure to add a sorting system and geomapping functionality to enable search not only by property location but also in the nearby area.
Your real estate marketplace should also be powered by Google Maps to let users conduct a geospatial search. In addition to this, custom refinement filters like the below would be highly appreciated by users:
Listings type
Record Type
Price
Year Built
Property Class
Other
4. Big Data Algorithms 
Big data has been used by Zillow to evaluate various property parameters (e.g., market price fluctuations, crime rates, average time spent on a property by consumers, etc.)
Big data algorithms support efficient search functionalities. They enable users to filter and sort property listings based on various criteria such as location, price range, amenities, and more. This ensures that users can quickly find properties that align with their specific requirements.
Another important function of these algorithms is personalized recommendations. By analyzing user behavior, search patterns, and preferences, the algorithms can provide tailored property recommendations to individuals, enhancing their overall search experience.
5. AI-Powered Search 
Developing a modern real estate marketplace is incomplete without the inclusion of AI-powered search functionality, even if your platform boasts an extensive listings database. Here's where the true magic unfolds: Imagine a user entering a query like, "find property in Krakow." With AI-driven search, the system doesn't just treat this as a string of text; it comprehends the user's intent behind the inquiry.
The AI search engine, in response, instantly and intelligently applies the appropriate filters. This means users are presented with a refined list of properties that are directly aligned with their needs and preferences. The outcome? Elevated user satisfaction and a substantial reduction in the time spent searching for properties.
6. Property Optimized Chatbots 
Apply uniquely optimized user conversion chatbot technology to stay in touch with clients 24/7.
Chatbots can be moderated by agents and brokers or AI-moderated. In the first case, chatbots serve as assistants that speed up your business workflow. In the second case, when the chatbot is AI-based, it serves as a separate team member that answers client's inquiries and questions 24/7.
Imagine you're away from the office, yet clients continue to seek answers. By uploading property-related documentation into the chatbot, it becomes an invaluable resource, capable of promptly responding to client inquiries. Even at 3 a.m. in your time zone, the chatbot can seamlessly address client questions based on the information within the uploaded documentation.
If the chatbot encounters a question it cannot handle during agent out-of-hours times, it will ensure the relevant agent receives the query promptly at the start of the working day. This ensures that only the most urgent and complex questions reach the agent, sparing them the need to sift through inquiries that could have been quickly addressed by the chatbot.
7. Payment Gateway Integration  
A p2p payment system is a web/mobile application for electronic transactions from one bank account to another. This integration lets your end-users make purchases via multiple channels quickly and securely. PayPal, CashApp, and Venmo are the most popular peer-to-peer payment software.
8. Sentiment Analysis Powered by AI  
This functionality is used to analyze buyers' feedback and emotional tone when they purchase/rent/lease a property. Sentiment analysis allows you to learn clients' attitudes and satisfaction levels towards specific properties based on comments and reviews without reading them individually.
9. Price Prediction Functionality 
The price prediction functionality is a feature designed to estimate a property's fair market value or selling price using advanced algorithms and analysis of historical data.
The functionality utilizes factors such as property characteristics, location, historical sales data, and market trends to give users an informed estimate of what a property might be worth.
By leveraging artificial intelligence and machine learning techniques, this functionality enhances the accuracy of property valuations.
10. Auto-Translation of Property Descriptions 
Real-time content translation and localization solutions automatically translate listing descriptions and reviews into the user's language.
11. Personal and Public Profile Data 
Here we mean empowering your users to modify their profile data and make their own decisions about what data will be visible. In this section, users should be able to adjust their account settings like e-mail, password, phone number, etc. This feature builds confidence between the customers and your real estate marketplace.
Allow your users to use a combination of these filters and designate their own custom ones based on multiple criteria to make the search experience even more efficient.
12. Listings
Your real estate marketplace is a huge database of property listings with a myriad of data records about property location, ratings, prices, accessibility, etc.
Depending on the business model of your real estate marketplace, you'll need to arrange that information within a neat yet informative listing template, accentuating key details that might be a deciding factor in the sale/rent.
Ideally, listing pages oriented at the buyer should contain the following:
Property information – well-presented pictures, property descriptions, and key details
Price/tax history
Mortgage calculator
Property Status
Asking price
Home values in the neighborhood
List of agents and mortgage lenders
The "Add to Favorites" button
The information must be presented in a very convenient, user-friendly manner. See the example below.
13. Rental Comparison
Zillow offers a rental comparison tool called Rent Zestimate. It allows users thinking about buying or wholesaling the property to sort, filter, and analyze a customized list of rental comps for a specific area and properties within a chosen neighborhood.
See the example of a rental comparison interface below:
14. Tour Booking System
This feature goes as a separate module. Users appreciate the ability to book a property tour on a specific date and time right from the system, avoiding wordy phone calls.
This feature would also greatly benefit marketplace admins, allowing them to track property bookings and keep them organized.
15. Estimated Monthly Costs
An excellent feature for tenants looking for the most money-worth properties is a monthly cost estimation available from a specific listing screen. (see the example below).
In this passage, we analyzed the core features of the real estate marketplace. As your marketplace scales, you must update it regularly with new features and functionality.
Create Real Estate Marketplace with Us
We are real estate marketplace development experts and product owners. You can hire us to assess your current marketplace or build new products from scratch. Contact us to get started.
Tech Stack Required to Build Real Estate Marketplace
The tech stack is a backbone in tailoring the web product to your goals and chosen business model and should receive the most attention before the actual development begins. Based on our experience in building CRE marketplaces and real estate websites like Zillow, we advise to employ the following tech stack:
Azure Cloud: for cloud storage
Salesforce Experience Cloud for creating customer and agent portals
Azure App Service: PaaS offering for hosting back-end components as well as front-end single page applications
Azure Functions: serverless offering for the hosting of background jobs, such as sending emails, etc.
Atlas Mongo DB: no-SQL high scalable database which should be used as a main data storage
Azure Service Bus: for the asynchronous communication between back-end components and services
Azure Blob storage: reliable and high-scalable storage for files, photos, videos, etc.
Azure Active Directory B2C: as a reliable and secure identity provider.
However, if your brokerage already uses a real estate marketplace that needs improvements, building off a preexisting platform is a good solution to consider.
In this regard, our team offers implementation and migration to a well-known platform – Salesforce Experience Cloud. The benefit of this cloud is that it seamlessly integrates all Salesforce apps and capabilities under one roof, including sales, marketing, and customer care, as well as analytics, advertising, and content management to deliver connected digital experiences for various portals, customer care hubs, etc.
Therefore, if your brokerage is subscribed to Salesforce CRM, you don't have to build all the tech from scratch – Salesforce has done it for you.
The Ascendix team has solid experience in building marketplaces for real estate on Salesforce Experience Cloud.
Build Real Estate Marketplace That Users Love
AscendixTech team consists of real estate marketplace development experts and product owners. You can hire us to assess your current marketplace or build new products from scratch. Contact us to get started.
MVP and Design
Now that we have determined the core features and tech stack, it's time to create an MVP (Minimum Viable Product). Building a marketplace MVP helps to test your ideas and analyze users' perception of the functionality you implemented.
You need to include only the mandatory and linear functionality during marketplace MVP development. Over time, you will scale the platform and be able to implement add-ons and optional features.
Speaking about design features of the real estate marketplace, we'd like to highlight the following: it should be simple and straightforward for all target personas. Whether it's a broker with a solid tech background or a non-tech-savvy user, design of the interface must be intuitive.
Our Experience in Building Real Estate Marketplaces
When it comes to choosing a software development partner, several key factors must be carefully considered and weighed:
How long has a company been around, and what's their reputation?
Do they understand the market of real estate marketplaces and have experience working with it?
Do they provide ongoing project support?
Not all software development companies have the domain knowledge and skillset needed to help your real estate marketplace succeed.
AscendixTech solid domain knowledge lets our team be your trustworthy consultant who knows your niche and the problems you're dealing with so intimately that we could come in and help from the first touchpoint.
As a real estate tech development company with almost two decades of hands-on experience in the industry, we have overseen and executed multiple real estate marketplace buildout projects. Perhaps the most prominent was developing our own real estate platform – MarketSpace.
The aim behind this solution was to provide the users (usually brokers) with a straightforward, efficient way to promote properties and communicate with customers from a single portal that would easily integrate with the existing brokerage system, whether it be based on Salesforce or Dynamics 365.
Although Marketspace is predominantly a broker-oriented web portal, we wanted to make sure that agents could upon customer's (buyer/tenant's) request share a predefined pool of listings that match home seekers' criteria with a wider audience. This basically makes MarketSpace a two-faceted solution oriented at the broker and the client. With this in mind, we implemented the following sets of functionality:
Advanced map search
Secure and engaging deal rooms
Easy-to-use and safe collaboration rooms
Versatile report generation tool
Diverse search and filtering tools
Insightful dashboard with charts and graphs
By far, our custom real estate software development expertise and projects we've brought to life so far reflect our strong focus on delivering upscale solutions.
How can we assist you in building a real estate marketplace like Zillow, Redfin, or CREXi?
We collect your requirements, needs, and expectations. This process includes workshops, stakeholder interviews, and use cases to define the best solution for your business.
Skill Set Assessment & Proposal
We discuss and define the tech stack, project scope, timelines, budget, engagement models for your project, and design.
We assign team members responsible for the project delivery. If necessary, we can recruit new team members from our offshore office.
We start the software development phase and keep you updated on the project's progress to ensure we are on the same page.
Due to our solid expertise in real estate software development, the Ascendix team knows exactly how to build a website like Zillow and we will be glad to assist you in creating your vision of a perfect real estate marketspace. Check our case studies and contact us to discuss your project.
Proptech Software Development Portfolio by Ascendix
Check out the overview of the proptech consulting and software development projects we delivered to our clients.
What's the Cost to Build Real Estate Marketplace?
Cost to build real estate marketplace depends heavily on such factors:
The functionality you wish to have on your real estate marketplace website;
The development approach, tech stack, design you choose;
The rates of your software development vendor.
The final cost can vary, so the best way is to contact us and to get an accurate project estimation.
What Tech Stack Do I Need to Create a Website Like Zillow?
For cloud storage: Azure Cloud, Salesforce Experience Cloud
For hosting the back-end components as well as front-end single page applications: Azure AppService
For the hosting of background jobs, such as sending emails, etc: Azure Functions
For main data storage: Atlas Mongo DB
For the asynchronous communication between back-end components and services: Azure Service Bus
For a reliable and high-scalable storage of the files, photos, videos, etc: Azure Blob
For secure identity provider: Azure Active Directory B2C
Kateryna Zhukovina
,
Content Marketer
Kateryna specializes in creating engaging content about CRM software development for Legal Services and custom software development. In her articles, she provides relevant data, stats, business tricks and makes overviews and guides of new technology trends and CRM updates.