For quite a long time, digital transformation couldn't get through the thick walls of commercial buildings. 2020, however, was the year when the commercial real estate routine built mainly on in-person interactions and manual workflow was finally disrupted. Old habits die hard, but the winning sides and clear benefit of what is called proptech innovation in commercial real estate (CRE) make even ardent traditionalists stick their heads out of the sand.
The faster you learn what proptech is and how to shift to digital, the quicker you'll get the competitive edge in this competition. Thus, let's check the milestones and progress of digital transformation in CRE and define the areas that are first in line for automation.
Digital Transformation in CRE: 3 Directions are Defined
Like in any other brick and mortar industry, the responsibilities of CRE players traditionally revolve around negotiation, accounting, and building maintenance. However, as soon as Covid-19 struck the planet, many of these routine tasks had to be reinvented using digital solutions. And if industries like finance or retail readily embraced this change, CRE professionals still were watching and waiting.
Deloitte's 2022 Commercial Real Estate Outlook sheds some light on the current level of digital readiness of CRE players. More than 31% of respondents say that over the past 10 years, they have made little progress in modernizing HR processes, technologies, and capabilities. CRE leaders admit that the pandemic highlighted the shortcomings of their organizations' digital capabilities.
That's why 64% of respondents believe it is important to reconsider jobs and make AI technology a part of the requirements. Even though readiness shows only 22%, now CRE companies consider digital transformation in tandem with talent.
This way, the trajectory of CRE growth lies in at least 3 quite challenging directions:
improvement of tenant experience
environmental sustainability
proptech innovation (application of new technologies)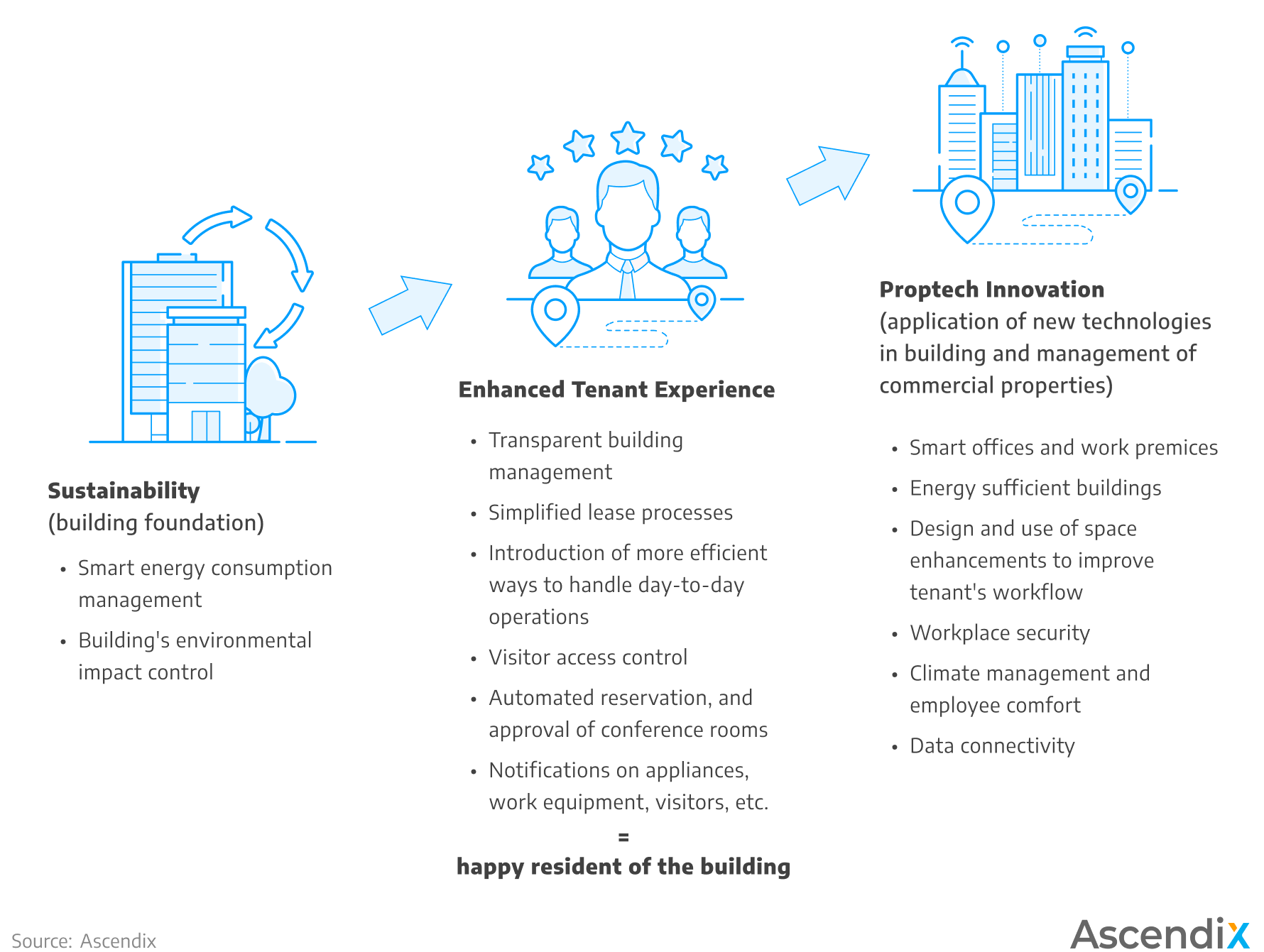 1.     Enhancing Tenant Experience
With the introduction of digital, all CRE services are starting to revolve around tenants. In Deloitte's 2020 Commercial Real Estate Outlook, 92% of respondents plan to maintain or increase their tenant experience–related technology investments. In CRE tenants may be various personas: retail customers, multifamily property residents or office and factory employees. CRE leaders recognize smart technologies like IoT, AI, and mobile apps as the key to enhancing their experience.
The table from Deloitte's survey shows how respondents indicate how changing tenant and end-user preferences may influence leasing demand.  As conclusion, demand for hotel, retail, and office space could see a double-digit decline in rental activity over the next 18 months.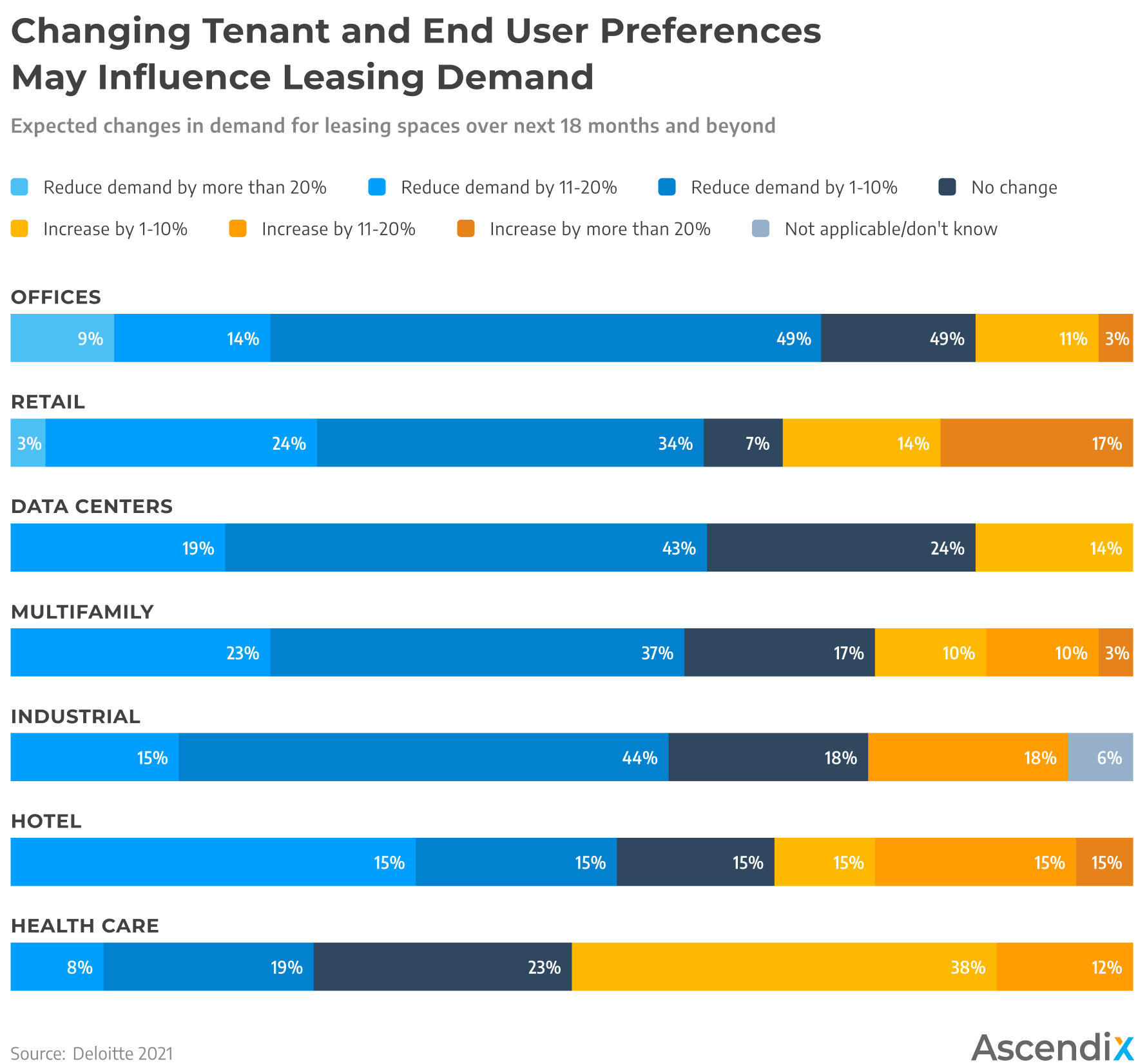 2.     Sustainability Compliance
According to Forbes, nearly 40% of global carbon dioxide emissions come from the real estate sector. Up to 70% are produced by building operations, while the remaining 30% come from construction. Today people know exactly what the consequences of this might be for both the planet and their health. Thus, despite being in the early stages of addressing the climate crisis, CRE companies are rapidly getting more mature in their environmental considerations. CRE recognizes sustainability as a priority and actively invests in environmental and security technology to improve the tenant experience and mitigate environmental risks.
3.    Proptech Innovation
Current proptech technologies and trends can dramatically improve the existing process and make the CRE market more sustainable. Moreover, they can also enhance the professional skills of people in CRE. Leveraging the newly acquired digital capacities, CRE workers grow their expertise and get the right data analytics to elevate tenant engagement.
Over three-fourths of respondents in Deloitte's Outlook claim their companies tend to expand partnerships or invest in proptech, which could help firms deploy the real estate-as-a-service (REaaS) delivery model.
The term REaaS is a result of proptech innovation in the real estate market that combines strategy, technology, and data to apply analytics on the fly and provide tenants with enhanced customer experience.
The growing number of similar requests and investments (32$B investment level in 2021) into the proptech software development market demonstrates that digitalization is in fact the only option to improve CRE service.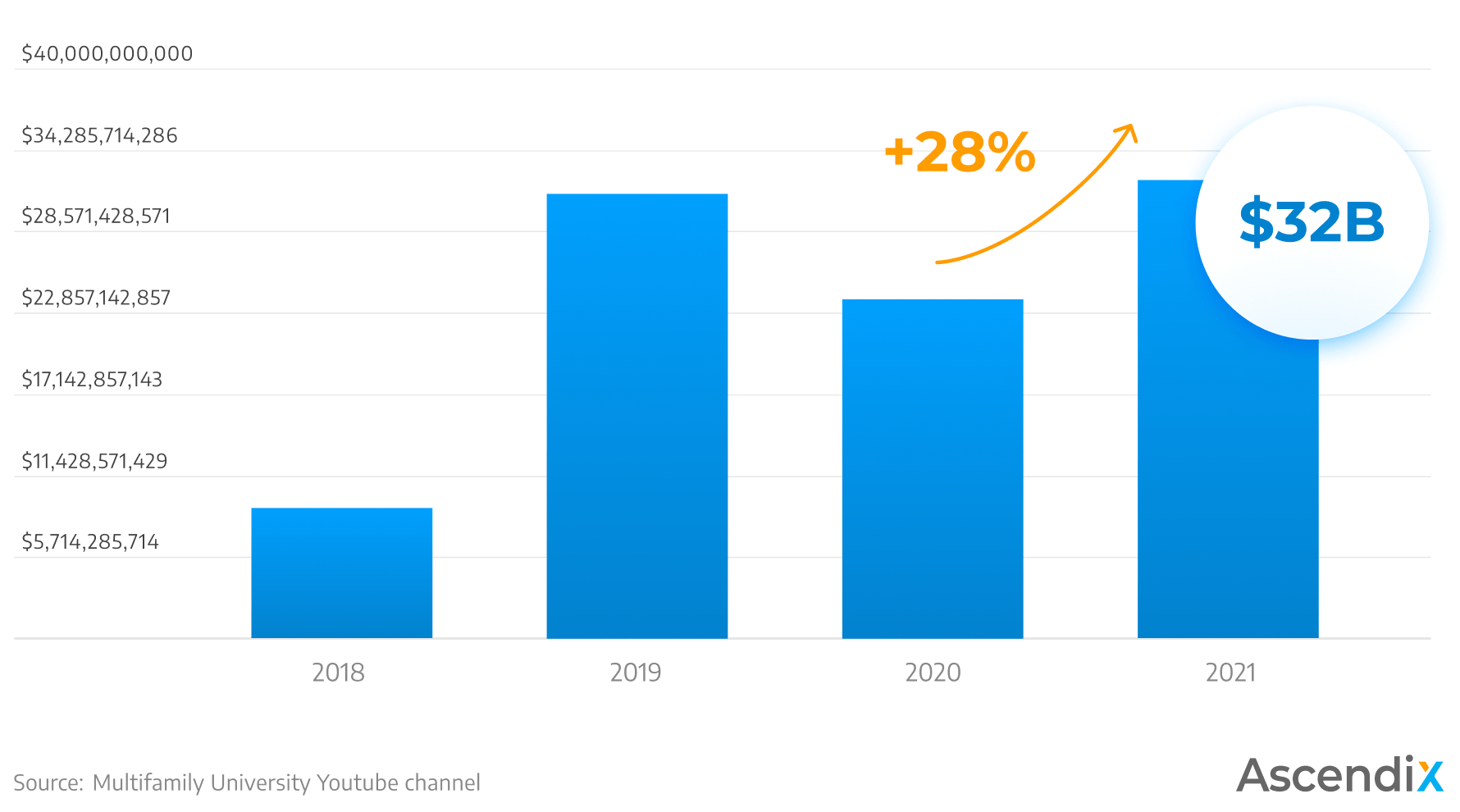 Proptech Buildings & Cities in CRE
At the beginning of the pandemic, the CRE industry moved to a remote mode like many other industries. Since then, the customization of the workplace has had a direct impact on revenues and loyalty.
Spending a lot of time at work, tenants want the spaces they lease to be smarter and support their work. Since then, the tenant's experience is often a decisive factor that drives loyalty.
The global smart building market has increased exponentially. More than 115 million smart buildings are predicted by 2026. Smart building automation software and systems will reach $20.5B in North America by 2027.
Transformation into smart cities, however, starts with smart buildings. They aim to improve tenants' experience and help to respond to industry-related challenges.
The share of this market is huge. Thus, let's break it down and see how technologies shape it.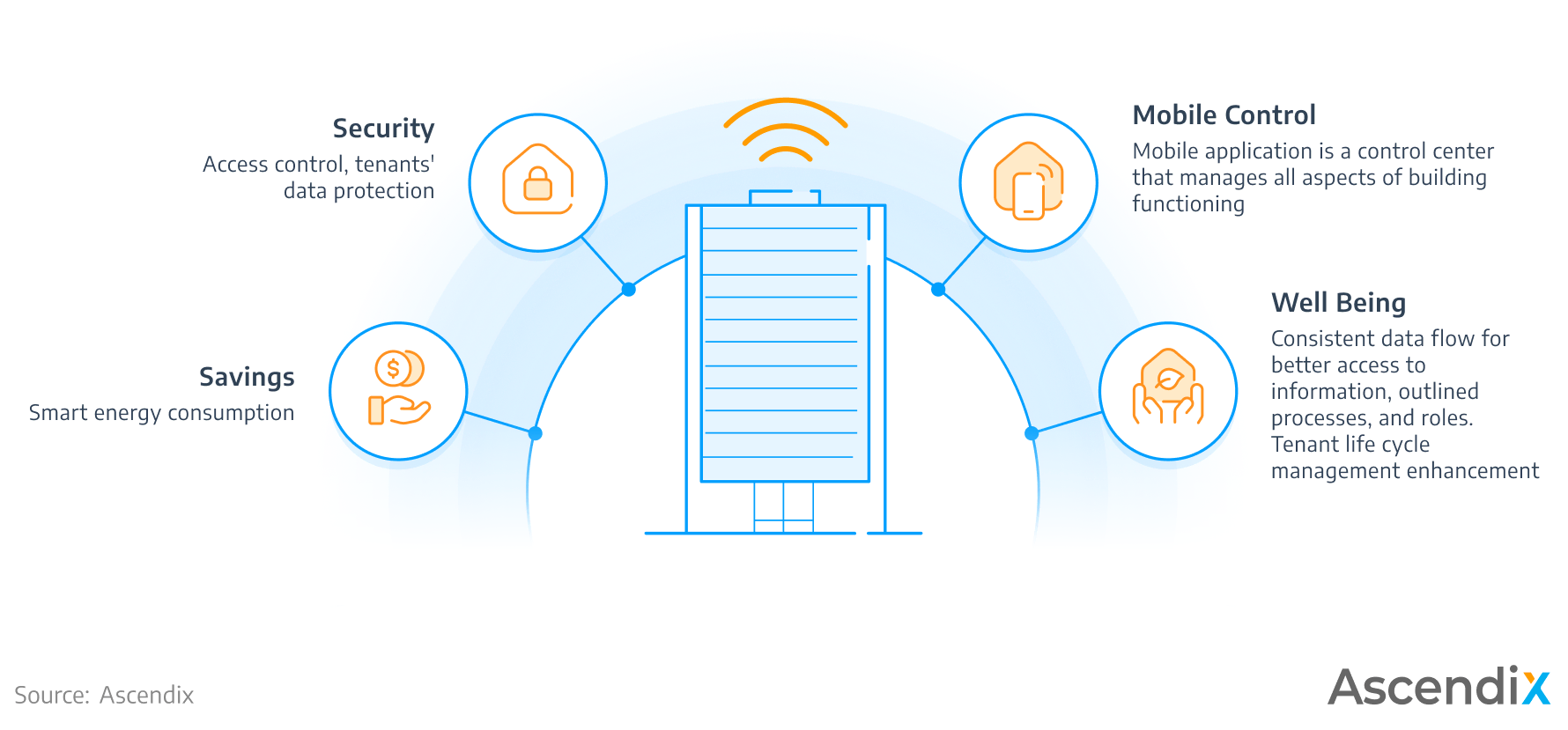 Smart Energy Consumption
As buildings consume about 30% of the world's energy, reasonable electricity consumption in CRE makes a grand contribution to solving environmental problems. Moreover, CRE executives believe that smart energy management in commercial buildings has a positive impact on tenants' leasing decisions. Artificial intelligence, for example, has the power to renovate the whole supply chain from generation, logistics, and distribution in construction to supply and reduction of energy consumption. Thus, it's about time to take most of the available technology and use it in smart energy-efficient buildings to spend less money on some basic things.
Leveraging machine learning as one of the ingredients for smart prediction, AI helps tackle at least several challenges of renewable energy consumption and creates a more accurate picture for predictive maintenance. According to a Forbes survey, it will improve profits and growth with better insights into how the property is performing (85% agree).
Security
The biggest speculations on all digital advances traditionally revolve around cybersecurity. As it traditionally involves AI, IoT and ML, and other technologies, in peoples' perception companies that use them face cybersecurity threats as their data gets exposed. It's worth realizing, however, that while processing the data, AI, for instance, has the power to detect the system's vulnerabilities and analyze past security incidents making the system stronger in all aspects. Cloud solutions not only streamline communication inside the company but also protect tenants' data from exposure through the security roles hierarchy. In short, people call these technologies smart for a reason.
Smart Control
Remember a person who turned off the light once everyone left the building? Now property management solutions allow tenants to control the facility at their fingertips. Smartphones have become our closest friends and companions. Thus, little wonder that it gradually became the center of building management. In technology-enabled offices, a dedicated mobile application is a control center that manages all aspects of building functioning from access, maintenance reporting, and emergency notifications to even food provision in the building. Moreover, these apps generate information on the building's environmental impact and act as a guide on the neighborhood. IoT sensors and AI – are the other great source of information about tenants' behavior, making CRE leaders empowered by data to make the right talent decisions.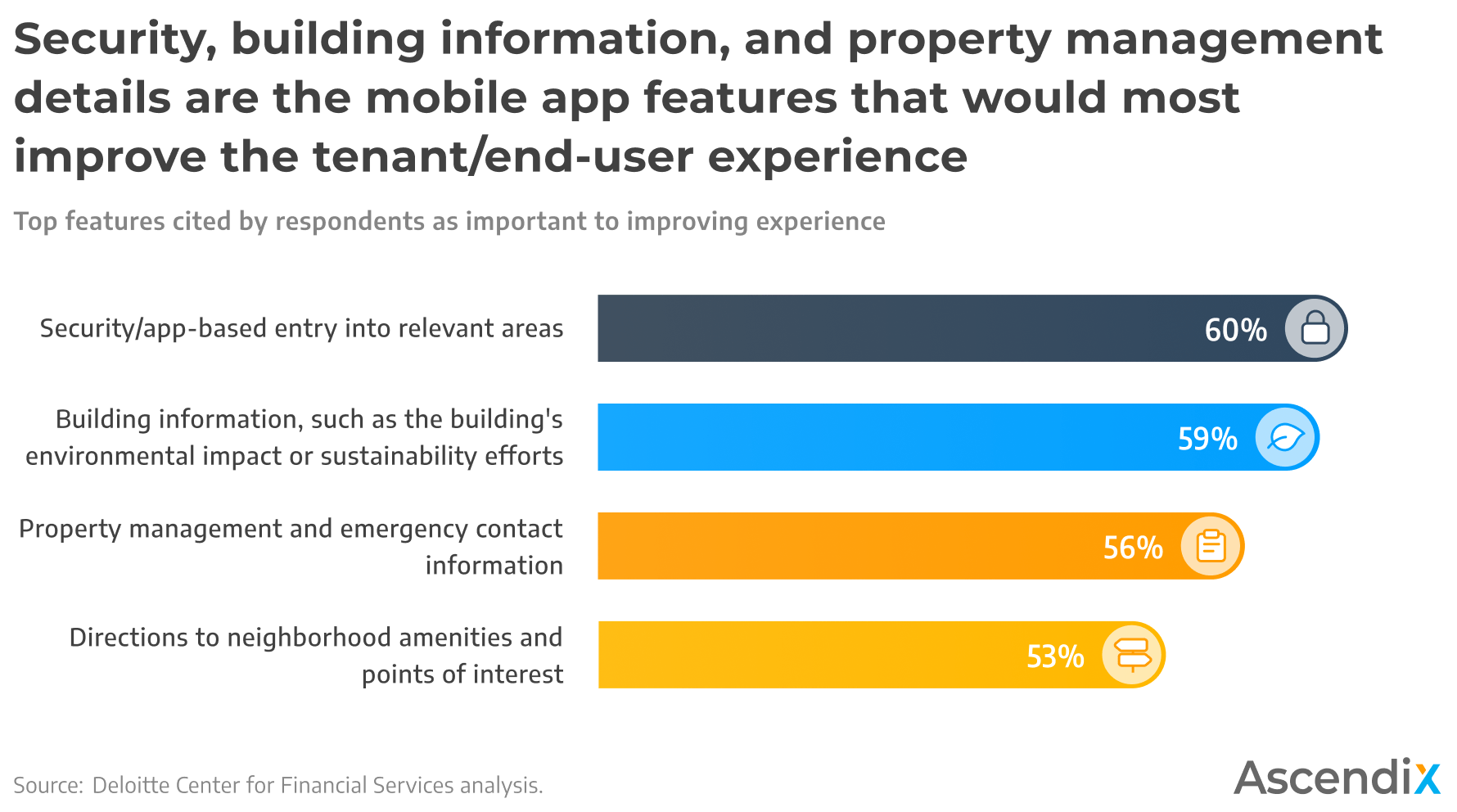 Building's Well-Being
The pandemic was a driver that changed our attitude towards life and work. Real estate took it into account with 75% of respondents considering employee well-being important or very important. Turning to the remote is not an option for all businesses. Even when it is available 79% of workers prefer a hybrid work environment.
Accordingly, offices are spaces where tenants spend the majority of their time, their well-being is heavily associated with the condition of the premises tenants work on.
Here the concept of well-being may include several factors: automation of building and construction, energy, water and waste management, design and use of space enhancements, workplace security, favorable building climate and employee comfort, consistent communication, and data ownership.
CRE organizations are just figuring out how to use proptech technology. But very soon these buildings are expected to turn into cities with smart traffic management systems, autonomous vehicles, connected infrastructure, and adaptive signals.
Looking for Help with Building a Proptech Solution?
We've got 2 decades of expertise in real estate and SaaS development. Trust your project to Ascendix professionals.
How Digital Technologies Add Value to the Operations in CRE
Slowly but surely, the CRE industry is moving toward digital progress, and the first fruits are already visible. It seems like the industry has finally cracked the code to close more deals and make more money – and it's automation of tenants' experience.
It also gets clear that CRE executives that adopt digital technologies have a competitive edge. The latter establishes the large-scale usage of online exchanges, marketplaces, transactions, and crowdfunding solutions on the CRE market. Through personalized touch and streamlined communication, these innovations establish a bond between CRE businesses and tenants.
The usage of advanced analytics usage can optimize the leasing process from collection and management of data to actual signing.
The process of payment can also become less painful and paperless.
Appraisals and reporting from now on are more precise and coordinated.
In addition, the consistent AI data flow unlocks multiple benefits for tenants in terms of better access to information, outlined processes, and roles.
Cloud technologies, business intelligence, and AI technologies can improve tenant onboarding and life cycle management by introducing personalized dashboards with their skills, aspirations, and preferences.
IoT technologies elevate tenants' experience in terms of functionality of work appliances to eliminate potential errors, breakdowns, and delays. The data gathered from IoT sensors go to the cloud for analysis, creating predictive models. Smart buildings are also powered by cloud technology and edge computing that are responsible for connecting all elements in place, and computing data in a safe manner.
In a complex, it may ease the routine of CRE specialists and allow them to concentrate on the strategic aspects of tenants' experience.
Looking for some examples that refine the routine of real estate players? Follow the last insights.
Property Management
In Deloitte's 2020 Commercial Real Estate Outlook, only 20 of the 40 respondents whose organizations capture data internally, share insights with tenants. That's a terrible waste since the best way to elevate tenant experience is to integrate the obtained data and elevate their workflow. Smart analytics solutions and property management software may attract new tenants by introducing simplified lease processes and more efficient ways to handle day-to-day operations like visitor access, reservation, and approval of conference rooms and notifications set on various things including appliances, work equipment, visitors, etc. In the complex, all these efforts make tenants happier residents of the building.
CRE Leasing Automation
Commercial leases are typically more time-consuming than residential ones. In the outdated world of excel spreadsheets even more so! Leasing organizations get stuck at the stage of manual data collection and validation of tenants' information it includes. In addition, the sales team usually must multiply this information across different systems and agreement templates manually. This long chain of bureaucratic processes not only takes tenants' time but also makes them dissatisfied with the service. Each human error in this process can be critical as it automatically leads to revalidation. The tracking of the leasing status is also problematic in this way. In complex, these organizations fail at providing a fast and quality experience for the tenant, which often costs them successful deals.
Lease automation tools for CRE companies streamline document processing by creating smart fields that automatically populate information from centralized sources. Secure cloud-based technologies eliminate the need to put data manually and help to keep track of all critical lease agreements in one place. Not only does this type of synchronization of data between various systems help CRE companies to comply with all leasing regulations, but it also enables tracking of lease agreements expiration date, includes reminders on rent collection period, and most importantly, allows to have all leases at fingertips with dedicated mobile apps if any.
Legal Contract Automation
The preparation and legal support of contracts in CRE, which includes thousands of lease contracts, is the other aspect that begs for automation. These typically include various revisions, conditions, charges, and renewals which not only need to be managed properly but only securely. Legal support also should include rapid updates on pricing policy or index prices. All of these goals can be easily achieved with modern contract management software (CLM) that automates the creation, storage, and management of lease contracts along their cycle. Analytical panels in the system can showcase the level of building occupancy, efficiency, and speed of work and identify areas for improvement in contract management. Ultimately, similar solutions speed up the execution of the contract by 54%.
Build Proptech Software with Us
See how AscendixTech can help you close more deals and improve your prospecting.
Appraisals and Reporting
Like any other industry, CRE has its own unspoken rules. Here is a timely inspection of the building that is about to demonstrate that the landlord's investments and tenants' business are safe, and they pay the best price for a property. This is preceded by rounds of appraisals and reports prepared by agents. This takes a significant part of the agent's routine and can be done more precisely in terms of evaluations and more professionally in terms of reports. Appraisal software enables fast scheduling of evaluation requests and audits in advance, while report generation apps introduce various online templates with checklists with the possibility to add branded colors to reports and leave a last-long impression on the clients.
Finances and Payments
How harsh it wouldn't sound, but when it comes to financing, the less human intervention the better. It sticks out a mile, thus there is no need to explain that everything related to payment schedules, frequency of payments, transactions, and updates should be given to the machines. Automated payment solutions not only streamline the process of the deal but overall make the process more secure, and fraud protected. They also minimize human factors along the process which is high during manual operations.
People Behind Technology
Yes, in a good sense, people may also require automation as no one is trained to work with technology on the spot. In reality, a CRE company can leverage various tools to simplify finances and sales and tune various dashboards into the flow. In the end, however, it all may turn into a lost cause if CRE firms aren't able to manage the new workflow or the growing number of subsequent inquiries. This takes a major mindset shift toward digital where each of them can work with smart analytics and apply the knowledge it gives to their work. The problem of onboarding may range depending on the number of agents in a certain organization. Automation of onboarding approaches may redefine the organization in the best way possible and ensure that agents take the most of each proptech tool.
Proptech Software Development Portfolio by Ascendix
Check out the overview of the proptech consulting and software development projects we delivered to our clients.
Want to Build Custom-Made Proptech Solutions to Automate the CRE Flow?
Real estate is filled with wonderful inventions and technologies. Ascendix is a proptech enabler on the real estate market that creates its own impressive industry-specific products and provides a dedicated team of experts with real estate background for those who don't have the capacity to recruit, train, and retain the internal development team. Full cycle proptech services of Ascendix include:
custom real estate software development
real estate CRM software consulting (25 years in CRM consultancy)
MVP building and validation
existing proptech software optimization
on-demand team in Europe (development center in Europe)
optimal tech stack and architecture
support & DevOps teams (24/7 support around the globe)
These days are precisely the time when digital technologies are the most accessible and effective. Proptech technologies unlock exciting opportunities for CRE. It takes only expertise. Enabling innovation together with Colliers and JLL, Ascendix provides the knowledge to make innovation happen for your business.
Iryna Voitsekhovskaya
,
Content Writer
Iryna is a writer and storyteller who translates the inner workings of tech solutions, market trends, and cross-industry influences into the language of business value. Her mission is to drive awareness of innovation by means of engaging, digestible content that combines empathy and human-centricity with deep analysis.
Subscribe to Ascendix Newsletter
Get our fresh posts and news about Ascendix Tech right to your inbox.