Digital transformation in Commercial Real Estate is about making your business easier.
The faster you shift from traditional workflows to digital, the quicker you'll drive business results.
In this guide, we dive into the real estate digital ecosystem with stats, CRE tech trends, and the exact benefits you can get.
Keep reading the guide to know what CRE tech software your business needs right now.
What Is Digital Transformation in Commercial Real Estate
Digital transformation in commercial real estate means that technologies change the way you operate and deliver value to customers.
All market parties acquire new skills and alter their business culture to meet market demands.
Imagine you're replacing paperwork with pressing keyboard keys to store data online. And this happens to all your working operations.
From your internal company processes to the way you close deals with clients.
KPMG mentioned that 2 in 3 commercial real estate companies have a digital strategy in mind.
Why Real Estate Digital Transformation Becomes a Must?
Clients need service here and now
The more technologies come in our life, the more we value time. Customers do the same.
They no longer need multiple real property tours and personal meetings. They need instant online feedback, virtual 360-degree tours, and robust online document signing.
Here comes the high competition. It creates a situation where digitalized companies lead the market as they approach customers' needs in a timely fashion. They offer a user experience that clients opt for.
All this makes digital transformation a must-have strategy for your real estate business to thrive in 2022.
Improved efficiency, higher revenue
There is no sense for you to avoid the latest technologies as they advance the services you offer both internally and externally.
Most solutions focus on automating your day-to-day operations and boosting efficiency. Higher performance leads to reduced costs for most processes.
The more you save, the more you gain.
In other words, the better you perform, the higher are profits.
Here is a bit of statistics that prove our words (by FinancesOnline) :
40% of companies improved operational efficiency
1 in 3 companies have already met new expectations of customers
1 in 4 agencies upgraded its product/service quality
21% of CRE companies gained a new revenue source.
Want to Build PropTech Software? 
We're here to help. Just fill in the form and we'll send you an estimate.
Data-driven decisions
Apart from high efficiency, you get a better transparency based on data analysis.
Technology solutions allow you to process and analyze large volumes of data in real-time. This means you proceed to data-driven decisions.
And the more accurate decisions you make, the bigger are your results.
What's more, the faster you analyze multiple data, the lower the market competition becomes.
This is the case as you can quickly adopt new strategies and approach needs of customers based on their behavior and real demands.
Real Estate Digital Ecosystem Now
Now we want to bring some statistics showing the current digitalization ecosystem in commercial real estate.
The research data is taken from ground-breaking CRE tech reports here and here.
Real Estate Digital Ecosystem Recap
53% of companies said they will most likely adopt Big Data the next 3 years
92% think digital transformation in commercial real estate will impact their business
86% see CRE tech trends as direct opportunities to drive their business
34% have an enterprise-wide digital strategy
53% rank their business 5 or below in terms of commercial real estate technology maturity
49% want to collaborate with CRE tech companies to bring more innovation in commercial real estate
74% feel that real estate digital transformation has expanded in the last 12 months.
General Investments
$12.05B invested in CRE tech in 2020 compared to $5.77 in 2015
USA, Japan, and UK are the top-3 origin investing countries
USA, Spain, and UK are the top-3 destination investing countries
The We Company, Better.com, and LendInvest are the top companies receiving funding
$5B invested in managing CRE tech companies (2020-2021)
$4.2B invested in living cretech companies (2020-2021)
Top 10 Global CRE Tech Companies by Investments (1999-2021)
$20.6B by The We Company (commercial real estate search)
$6B by Airbnb (rental marketplace)
$3.6B by Ke.com (property management automation)
$3.4B by Oyo rooms (Indian rental marketplace)
$3.3B by Expedia (USA-based rental marketplace)
$2.1B by Ziroom (Chinese rental marketplace)
$2B by LendInvest (UK-baed sale search)
$1.8B by View (home services)
$1.6B by Katerra (USA-based construction management)
$1.5B by Compass (real estate agent tools).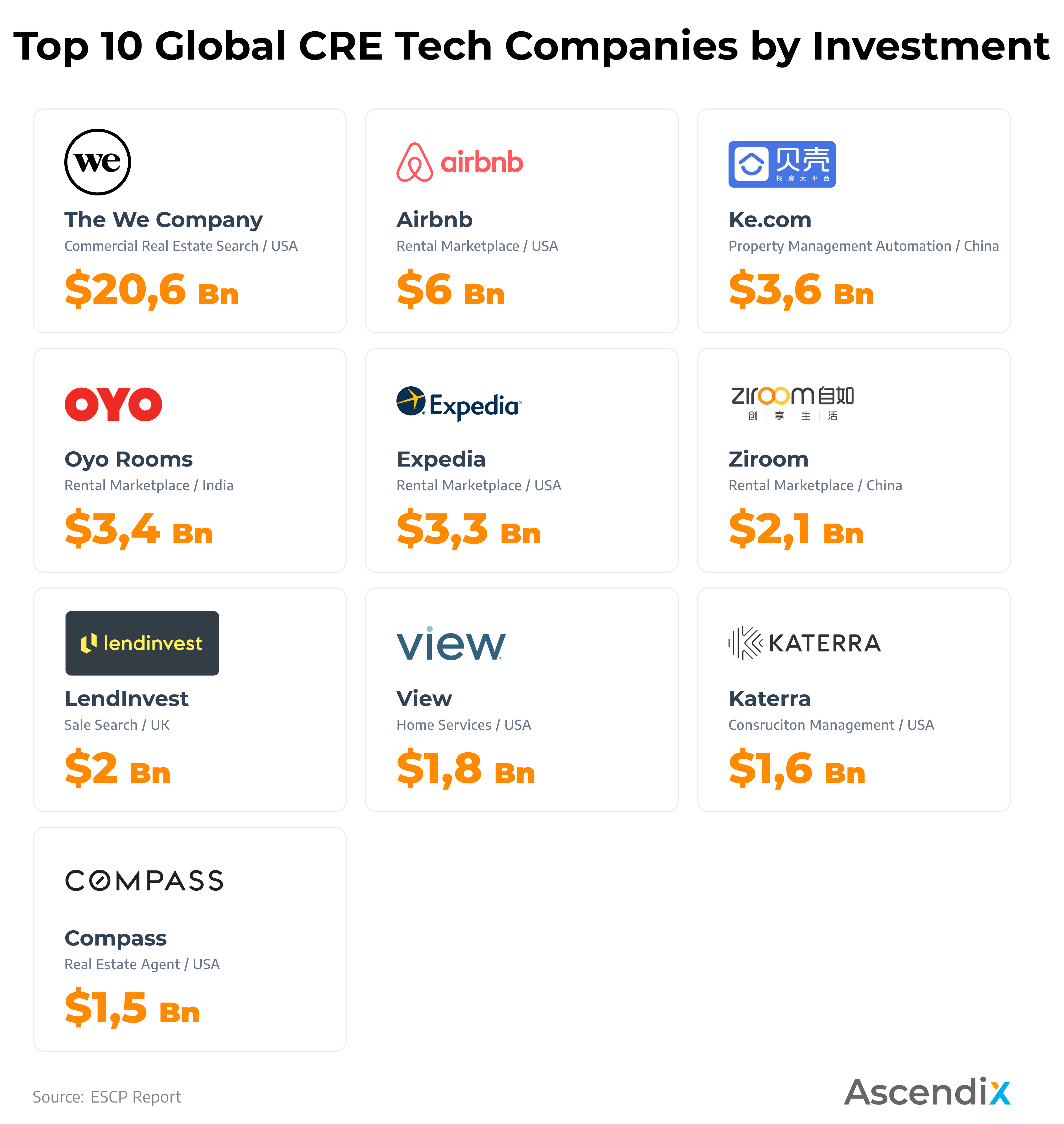 CRE Tech Trends: What to Expect in 2022
PropTech or Property Technology
3 in 4 commercial real estate companies said they would likely invest in property technologies (Deloitte Center).
Simply put, proptech is about empowering your CRE business with advanced technologies to bring automation, drive sales, and increase ROI.
The leading proptech companies offer multiple solutions that include, but are not limited to:
Property management automation (Amazon Go)
Mortgage and lending automation (Blend, Ethos)
Real Estate brokerage (Opendoor, Harbor, Appear Here)
Rental software (Airbnb, Lyric)
Facilities and property management (Enertiv, Wiredscore, Eden)
Construction automation (Honest Buildings)
CRM software for commercial real estate (Salesforce, Dynamics 365, Monday.com, Zoho)
CRE management tools (AscendixRE, Clientlook, Apto, Rethink)
Legal management (Notarize).
The more technologies consolidate with the CRE industry, the faster digitalization in commercial real estate will come for your business.
Augmented Reality (AR)/Virtual Reality (VR)
AR/VR technologies are revolutionizing the CRE industry right now.
All parties benefit from using them. Developers, landlords, tenants, and even brokerages gain a better user experience.
For example, PropertyGuru. It's a Singapore-based proptech search platform that has integrated virtual reality into its website features.
Initially, the company launched dozens of showroom-like vans.
They allow buyers to use VR and explore real flats with VR goggles.
This drives user engagement and potentially leads to a higher deal closing rate.
Real estate brokers also use 360-degree virtual tours to increase sales.
Tenants can now follow the try-before-buy approach and take a look at desired apartments remotely.
No personal meetings, no wasted time, no extra effort. Just a few clicks.
Investors and developers also benefit from using AR technologies.
For example, Gamma AR. It's an augmented reality-based app that allows developers to foresee the implementation of current construction plans and ideas.
This means stakeholders can first visualize, test, and try before spending large sums on developing a new building.
This way, investors boost their decision-making process and developers avoid potential pricey errors.
So, VR and AR technologies make the life of commercial real estate parties easier. And this trend is going to grow further.
Blockchain & Smart Contracts
Blockchain disrupts most industries and CRE is no exception.
Smart contracts – Ethereum Blockchain-based transaction protocols – are making property management and cash flows easier, transparent, cheaper, and secure.
For example, a lease contract.
With the help of Blockchain and smart contracts, it can be transformed into a smart tenancy contract.
This will improve transparency in lease terms and transactions. A smart tenancy contract can use bonds of rent for automated payments and real-time reconciliation.
Blockchain accelerates the transaction period, decreases the fraud rate, and reduces payment handling costs in terms of large volumes of transactions in the CRE industry.
The more real estate companies use Blockchain, the more innovative technologies will come into play.
Want to Build PropTech Software? 
We're here to help. Just fill in the form and we'll send you an estimate.
Real Estate Digital Transformation: 4 Common Services & Tools
Now let's discuss some of the services and tools that show how digitalization in commercial real estate works.
They will help you understand what solutions your CRE business needs.
Customer Relationship Management (CRM)
CRM software is an old market player for most industries, and CRE is no exception.
However, the CRM proptech platforms are designed specifically for real estate needs.
For example, AscendixRE.
It's a Salesforce-based CRM system tailored to your real estate demands.
Here are some of the key features that make it CRE-oriented:
Commercial property listings portal and secure deal rooms
First, it allows you to market properties and listings right from your CRM. This becomes possible through integrating additional functionality with the system.
This way, all received web leads will be added automatically to your CRM. This way, you can create, update, promote, and process listings and deals in one place.
Second, you can collaborate with tenants, landlords, and investors in secure deal rooms.
They refer to a highly secured, interactive, and real time web interface. There you can chat with clients, answer their questions, share sensitive data, sign NDAs and other documents.
And everything is done right in one place again.
Property brochures, flyers, tours, and reports
You can create visually-appealing property PDFs in a few clicks. This makes your prospecting activities more efficient.
The key features of a real estate brochure generation tool include:
Create property availability, leases, accounts, and activity reports with a few clicks
Fill your property's data and images automatically
Send created files to your prospective clients, and property owners right from your CRM
Use preset templates, no need to create them.
No CRM platforms provide such CRE-focused functionality out-of-the-box.
This transforms AscendixRE and other analogs into proptech CRM software.
Simply put, they are systems designed to meet your real estate needs.
Unique Commercial Real Estate Tools
Apart from the features above, AscendixRE empowers your CRE business with some extra functionality.
It includes:
Stacking plan builder to see a graphical and color-coded depiction of space utilization, availabilities, and lease expiry for each real estate property.
Display properties on a map to view proprietary research data, create custom maps and virtual property tours
Automated general commission calculator to save your time and money on manual operations
And many others.
A property management system (PMS) is a must-have commercial real estate software that brings digitalization to your business.
First, it automates accounting.
You no longer need to use hundreds of Excel or Google Spreadsheet files. It brings all accounting activities together in one place automating most of your manual operations.
Second, it helps with maintenance management.
A centralized data model takes care of and organizes your property maintenance assets.
Third, it makes document management easier.
No more paperwork and thousands of records that need to be processed.
Instead, you get an all-in-one digitized document management system where you store, process, and manage required documents.
A great example of a property management system is Landlord Studio.
It's an advanced proptech software for rental properties.
The key features include, but are not limited to:
Rent collection
Maintenance order tracking
Tenant screening
Posting listings for vacant units
Scheduling showings and even following up with those prospects after the showing.
Real Estate & Rental Marketplace
Another popular yet powerful Commercial Real Estate service is a rental marketplace.
It digitizes the CRE sector helping individuals and companies to rent and lend properties.
The concept is simple yet revolutionizing due to its convenience, simplicity, and perfect product-market fit.
For example, Airbnb.
With over 200 mln monthly active users, the platform serves the peer-to-peer domain.
The most basic features include:
Search for last-minute accommodation
Save favorite rental homes and places
Invite friends with one click to plan a trip together
Book accommodations, including date, check-in time, and other details
In-app messaging
And many others.
Wondering how Airbnb influences the real estate market?
California State University researched that a 1% jump in Airbnb listings means about a 0.026% jump in prices and a 0.018% increase in local rents over the US market.
Here are some statistics about Airbnb:
Market value: $110 billion.
The average earning per host: $9,600/year.
Total bookings made: 1 billion.
Total host listings now: 5.6 million.
CRE Transaction Management
Managing transactions takes lots of time for commercial real estate managers daily.
And CRE transaction management software is the way to digitize operations and make your life easier.
Buying, selling, disbursing commissions, reconciling payments, and many other activities become automated.
A great example is BrokerMint.
It's an all-in-one transaction management software for your real estate needs.
The core features include:
Accounting (payable/receivable)
Approval Process Control
Audit Management
Audit Trail
Automatic Billing
Bank Reconciliation
And many others.
So, transaction management digitizes your real estate workflows. It helps you increase earnings, save time, streamline communication, and more.
Wrapping Up
Digital transformation in Commercial Real Estate is an inevitable yet profitable initiative for your business.
The faster you adopt a commercial real estate technology, the faster you'll drive your business and get outcomes.
Our real estate digital ecosystem overview should help you define what proptech software your business needs right now.
In case you already have a CRE tech project in mind, just fill in the contact form.
We'll send you an estimate to discuss your proptech ideas.
Daniil Torkut
,
Content Marketer
Daniil specializes in content marketing and has a deep knowledge of promoting the company's products and services through high-quality content. On the Ascendix blog, Daniil shares his tricks and tips on custom software development, provides technology trends and insights, and helps you get valuable content to make your business even more successful and profitable.
Subscribe to Ascendix Newsletter
Get our fresh posts and news about Ascendix Tech right to your inbox.