Proptech solutions have taken the real estate market by storm and reportedly raised around 32$B in investments. Even though many real estate companies are still watching and waiting, it seems like proptech has become a huge differentiator. Especially for those who have just come to the customer-centric mentality that proptech enables.
In this article, you will overview property tech solutions that allow different real estate players to work smarter, invest time better and concentrate on profit-generating activities instead of routine tasks.
Proptech Solutions in Real Estate: Market Insights
The real estate market is one of the fastest-growing industries on the planet. It is notably due to the rapid increase in population, geopolitical crises, and climate changes that eventually cause worldwide migrations. PwC's Real Estate 2020 Report predicts that by 2050, urban population will increase by 75% to 6.3 billion, from 3.6 billion in 2010.
In this regard, the new generation of people will need:
50% more energy
40% more water
35% more food
and, of course, places to live
The challenge of quick search and rapid selling of houses is about to mark the following decade. In 2025, the planet will host 37 megacities, 12 of them in emerging markets. In the future, these cities can become huge hubs of opportunities for investors and developers.
The only 'but' is environmental sustainability, which is the first to be considered when compiling construction plans in the future. Enabled by technology, such real estate trends redefine the centuries-old approaches to building, selling, renting, and investing in physical space and become the key factors of value in the market. The phenomenon that marks the introduction of real estate innovation is called proptech.
Proptech is a set of technologies accelerating the processes of renting, buying, selling, and management of buildings. Proptech examples include solutions that operate on big data, artificial intelligence (AI), machine learning, virtual reality (VR), augmented reality (AR), Internet of Things (IoT), 5G, and blockchain.
The 2022 Global Real Estate Council Chair says big tech invests approximately $600 million into commercial real estate proptech weekly (source). Startups, in the meantime, have more chances to get funding if they leverage technologies like AI and ML, according to Forbes.
Find an overview of 8 top proptech startups here.
Proptech innovation covers two sides of real estate operations: management and transactions. Although more than 50% of proptech companies focus on sales and leasing, transactional tasks are considered the most overwhelming and laborious when buying or selling property.
Accordingly, these processes need the most automation. Proptech technologies cover all aspects of the real estate lifecycle in a holistic way, providing the workspace for strategic and management activities on both sides.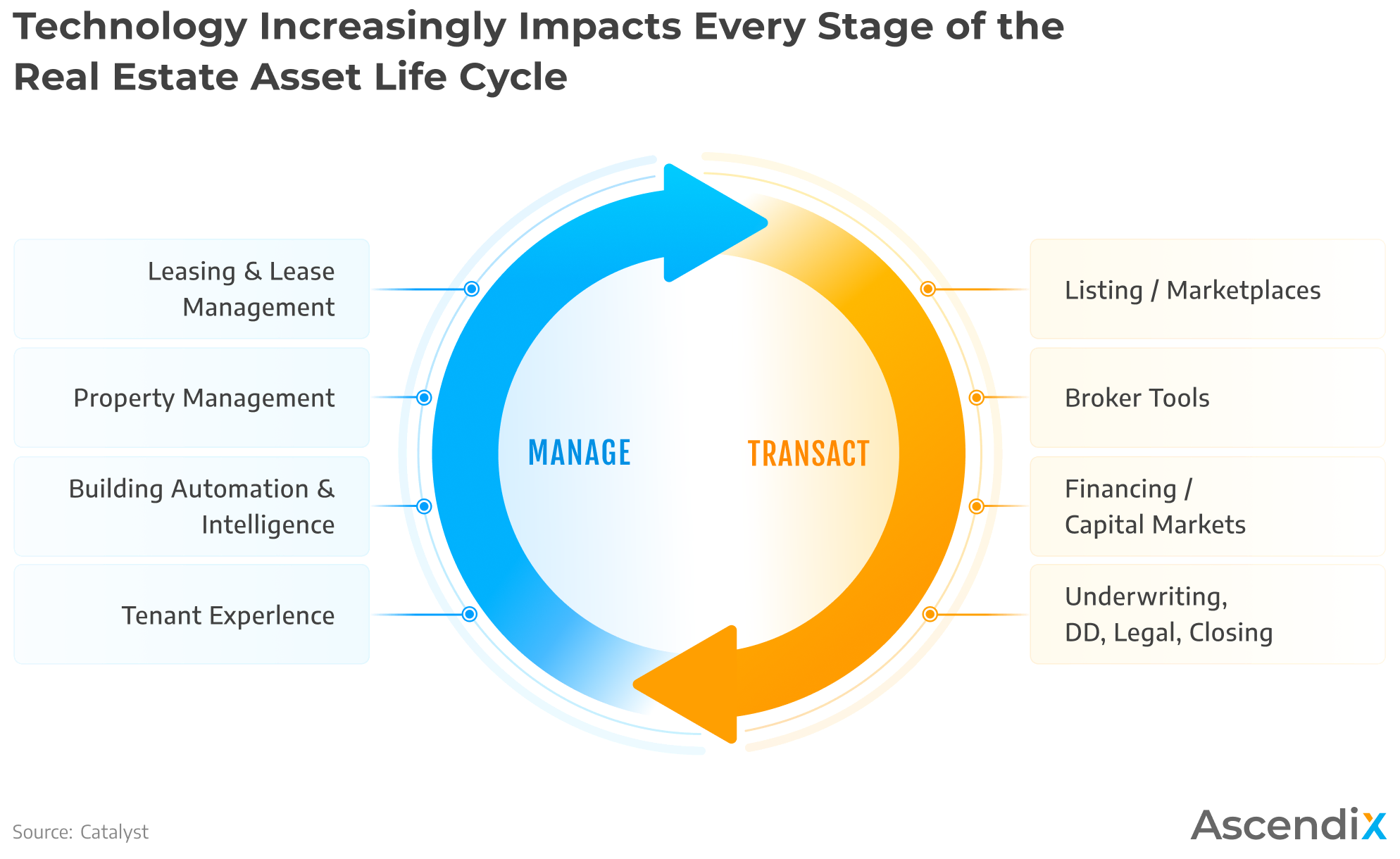 Proptech Ecosystem: Key Market Players
In an interview for Real Estate Capital Europe, Annerie Vreugdenhil, former head of real estate finance, said: "Every large real estate player is looking at different proptech, either to serve and optimize their portfolios or to help their customers."
Like any other industry, real estate has several key players: owners, developers, investors, brokers, tenants, property managers, and lenders. Most of them are Gen X (median age around 49 years old). Technology has disrupted their way of working, making them embrace technology more profoundly.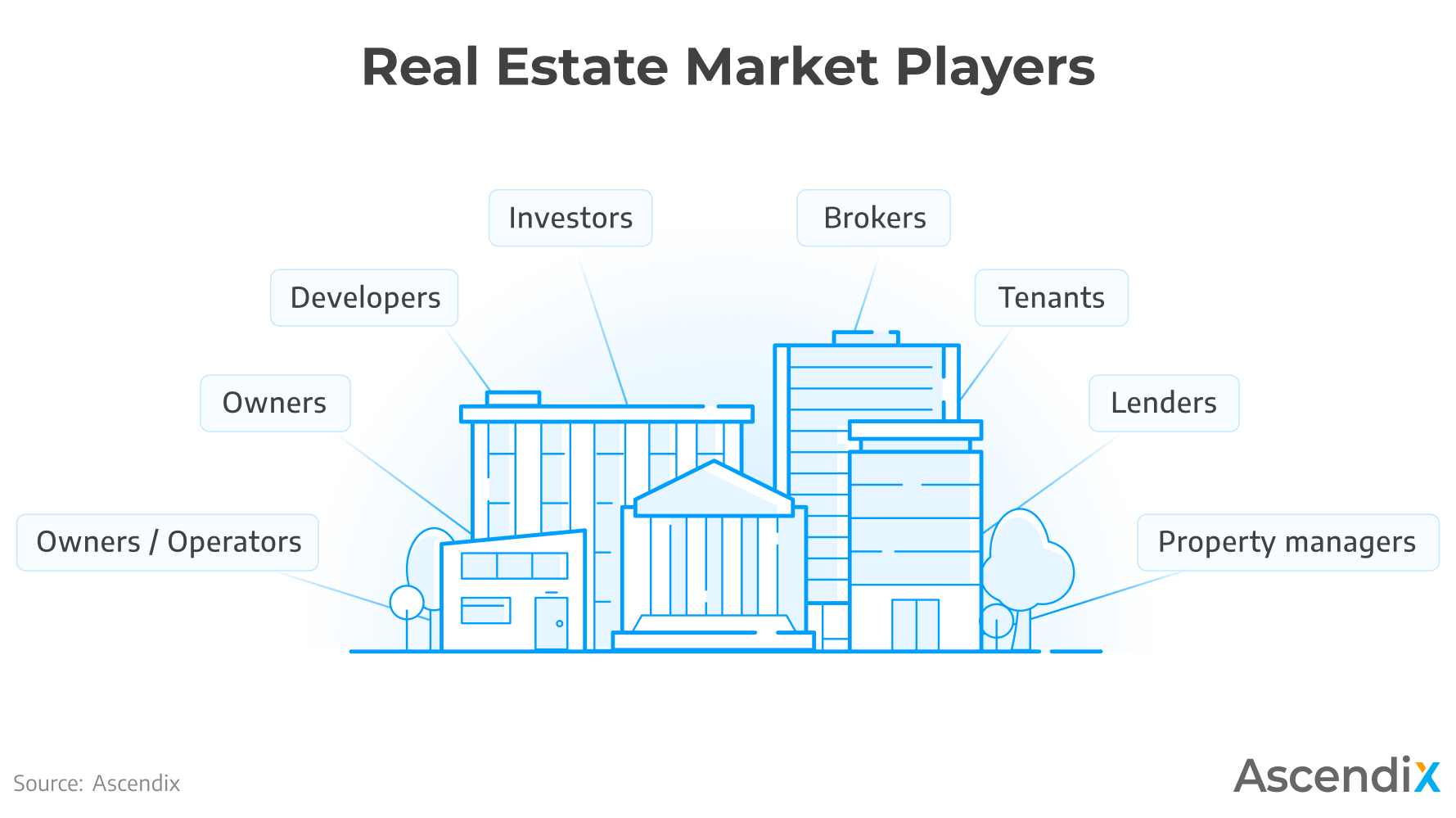 Mastering online platforms at the beginning of the covid-19 pandemic may have been a harder pill to swallow, but as soon as real estate professionals got used to it, they saw multiple opportunities for their business. Regardless of the player, digitalization might be discomforting as the main problem is not to figure out the technology itself but to realize in what ways proptech solutions and apps might impact the workplace. The solutions driven by artificial intelligence technology have the power to renovate how services in real estate are delivered, leveraging machine learning, virtual (VR), and augmented reality (AR) as one of the ingredients for smart prediction and replication of a physical experience for a customer.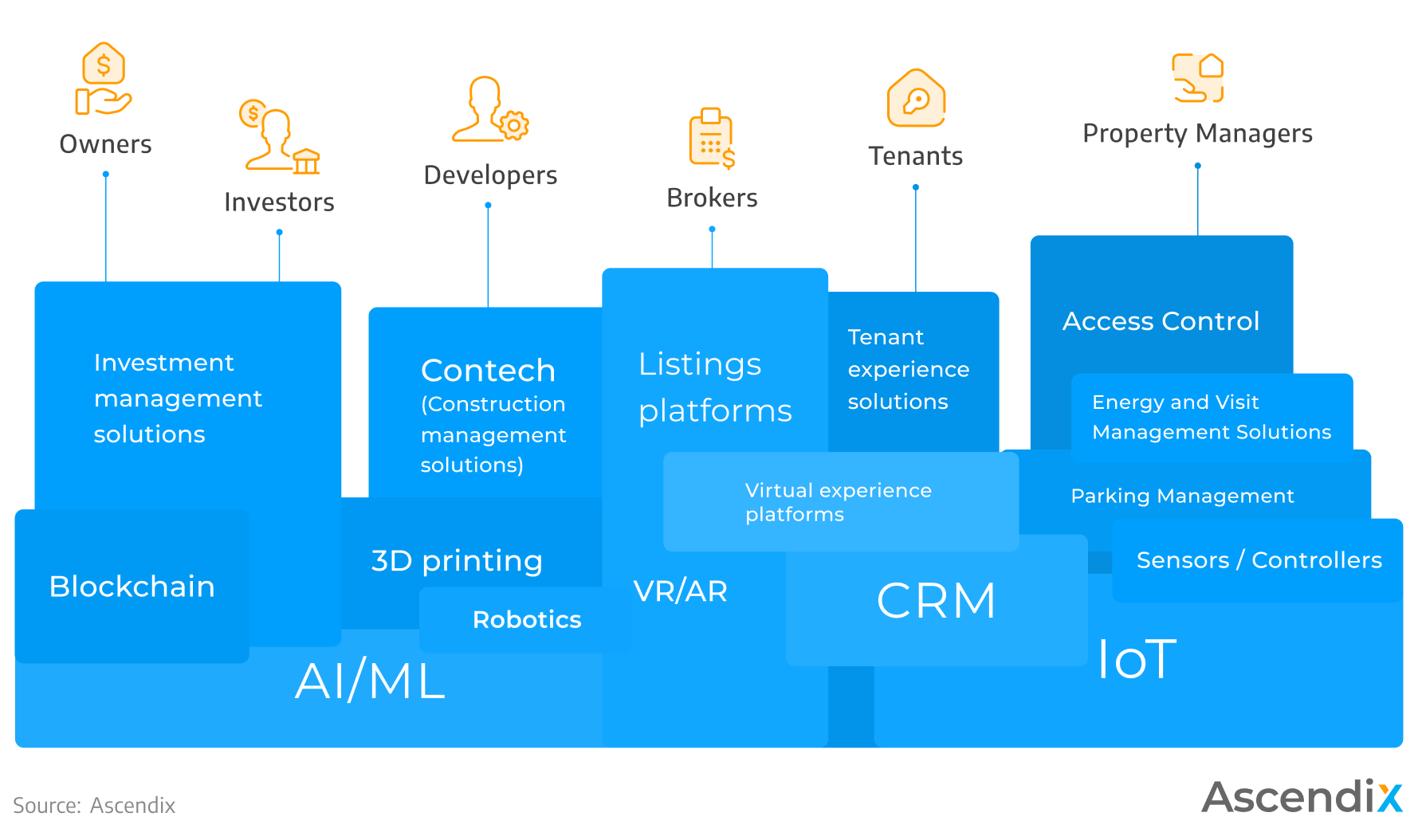 Owners
Owners are the first to win with the introduction of investment management solutions powered by blockchain technology in real estate. This technology facilitates the decentralization of monopolies and the elimination of middle links (servers) that are traditional bottlenecks in terms of secure buying and selling of a property. Blockchain brings transparency to the process of buying property, as it helps owners own their data. This way, transactions are completed faster and with no intermediaries or involved. The entire process is encrypted, so there are no chances that anyone can step in and disrupt it. Many businesses take a keen interest in this idea as it means a radical reduction in time and resources for daily operations.
Developers
The acceleration of digital initiatives has brought real estate into a place where machines give the possibility to extract large volumes of information. Thus, for developers, counting just on superficial metrics and years of accumulated experience is like swimming in shallow waters. With relevant data highlighting the process of construction and subsequent exploitation of the building, developers can create more reliable, well-maintained, and energy-efficient buildings. Various construction software, AI, 3D printing, and robotics technologies drastically accelerate the construction process. Having this data at the early stages ensures a higher return on investment later.
Investors
Using traditional analytical methodologies, investors should keep a major focus on collecting and analyzing data. This may take years of market analysis and the loss of the best opportunities.
Investment management software provides tools to give investors a better idea of their real estate portfolio and allows them to keep a finger on the pulse of real estate and investment risks. They can use their functionality to collect data and documents, and control them in one place. This provides additional transparency in investment and enables control according to investors' business needs.
The data that can be obtained in investment management solutions, investment portals, equity platforms, and even social media channels empowers investors to increase the profitability of the building and build effective and more targeted relationships with the target audience.
Brokers and Tenants
Brokers, traditionally, balance multiple operations at a time including lead generation and countless negotiations, email campaigns, etc. That's why 35% of real estate agencies consider automation in their processes while 61% are already relying on it in their routine work.
With the introduction of automated solutions for lead generation and management, brokers have drastically enhanced their operations and reportedly improved the level of satisfaction among their customers. Tech-powered brokers can improve the process of:
lead generation
lead categorization
email marketing
negotiations
market analysis
sales prediction
Digital solutions bring trust and awareness into the relationship of brokers and tenants and help them to measure the pulse of one another. Custom CRM solutions, virtual experience software, and other property tech solutions ensure more effective property listing for brokers. Meanwhile, tenants can leverage these tools to foster document sharing and tenant interactions, as well as manage contract and renewal cycles.
Property Managers
Every day, buyers strive to improve the quality of their life and live in energy-efficient buildings that will allow them to spend less money on some obvious things. Property managers, meanwhile, want to manage their assets with greater efficiency and less spending. In this regard, property management solutions provide access control, energy, and visitor management and unlock new exciting possibilities to reduce utility costs based on weather conditions, market price, and many other indicators. With the help of digital measuring equipment, sensors, and controllers, AI can capture and record power consumption and voltage level data in the building.
Lenders
Financial and insurance systems are probably the most under technologized institutions. As a result, lenders oftentimes should use outdated solutions that don't provide efficient financial planning. The introduction of fintech software entails a quick analysis of the borrower's creditworthiness and fosters faster loan issues. Moreover, proptech solutions give lenders various opportunities for better calculations of property data. Even if real estate finance just has settled into the dawn of innovation, there are already successful examples of digital debt platforms that leverage intelligent dashboards and automated workflow tools to improve lenders' experience.
Looking for Help with Building a Proptech Solution?
We've got 2 decades of expertise in real estate and SaaS development. Trust your project to Ascendix professionals.
Examples of proptech solutions: Use cases
Property Search
Listing and Brokerage Solutions
Property listing platforms like Zillow operate on big data and AVM (Automated Valuation Models) that can estimate the value of real estate with high accuracy. This platform contains millions of ads and is highly trusted by almost every major real estate company. Sellers use it to make smarter offers that are more likely to bring positive returns.
Another popular example is Trulia, a platform that provides rapid search, rent, and selling of the property with the possibility to get neighborhood insights and reviews of the real residents. In addition, the platform contains the functionality to check mortgage rates and make calculations on the loan property.
On their side, brokers may track the deal and listing process with the help of different brokerage solutions like iBroker. The solution includes rich cloud-based functionality that is easy to use and mobile-friendly and includes advanced features for billing, calculations, listings inventory management, transaction tracking, and many others. In addition, iBroker offers a set of powerful integrations with DocuSign, transaction rooms, iFranchise, and other platforms that streamline the everyday activities of the broker.
Another noteworthy example is brokerWOLF – back office and accounting software solutions that improve brokers' workflow with the functionality of automated commissions, accessibility of transaction data, and real-time reporting. This solution is tailored specifically for the real estate industry being user-friendly to brokers regardless of their scores.
Broker CRM and Marketing
Both tenants and brokers should follow the repetitive sales and marketing cycles in everyday work. Automated digital solutions such as AscendixRE include features to simplify the daily operations of real estate brokers, such as automatic report generation, listing, and keeping all customer histories online. The platform features powerful commercial real estate functionality powered by Salesforce technologies, meaning it can be easily adapted to your business needs.
Social media, websites, and emails are among the most effective tools to reach out to the audience. Real estate brokers take advantage of the bond between people and the phone and slowly introduce email and social media practices into their work. For example, they launch email campaigns and newsletters to invite potential customers to see the property or even share a video tour through email. Outboundengine is the proptech solution example that introduces real estate agents to a powerful marketing functionality for email campaigns and provides a vibrant social media and website presence. Among various features, agents use this tool to promote their events, drive traffic, and get insights and reviews from the network of their contacts in a single dashboard.
Viewing and Imagery
Even a queue for t-shirts today sounds archaic – a physical meeting with a real estate agent even more so. Therefore, 3D drawings or video tours and staging get wide recognition. Their possibility to view and evaluate the condition of a property before a physical visit eliminates the time-consuming coordination of schedules with a realtor or leasing agent. iStaging and Shapespark are 3D/AR/VR property tech solutions that allow users to live out the experience when assessing the property by organizing showrooms and creating real estate projects to enhance marketing and sales communication for brands and businesses. Zillow once again proves its multifunctionality, being a good fit for this category with its powerful functionality for virtual home tours.
Build Proptech Software with Us
See how AscendixTech can help you close more deals and improve your prospecting.
Evaluation and Financial Management
Despite being digitized, even a simple transaction or contract process in our world may result in a long chain of bureaucratic procedures and paperwork collection.
ChromaWay makes a fundamental shift in how we manage digital assets in real estate. With its partner, the Swedish telecommunications giant Telia, they combined efforts to leverage blockchain technology to quickly and seamlessly digitize sales contracts and property mortgages. The blockchain capabilities make the process of land register more secure, eliminating the possibility of mistakes with advanced verification features.
A worth mentioning example of debt platforms is Walton Street which reportedly invested and managed over $11.5 billion in debt opportunities. The platform introduces a smooth deal flow process: from origination and execution to underwriting and deal closing.
Speaking of equity investments, risks are always high. Therefore, various crowdfunding and equity platforms exist to connect developers and investors and help to avoid the risk of loss during real estate investment. CityVest and Crowdstreet are solutions that have high returns but work only for accredited investors. But even non-accredited investors have the possibility to build a strong portfolio of assets with minimum investment.
Diversyfund works for both types of investors and offers favorable terms with a minimum investment of just 500$. The clear, user-friendly functionality and availability of a mobile app guide investors through the acquisition, management, and other phases of the portfolio and helps protect it from volatility in the stock market. The other platforms with a minimum investment are Fundrise and Groundfloor.
Property Management
The combination of IoT and automation in real estate unlocks new exciting possibilities for property managers and buyers to reduce costs on utilities. OhmConnect generates regular reports so you can decide how to reduce your electricity consumption. OhmConnect uses energy market integration and smart meter analytics to improve energy management. The property management software helps determine which devices consume more energy in a homestead. The app also rewards users for their energy-saving efforts.
The solutions for property management, however, not only provide control over the property maintenance but also allow tracking leases, residents, and tasks maintenance.
Leasing and asset management platforms like DoorLoop act as multifunctional cloud-based software and includes powerful functionalities for different types of properties and various market players. The platform includes a set of integrations with other proptech apps and marketplaces and enables maintenance requests online. Addressing the common property management challenges and automating the manual task of bookkeeping and maintenance requests, the platform also introduces advanced fintech options for online payment and much more.
Asset Utilization
The real estate market is full of coworking, event spaces, and other propositions for retail and industrial utilization. The digitized renting process enables requests and bookings online. This way, similar solutions belong to proptech innovation in real estate.
MinNow is a new word in food storage spaces in multifamily properties, office buildings, or restaurants. The solution consists of physical pickup pods that store the delivery and special software enabling users to receive their orders with no app installation.
As people in urban cities pay more attention to health and quality of life, private space solutions in the real estate area also come forward. Sanctuary offers private recreation spaces with the desired temperature, scent, and music tuned with your mindset. The rental process is digitized and stress-free thanks to the Sanctuary App or online option of booking and scheduling.
Missing accurate, reliable, and accessible data, a retailer and manufacturer cannot adequately monitor or analyze the performance of their locations. Thus, the availability of data on retail lease locations is crucial in this sector. Technology reimagines the rent, lease, and sale of retail and industrial spaces, making the process less expensive and time-consuming. Lease Eagle is a retail lease management software that provides occupancy analysis and helps to monitor lease dates. The solution provides visibility and control over the rented space.
Property Building
Construction technology marks the progress of the industry towards a smart construction process. Planning and coordination tools like Structionsite leverage AI to capture 360 images of construction and automatically organize them according to the date of the floor plan. While BeamUp brings automation into planning and designing, providing rapid updates with the help of AI and digital-twin technology.
3D-planning tools like Homebyme provide a detailed virtual plan of the house before purchase or renovation allowing customers to make an informed decision. Meanwhile, various construction tools that make use of drones, sensor networks, and robotic technologies make a contraction a much safer place to work.
An all-in-one solution proving an advanced overview of the construction is Viewpoint – software to manage projects, people, and processes in one place. Viewpoint makes it possible to comply with BIM standards and have control over the whole project life cycle with complete information of plans and drawings in one place.
Proptech Software Development Portfolio by Ascendix
Check out the overview of the proptech consulting and software development projects we delivered to our clients.
Custom

Proptech

Software

Solutions

Development
There are plenty of ready-packed proptech solutions on the market. Real estate leaders, however, pick customized tools that provide the desired flexibility and the ability to invest precisely in what they need. With 16 years of experience in the real estate market, Ascendix provides custom proptech solution software development to acknowledged real estate market players like JLL and Colliers. Here is what you get by picking Ascendix:
custom development partner with niche knowledge of the local real estate market (headquarters is in Dallas, USA) 

 

with 3 offshore offices in Europe, we offer reasonable development rates and round-the-clock delivery  

 

as a product company we have several real estate-oriented authoring solutions

 

 

deep understanding of industry-specific peculiarities – at Ascendix, we

speak real estate

flexible engagement models: on-demand, dedicated, offshore or blended teams

a team of professionals with extensive experience in SaaS development

 

optimal tech stack and architecture 

 

the benefits of using Agile best practices for fast and efficient development

 
Ascendix offers rich expertise in proptech software development and flexible engagement models. Contact us to improve and enrich your software with some new features to pivot fast in an ever-changing real estate market.
Iryna Voitsekhovskaya
,
Content Writer
Iryna is a writer and storyteller who translates the inner workings of tech solutions, market trends, and cross-industry influences into the language of business value. Her mission is to drive awareness of innovation by means of engaging, digestible content that combines empathy and human-centricity with deep analysis.