According to Statista, the total value of digital payments is expected to touch the level of $6.7 trillion in 2021 compared to $4.1 trillion in 2019.
This enormous growth in transactions is supported by the fact that digitalization is an effortless and quick offering that is rapidly taking over the world, especially the financial sector. All these facts hugely impact the FinTech sector which is completely based on the demand of users to make transactions.
Today, we want to share our research on the top 6 FinTech trends in 2021 that help financial services companies grow and provide end-users with top service quality.
Specifically, you will learn about:
Top financial industry trends
Trend-specific fintech stats and forecasts
Benefits of each tendency for the fintech industry
Tips to hire a fintech software development company.
Let's explore the key game-changing financial services industry trends to look for in 2021.
1. Digital-First Banking and Neobanks
More and more users prefer to make transactions remotely without visiting local bank branches, signing tons of documents by hand, queueing for hours, receiving paper pay receipts, and interacting with bankers.
COVID-19 has a huge contribution to this tendency during 2020 as most institutions were closed and humans tried to avoid personal communications.
Instead, more and more people are switching to digital payments which means that all financial services are held online in a quick, safe, and convenient way.
What's more, most FinTech industry products offer high transaction automation which allows avoiding recurring activities, schedule payments on a monthly/annual basis, and not keeping in mind all financial liabilities.
These top FinTech trends refer to digital-only and neobanks that seize the financial services market at a rapid pace. The innovations are beneficial for both financial businesses and customers.
Clients get simplicity, swiftness, and safety. In turn, financial institutions cut down labor force expenses and process a large number of transactions quickly and automatically.
So, here are the main benefits of digital-first banking for the fintech industry:
Better rates, lower fees
Better online experience
Real-time data access
High automation
Some people esteem digital and neobanks as the same sort of thing, but there is a tight difference. In most cases, a digital bank is the online department of a traditional offline bank, while neobanks are independent and digital-only financial institutions.
What's more, one of the financial services technology trends – neobanks provide more personalized customer experience which means that you can monitor the balance in real-time, keep a record of expenses, build charts, and dashboards without any fees or withdrawal.
Ally Financial is one of the most famous examples of neobanks. Named the best internet bank by Kiplinger's Personal Finance, Ally specializes in auto finance services providing car finance, vehicle insurance, mortgage loans, and other offerings.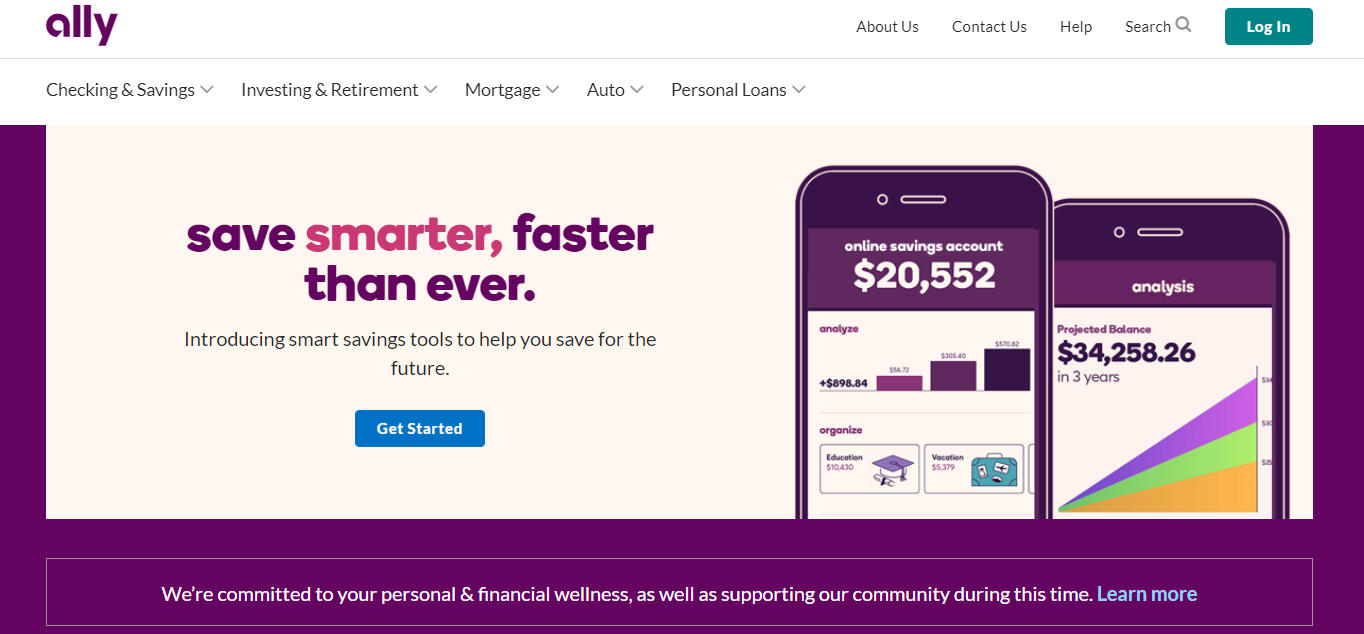 Ally.com home page – a fast-growing neobankAccording to the goMEDICI Research 2020, the total funding value of neobanks reached $1.3 billion in Q1 2020.
This statistic features that next-generation banks will become more and more popular as the digital-only business model is thriving daily providing millions of users with user-friendly, super-fast, and reliable services.
To summarize, digital-only and neobanks are the top financial services industry trends of 2021 and will continue to seize the market around the world in years to come.
2. Big Data
Banks and financial institutions process more and more data every day. This requires high capacities that can store and process this data quickly and safely.
Here comes Big Data technology which allows companies to work with large volumes of transactions and records.
Statista claims that the global Big Data market is expected to reach the point of $103 billion by 2027. This fact is supported by the growing number of users that swap from offline to online and digitalize their lifestyle.
What's more, financial companies can greatly benefit from implementing Big Data technologies as they enable businesses to collect as much information about their clients as possible.
This way, fintech companies can build an ideal portrait of each client and set up efficient marketing strategies addressing more needs of leads and clients.
Consequently, Big Data provides businesses with the following opportunities:
Enhanced market segmentation
Improved offer personalization
Generation of real-time insights
Prediction of future clients' interest areas
Data-driven price optimization.
So, to recap, Big Data allows financial companies to improve their business model, convert it into a customer-oriented strategy, and drive even better results.
However, the more data, the higher the risks to get certain security gaps that may lead to data theft and other cyberattacks.
To be honest, financial companies can never be a hundred percent positive about clients' data security.
So, businesses continue to invest large funds into the development of advanced processing antimalware solutions and ecosystems that can protect sensitive data.
One of the breakthrough openings and fintech technology trends is Blockchain.
Want to Build a FinTech App?
We're at your service with 10-year expertise. Just fill in the form and we'll send an estimate.
3. Blockchain
The 3rd of January 2009 made a start of a new era of transparent database systems where all users collectively retain control over their data.
The release of Blockchain technology allowed thousands of companies to transform their business model into a transparent and decentralized ecosystem with high safety, top transaction rate, and enhanced traceability.
According to Statista, the forecast number of Blockchain wallet users will reach the level of 103 million in 2021.
For 12 years, Blockchain has been successfully supplying the FinTech industry with promising technology.
It allows financial institutions to avoid third parties during the transaction process, store data safely, and build a transparent and fraud-free ecosystem. This way, Blockchain has become one of the top fintech payment trends in 2021.
Specifically, this technology provides the financial technology sector with several key instruments. Let's review each of them in more detail.
#1 Smart contracts
A smart contract is a self-executing transaction protocol that helps regulate the relationships of the parties.
The use of smart contract technology for peer-to-peer transactions allows the execution of credible transactions without third parties.
With the help of custom software programs, the terms of an agreement can be precisely defined and automatically carried out. Once the program is set up, a smart contract can be used to exchange anything that forms value.
Considering the benefits for the FinTech industry, smart contracts can:
Boost the level of contract-related financial services (i.e., insurance, loans, etc.)
Reduce transactional costs
Automate operational processes (i.e., order submission by a client)
Rapidly increase the confidence in financial companies.
#2 Cryptocurrencies
Financial companies increasingly try to work with cryptocurrencies. It is supported by the fact that the crypto world is gaining extreme popularity day by day and more next-gen currencies become full-featured payment methods.
Besides, they provide fintech companies with cheaper and easier cross-border payments.
What's more, Blockchain technology comprises both a strong cryptographic online payment and storage system that acts as a registry. It uses Blockchain architecture to strengthen identity protection and data safety.
As one of the top fintech industry trends, the Blockchain system will upgrade the integrity of fintech data and give users full control of their own financial security. This way, high transparency of Blockchain technology is a great benefit for fintech companies and financial institutions.
So, Blockchain has become one of the leading new trends in financial services and is expected to transform the world of the financial technology sector even more in the future.
4. Artificial Intelligence Based Solutions
" The development of full artificial intelligence could spell the end of the human race…. It would take off on its own, and re-design itself at an ever-increasing rate. Humans, who are limited by slow biological evolution, couldn't compete, and would be superseded." "
Artificial intelligence has significantly affected and even changed the framework of financial services for end-users.
Put it simply, the financial technology sector is entering a new level of digital evolution which will not only change the product portfolio of banks, but also fundamentally modify the way people communicate with financial institutions.
AI solutions are one of the main new trends in financial services. This technology allows to process information much faster and provide instant solutions that help greatly reduce the risks and fraud probability of the financial company.
What's more, Artificial Intelligence offers high automation opportunities that greatly reduce the likelihood of human errors, thus minimizing operating costs.
Ultimately, one of the key banking industry trends allows financial companies to build even more personalized experience for customers.
It became possible with the help of AI-powered chatbots that offer end-users self-help solutions.
Moreover, intelligent systems help clients track income, recurring expenses, and build up an individual optimized financial plan with personalized tips.
So, the key benefits of AI-powered solutions are as follows:
Risk management
Fraud prevention
Decreased operating costs
Personalized banking experience
Process automation.
5. Biometric Cybersecurity
According to the Cybersecurity Ventures Report, the forecast value of cybercrime is expected to touch the level of $10.5 trillion annually by 2025 compared to less than $2 trillion in 2014.
This extreme growth means that thousands of companies and millions of users get digitally robbed every year and these numbers only tend to increase. For this reason, financial companies try to take all available security measures and protect their' and customers' data from potential cyberattacks.
So, the best way to transform a security system into a next-level protected ecosystem is to use biometrics.
Improved and upgraded face recognition algorithms are becoming one of the key digital banking technology trends in 2021. The development of such algorithms enables one to stand in front of a device and be recognized without any physical contact with the sensor.
Another powerful way to secure end-users' financial data is to implement an advanced fingerprint reader which is already implemented in top mobile devices.
For example, Apple uses TouchID and Android utilizes the fingerprint scanner to conduct identity verification in a more accurate and safe way.
What's more, COVID-19 has provoked a massive interest for new trends in financial services – contactless biometric identification solutions and smart access systems that try to minimize security risks and eliminate potential cyberattacks.
To summarize, biometric security is becoming one of the top fintech trends 2021 providing benefits to both financial companies and millions of clients around the world.
6. WealthTech
As per CB Insights Report 2020, the wealthtech industry funding reached the level of $1.2 billion in Q2 2020.
The key reason for such growth is that many entrepreneurs realized the importance of new digital solutions that help users manage personal and corporate finances. One of the top fintech payment trends in wealthtech industry is robo-advisors.
These are the advanced automated platforms using algorithms and Machine Learning to help users make data-driven financial decisions.
As one of the biggest current trends in FinTech, Robo-platforms provide an exclusively personalized experience to customers as they analyze market data and personal user's goals to generate data-based recommendations.
Some experts claim there is a probability that financial advisors will be completely replaced by powerful ML-based robotic alternative solutions. However, robo-advisors are currently actively used to help investors drive better financial generating market results and predicting potential risks.
What's more, digital advanced brokerage platforms are becoming top financial services industry trends as well. The key benefits of such technology solutions include providing easy access to:
Stock market data
Micro-investment platform.
So, let's review the core benefits of wealthtech for fintech companies:
To sum up, wealthtech is actively gaining momentum today and become one of the main financial industry trends that revolutionize the way individuals interact with banks.
Build Custom Software with Ascendix
We help companies automate their workflow by developing bespoke software solutions. Leverage our experience in real estate, legal, financial, and transportation industries.
How to Choose a FinTech Software Development Company
As the FinTech industry is rapidly growing and offering new opportunities for both companies and customers, more and more entrepreneurs are willing to build a new fintech software.
Here comes the challenge of the IT (Information Technology) market overcrowd which means there are thousands of technology solution providers offering similar services.
According to Statista, the forecasted total IT industry spending will reach the amount of $4.1 billion in 2022.
For this reason, we want to share the key tips and tricks that will help you choose reliable financial services software companies.
#1 Reviews & Rating Platforms
One of the most effective ways to learn more about a specific custom software development company is to check its clients.
Clutch, Glassdoor, GoodFirms, G2, UpCity, CrowdReviews, and others will help you know more about companies' general information, developer rates (if any), reviews, the rating score, etc.
Clients' reviews are the key element you should pay attention to while browsing these platforms. They allow you to analyze the way a software development company solved challenges, built technology solutions, and get unbiased feedback from their clients.
Below you can see an example of Ascendix Tech's client review on Clutch with the project details and ultimate feedback.
#2 Case Studies
Another efficient way to analyze the technical expertise of a fintech software development company is to check its case studies/portfolio.
By default, most agencies have a separate page ('Our Work' / 'Portfolio' / 'Case Studies') on their website demonstrating top projects they worked with. Navigating through them, you can see the initial challenges of clients, technical solutions, and business results-driven when a project was done.
For example, here is a short overview of Ascendix Tech's portfolio page with the featured case study, relevant filters to navigate through domains and categories, and a short overview of each project with mockups and descriptions.
#3 Domain Expertise in FinTech Software Development
If you want to build high-quality and user-friendly fintech banking software, we recommend you narrow down the search and monitor only those software development companies that have sufficient expertise in this domain.
Simply put, they should have the experience and know-how to develop a fintech app. A great way is to analyze the domain expertise of a company and check whether they have ever faced financial services software development.
The first option is to visit a company's website where it can share its knowledge, skills, awards, and other stuff related to fintech software development.
For example, on our website, you can find a separate page dedicated to developing technology solutions for financial services companies. There we share our clients, challenges we solve, testimonials, and answer the most frequently asked questions.
What's more, we have prepared a thorough E-Book demonstrating our FinTech solutions and offerings for financial services companies including banks, insurance institutions, capital markets, mortgage banking, and others.
You can easily DOWNLOAD OUR E-BOOK right now and see whether Ascendix Tech is a great fit for your fintech software development project.
Request a System Analysis of your Software
Let tech experts perform diagnostics and audit your software as well as development and delivery processes.
Bottom Line
We hope our FinTech industry report of top trends in financial services will help you keep up with the times and choose a reliable IT provider.
Are you looking for a reliable fintech software development company with solid expertise and extensive experience in building high-quality financial services software solutions?
Feel free to contact us and we will be glad to engage in a discussion to better understand your goals and objectives and if appropriate, provide you with a free estimate of your project development requirements.
Daniil Torkut
,
Content Marketer
Daniil specializes in content marketing and has a deep knowledge of promoting the company's products and services through high-quality content. On the Ascendix blog, Daniil shares his tricks and tips on custom software development, provides technology trends and insights, and helps you get valuable content to make your business even more successful and profitable.
Subscribe to Ascendix Newsletter
Get our fresh posts and news about Ascendix Tech right to your inbox.