Proptech is the latest buzzword on everybody's lips today. Often called the new disruption power and innovation driver, it is also said to be the modern remedy for real estate specialists suffering from piles of paperwork and a high-yield asset class for investors looking for fresh opportunities.
In this proptech research, we provide a comprehensive proptech definition, property technology types, and a proptech market map in an attempt to dispel any confusion about the emerging technology in real estate, its present and future.
We also look at proptech big data and reflect on how technology has changed the real estate industry, what real estate technology trends are there, and what real estate tech startups are at the forefront of real estate innovation.
What Is Proptech?
Proptech, or property technology, is all the tech tools Real Estate experts use to optimize the way people buy, sell, research, market, and manage a property. These innovative technologies are also known as Real Estate Tech, Retech, Realtech, CRE Tech depending on which lens you're looking through. However, at its core, prop tech always means robust alignment between real estate and technology.
Examples of disruptive technology in real estate can be investment platforms for matching retail investors and real estate assets or property management platforms for running residential, office and retail properties (we talk about it a bit more in the next section).
If property technology seems somewhat distant from the individual consumer, think of your last vacation spent in a lovely Airbnb apartment or a boutique hotel, which you had picked among numerous other gorgeous locations generously listed on the platform – and at a much lower price than you would have spent on a hotel in the same area. If you can relate, you have firsthand seen how technology has changed the real estate industry.
By far, Airbnb is one of the first proptech tech companies disrupting the real estate industry, along with Zoopla, Causeway, and Purplebricks – they all once took the plunge and married century-old technology and real estate, pretty much in the same way Uber has transformed the transportation business.
Proptech Landscape: What Technology Types Are There and Where Are They Applied
Did you know that over the last decade, more than 9000 proptech companies have popped up across the globe? Yes, 9000. And most of these startups, for the sake of marketing or due to the lack of panoramic view of the industry, "self-categorize," making it absolutely unclear which category they're in.
Numerous real estate and technology thought leaders made attempts to classify the new-born property technology, but due to different proptech definitions as well as the types of real estate markets, the exact parameters of proptech space may vary.
Having been in the real estate industry for almost two decades, Ascendix has witnessed the evolution of property technology and is well positioned to provide our outlook on proptech ecosystem.
So here it is – our analysis of the three most popular approaches to categorizing proptech ecosystem, as well as our conclusion on which classification best reflects the modern proptech landscape.
1. Prop tech as the intersection of Fintech, Contech, Smart Real Estate, and Shared Economy
Shared Economy Real Estate – any proptech platform that offers shared and/or joint use of a property. AirBnB and WeWork are the most famous Proptech companies driving the shared economy.
Smart Real Estate (aka Smart Home) – purely prop tech subsector denoting the use of internet-connected devices and appliances, which are collectively known as the Internet of Things (IoT), to enable the remote monitoring and management of the house. Some of the obvious examples of solutions in this proptech subsector include smart kitchen appliances developed by Siemens or intelligent lighting systems produced by Philips.
Fintech (financial technology) – the elder brother of proptech that brings technology into the financial sector to make customers and businesses access financial services with ease. The two industries meet at Real Estate Fintech focused on facilitating financial processes in Real Estate.
Contech (construction technology) – the use of modern materials and sustainable approaches in the building process.
This is a traditional and very general way to classify the proptech landscape that outlines its basic elements and relationships. It is especially helpful for those just trying to comprehend what proptech actually is and how it correlates with other industries.
2. Two Domains of the Proptech Space: Residential and Commercial Property Tech
Let's take one step further and split the whole proptech space into two domains according to the end-user – individual residents and businesses.
Residential Property Tech
Residential Property Tech is all the digital products developed by real estate tech companies to facilitate the way people own or rent apartments and houses, e.g., short-term rental platforms, like AirBnB or Lyric).
The landscape of Residential Property Tech is defined by:
Property Search Platforms (listing and marketplaces, real estate agent tools, etc.)
Property Sale Tools
Financing Tools (digital lenders & brokers, alternative financing, etc.)
Mortgage Lender Software (loan application and management)
Real Estate Closing Tools (insurance, transaction management tools)
Property Management Tools (IoT-powered tools)
Loan Management Systems (loan securitization, etc.).
CRE Proptech stands for Commercial Real Estate technology and means the use of all the innovative tools companies and individual CRE professionals use to efficiently run, search, rent, and sell office, industrial, and retail property assets. The brightest illustrations of this realm of Proptech real estate in action are marketplaces for brokers like LoopNet and Biprox.
The CRETech space is shaped by:
Property Search Platforms (listing and marketplaces, Brokerage CRM, etc.)
Constructions Planning and Management Tools
Evaluation and Financing Tools (transaction underwriting & management, debt financing platforms, etc.)
Property Management Tools (IoT-powered tools)
Asset Utilization (co-working & co-living spaces management, retail and industrial buildings management, etc.)
So, whereas Residential Proptech is solely focused on smart property solutions for families and individuals, CRETech is all about driving efficiency in commercial property management.
3. Proptech Market Map
The newest classification and, by far, the fullest one, as it captures the reality of today's proptech space and basically sums up the previous two schemes. First developed by PitchBook, this proptech market map consists of five distinct segments: asset utilization; finance and investments; construction, maintenance and renovation; property management; and transaction solutions.
How Technology Has Changed the Real Estate Industry
Proptech disruption has brought innovation into the daily routine of almost every player on the Real Estate market, including landlords, tenants, investors, brokers, letting agents, etc.
For a broker, the adoption of Proptech solutions means:
Easier data collection & AI-driven marketing to screen and evaluate the development, investment, leasing, buying, and selling processes. Pair this up with the ever-expanding potential of Proptech Big Data Analytics for structuring and documenting large data sets, and you'll find yourself fully equipped for conquering more deals.
Automation of paperwork & cost reduction to streamline your brokerage back-office processes and save much time & resources on more important tasks, like market research, communicating with customers, and closing deals.
Secure remote transactions & digital contracting for a faster and easier buying experience. No more tons of paper to read and sign at closing!
Direct digital engagement & reduced physical contact to limit physical interactions with both high-use surfaces and people alike. Since the onset of Covid-19, Proptech contactless solutions like facial & touch recognition have become the new normal in the digital world.
Property technologies have also changed the way landlords and tenants interact. Here is what Proptech has brought for both parties:
Detailed 24/7 insights into how tenants utilize the space, enabled by networks of smart devices and sensors (IoT). Property owners don't need to go and check their properties personally, as all the data about building security and maintenance are available on the go from a mobile screen.
Quality communication with tenants, repair workers, maintenance teams, and any other parties involved. With information caching and data storage, no detail from previous conversations will fall through the cracks!
No geographical boundaries with Virtual Reality. Home inspections, house tours, and viewings transition to the virtual world, meaning that property owners and tenants can do all this from the comfort of their homes.
Here is what has positively changed for Real Estate investors:
Accurate planning of construction to reduce if not eliminate the chance of critical mistakes or failure to meet a deadline, which may result in millions lost.
Improved market research to track the development, investment, leasing, buying, and selling opportunities.
Secure contracts with no "middle man" that might have misaligned interests in the property purchase and sale process.
Build a Disruptive Proptech Solution with Us
Contact our team to start your custom real estate software development.
How Big Data Is Transforming Real Estate
As your business grows, your data sets are inevitably expanding, transforming into Big Data. The way you collect and use Big Data can become the key standpoint for your success in Real Estate.
The Bright Data report names 6 key areas of how the new technology in property management is used to drive Proptech disruption and efficiency of running a business:
Better Analytics
Real estate professionals can paint more vivid pictures of a property's future risks and opportunities based on geography and other variables. Proptech Big Data Analytics allows for unprecedented granularity of the research, which otherwise may have been not available.
Precise Property Evaluations
Property technology startups already can forecast property prices in x-year time based on large data sets. Just to illustrate, a similar approach combining a large database of traditional and nontraditional data was used to predict the 3-year rent per square foot for multifamily buildings in Seattle. The accuracy of the forecast was above 90%, according to McKinsey.
Improved Home Prospecting, Marketing, and Sales
Proptech Big Data can also improve how properties are marketed. Proptech realtors can benefit from Big Data Analytics tools to refine their audience and target buyers and come up with better offers.
Data-driven property development
Applying big data to residential development is another example of how technology has changed the real estate industry. Granular data analysis helps tech-minded real estate developers to predict where it is best to build a new building and what amenities would fit the potential residents.
Data-driven risk prediction
Proptech Big Data can also become the key standpoint for creating clear predictive analyses of the risks of investing in certain buildings and projects.
Digitalization of back-office processes
With Big Data Analysis in place, Proptech realtors and other professionals can rest assured that all the data are structured in clear data sets, and nothing falls through the cracks. On top of that, property technology startups don't spend time and costs on manual effort anymore.
Proptech Overview: What Is the Proptech Industry Like Today?
The proptech software development sector is relatively new, as it came into being in the late 1990's during "dot-com boom." Today, it is present in 64 countries worldwide, with a soaring number of innovation-driven Proptech companies estimated at 8,000, according to PropTech Global Trends 2020 (source).
Speaking globally, the US holds the lion's share of property technology companies accounting for 59.7% worldwide. Continental Europe (27.2%) comes next with Proptech UK as the largest market outside of the USA. The Asian Proptech real estate industry (3.5%) is dominated by China.
So, the two biggest Proptech markets are the US and Europe, and they are rather focused on residential proptech real estate accounting for 60% and 55% respectively on the national scale, according to Unissu (see the charts below).
This breakdown is perhaps motivated by the areas' growing population, most of whom are, at some point, spending money on renting, buying, and living in homes. The prevalence of Residential Proptech solutions in the US and Europe can also be driven by investing purposes. Residential property gives better returns and doesn't require a significant starting capital as opposed to Commercial property.
However, both the US and European Proptech are dominated by B2B (business-to-business) services.
Here are the most recent findings defining the state of Proptech in the global Real Estate industry today:
80% of companies utilizing Prop Tech have seen a positive impact on operations and services, with 70% seeing an increase in decision-making and finances.
With record-breaking $9.7 billion of funding in H1 of 2021 up from $8.8 billion in H1 2020, the number of investments in Proptech is steadily growing even though the number of real estate tech startups founded has fallen.
Investment in PropTech solutions is driven by a need for streamlined efficiencies (65%), cost-reduction (47%) and improved decision-making (44%).
42% of Statista respondents confessed that the Smart Building technologies are the future of proptech real estate.
However, CRE is slightly behind the curve in Proptech disruption, as 78% of brokers still manage their back-office processes manually.
Real Estate Technology Trends 2023
Real Estate has always been a stranger in the world of innovation and technology. However, property tech startups, popping up here and there over the last decade, started to bridge the gap between Real Estate and Tech.
To get a full picture of the new technology in property management in 2023, we've analyzed a few predictions for the Proptech real estate sector made by the world's visionary leaders, such as Forbes, KPMG, and JLL.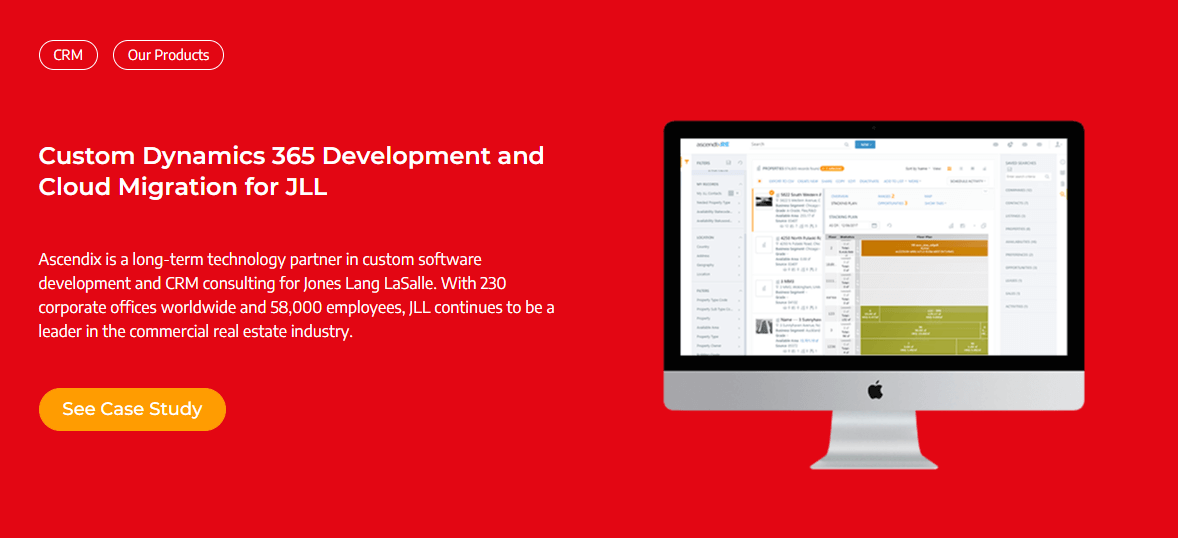 Here are the 6 Technology Trends in Real Estate shaping the future of Proptech:
Big Data is about collecting and analyzing real-time and historical data about all kinds of assets, from residential households to complex corporate facilities and telecommunications. With structured data sets, real estate companies and individual Proptech realtors can then come up with accurate insights on pricing, home-value trends, and even potential risks and failure.
2. AI and Machine Learning for automation of back-office processes
Whereas Big Data in Real Estate is about structuring large amounts of data, AI and machine learning help to make it more actionable. From robust search prediction functionality to autogenerating personalized email sequences to customers based on their life events, AI will do the job for you!
3. Virtual Reality for a better online search & home-buying experience
According to a report by Goldman-Sachs, Virtual Reality will be at the top of Proptech disruption by 2025, with an estimated 1.4 million realtors relying on the technology by that time. This number makes up the bulk of the total professionals in this area today.
The application of VR in Real Estate may vary, from virtual tours of properties to augmented reality solutions for digitally adding furniture to the existing interior (like in roOomy).
4. Internet of Things (IoT) for predictive maintenance
The Internet of Things (IoT) refers to a "smart" network of devices and sensors that are constantly sending and receiving information about a building to track its overall state and predict failures. For example, property owners can monitor a building's temperature, security, and maintenance through mobile devices and computers.
5. New construction technologies that drive sustainability
As we adopt the new ways of green construction, focused on building sustainable, energy-efficient homes, modern appliances are getting smarter, too, with SmartGrid refrigerators, washing machines, dishwashers, and micro ovens taking up the central place in our homes. However, there is still a lot to come!
6. Chatbots for better customer experience
Initially powered by AI, chatbots have become a must-have feature for almost every website. Chatbots can benefit your business in a number of ways, including but not limited to providing detailed, actionable insights into your customers' greatest pain points, reduction of manual work, and improving customer satisfaction.
Real Estate Tech Startups that Revolutionize the Industry
The number of real estate tech startups is soaring annually, with record-breaking 300% growth over the past decade, according to JLL. These solutions ease the hassle of listing search, property management, documenting, construction planning, and much more.
Since the number of Property Tech startups categories may go far beyond dozens, here's our wrap-up list of 5 key types of property technology solutions with the key disruptors representing each subsector:
Real Estate Agent Tools
Real Estate Search
Construction Management
Facility Management
Rentals & Sales Tools.
1. Real Estate Agent Tools
Being a Real Estate agent or broker is about handling a million and one things at a time. So, having an all-in-one tool for keeping track of landowners, land buyers, vendors, properties, listings, etc. is a must-have to keep up with the industry.
One of the biggest real estate tech companies and the ultimate expert in catering to the needs of brokers and real estate agents is Ascendix.
Number of employees: 101-250 employees
Industry: Tech Services, SaaS, Real Estate Agent Tools
Headquartered: Dallas, the US
Founded: 1996
For more than two decades, the company has solved the biggest pain points of real estate professionals with AscendixRE CRM – the only Customer Relationship Management (CRM) software created specifically for Property Managers, Land Brokers, Tenant Reps, Landlord Reps, Investment Sales (Buyer/Seller Reps), and Commercial Mortgage Banking Brokers.
AscendixRE CRM
Built on top of Salesforce, this feature-packed CRM will help you:
Manage your listings, deals, properties and more in place
Securely store all your data in the cloud, so no installation is needed
Take a bird's view at lease expirations
Mine targeted lists of contacts with Smart Prospecting Tools
Search for properties on a detailed map
Visualize your business activities with a robust custom reporting solution
And more!
Request a Deep Analysis of Your Real Estate Software 
Let tech expert with 16+ years of experience in real estate perform diagnostics and audit your software as well as development and delivery processes.
2. Real Estate Search
Another property technology solution that can offload the daily routine of a real estate broker is Ascendix Search – a powerful tool for Salesforce users to search across charts, maps, and all bulk of your records in several clicks.
Here are the major features of this Proptech solution:
Designed to augment the search functionality of Salesforce
A range of search operators & filters to quickly come up with precise information
Robust Geo Mapping to convert Salesforce lists to a map
Built-in graphs and charts to visualize your search
And more!
3. Construction Management
Constructions Management tools help with making plans, creating and keeping documentation, and communicating throughout construction projects.
One of the most recognized Proptech companies dedicated to the construction industry is PlanRadar.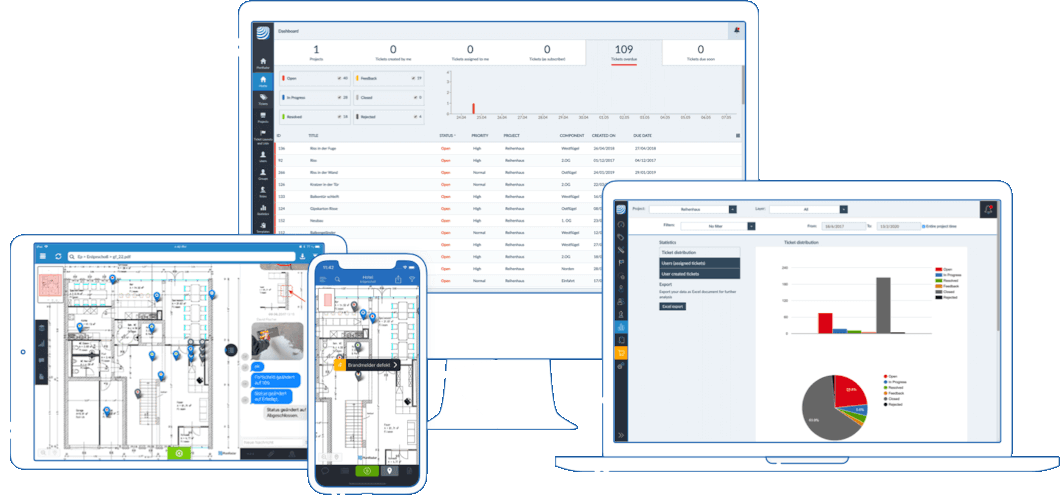 Number of employees: 101-250 employees
Industry: Tech Services, SaaS, Construction Management
Headquartered: Vienna, Austria
Founded: 2013
Their Prop Tech software is designed to:
Track and solve any defects during the construction via smartphone or tablet
Assign tasks to responsible project stakeholders in real-time
Manage all related documentation in one place
Enable construction managers to directly interact with their clients.
And more!
4. Facility Management
Facility Management Prop Tech is about efficient monitoring of your assets without the need to be physically present at your facilities. The management process is usually powered by IoT and an extensive ecosystem of smart sensors that alert property owners of potential risks and allow for predictive maintenance.
One of the most noticeable property tech startups disrupting this realm of Property technology is Hippo CMMS.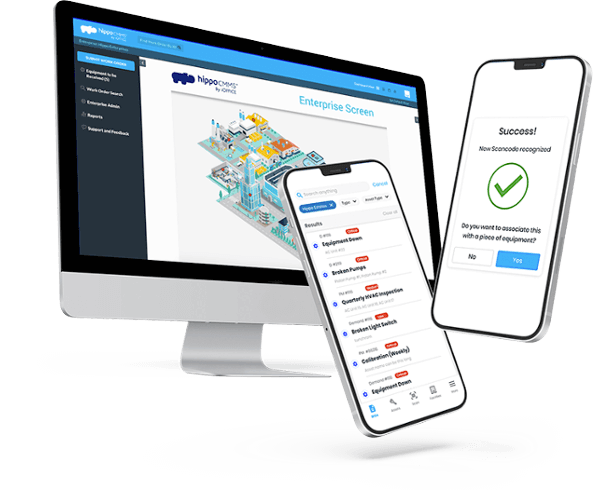 Number of employees: 11-50 employees
Industry: Tech Services, SaaS, Facility Management
Headquartered: Winnipeg, Canada
Founded: 2004
Entirely web-based, the solution can work well for a variety of industries, including healthcare, manufacturing, hospitality, and many more. Hippo software brings new technology in property management, including:
Advanced order management algorithms to offload piles of requests and tasks according to their urgency
Safety and Compliance tools to keep you secure and updated on the most recent regulations in Real Estate
Built-in maintenance planning modules to identify issues with your facility long before they cause you trouble.
5. Rentals & Sale
Rental & Sale Property Tech are all the tools that facilitate communication between tenants and property owners, pull available listings together, provide markets overview, and much more.
The biggest Rentals & Sales Proptech players are various marketplaces, like Rentberry and Airbnb serving solely the Residential Real Estate market, and Zillow catering to the needs of both RRE and CRE professionals.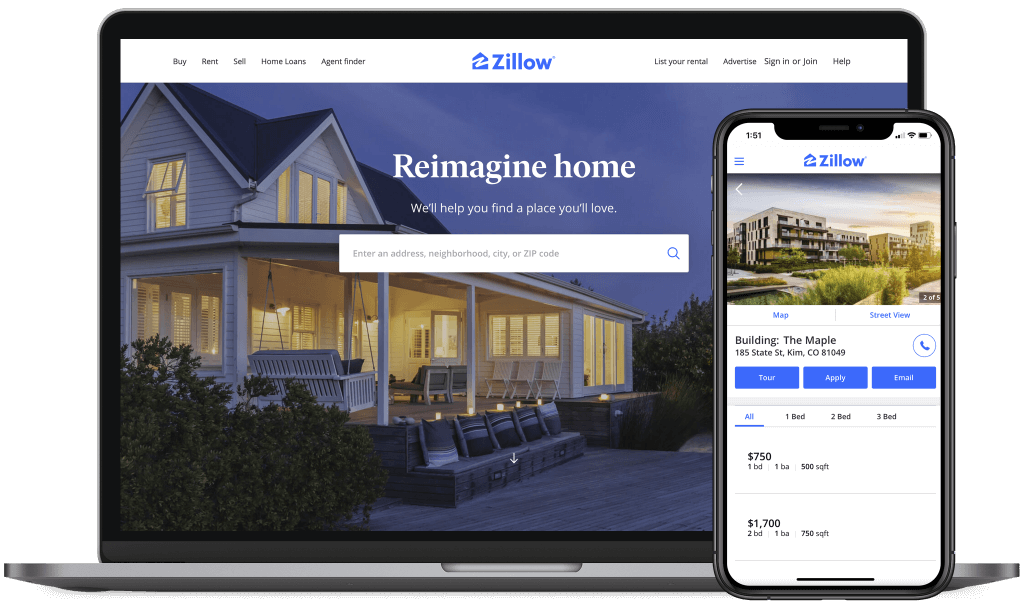 Number of employees: 7000-7,999 employees
Industry: Tech Services, SaaS, Marketplace
Headquartered: Seattle, the US
Founded: 2004
One of the world's biggest real estate tech companies, Zillow offers a convenient Proptech platform, various mobile applications and websites to make the property search process as smooth and pleasant as never before. Here is what Zillow offers:
An ever-expanding real estate database of for-sale and for-rental properties
Robust communication tools to connect people with listing agents
Advanced visualization tools when searching for properties
Estimated market value for individual properties in the US and Canada for fair deals.
For sure, Zillow is a solid market player that has become a business model to follow for many businesses. As many people are curious about how Zillow works, our team created a detailed step-by-step guide on how to build a website like Zillow and succeed. Check it out.
Why Ascendix Among Proptech Real Estate Companies?
80% of companies implementing Prop Tech solutions benefit from better operations and deliver services of higher quality.
If you don't want to lag behind Real Estate digitalization, you need to nurture your digital capabilities and adopt innovative approaches. With no previous experience in tech, it might be not an easy task to pour innovation and technology into your business straight away.
This is where Ascendix comes into play. We have been in the Real Estate market for more than 25 years and served the needs for technology of the biggest industry players, like JLL, Hanna Commercial Real Estate, Cresa, and others.
So, whatever your Real Estate niche is, we'll fuel your business with Proptech innovation and:
Power up your business with custom-made & feature-rich CRM software (you can also make use of our readymade AscendixRE CRM platform that has been tailored specifically for Real Estate professionals)
Bring robust Proptech Big Data Analytics to keep track of all your datasets and come up with accurate predictions and trends for your customer's behaviors, property price, and potential risks
Automate your back-office processes and offload unnecessary paperwork to save time for the essentials of your business
Streamline Real Estate Search activities with our easy-to-use Ascendix Search tool for Salesforce users
Reduce costs spent on unnecessary brainwork – technology will do the job for you!
We make sure your Proptech platforms, mobile and web applications are downright ready for success — you focus on your business core activities to be at the top of the game. Contact Ascendix and we'll make your Real Estate Business stand out together.
Looking for Help with Building a Proptech Solution?
We've got 2 decades of expertise in real estate and SaaS development. Trust your project to Ascendix professionals.
What is a property technology company?
A property technology company is any company embracing an innovative approach to real estate in which technology optimizes the way people research, rent, buy, sell, and manage a property. Check the list of 8 must-know Proptech companies worldwide here.
What does CRE mean in real estate?
CRE stands for Commercial Real Estate and denotes a property used solely for business-related or income-generating purposes.
What are the biggest real estate tech companies?
The biggest real estate tech companies by investment are The We Company ($22.55 bln), Airbnb ($4.40 bln), Lianjia ($1.41 bln).
Alina Snisarenko
,
Marketing Copywriter | Editor
Alina is a proptech technology expert and a storyteller at Ascendix, investigating the real estate market and sharing her insights and tips with up-and-coming proptech startups, established real estate agencies, and industry stakeholders. She talks about real estate technology, business automation, and industry news.